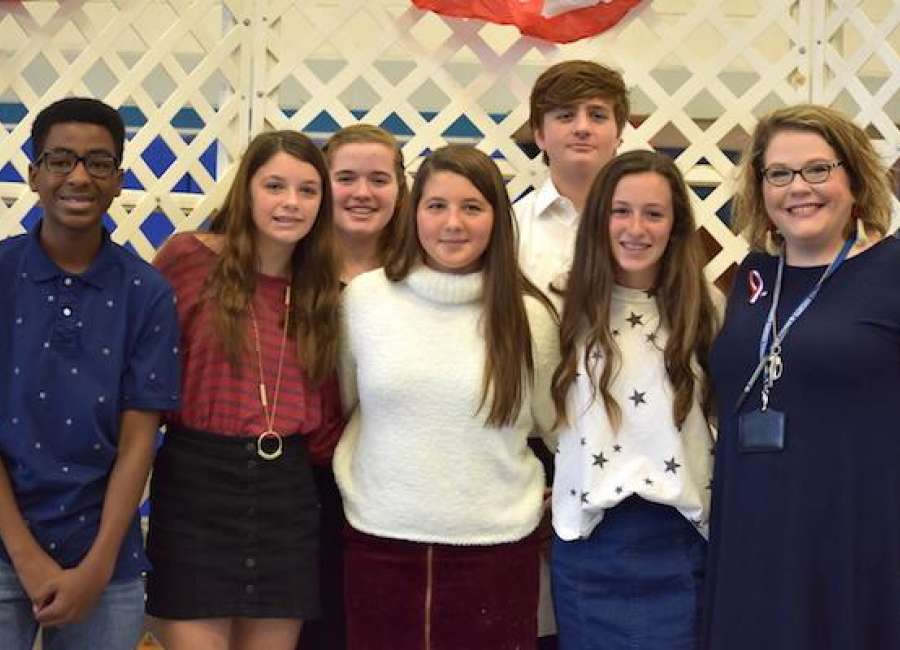 For 21 years, Arnall Middle School has celebrated veterans with an annual program primarily led by students.

From the presentation of colors to musical performances, students once again played a key role in this year's Veterans Day Program held Friday.
The Northgate High School Air Force JROTC stood at attention for the processional of veterans attending the event as the Arnall Band – directed by Gena Wayne – played them into the school gym for the program. The band played "America the Beautiful" as JROTC members presented the colors, and the young musicians performed the National Anthem with the school's chorus.
Eighth-grader Anna Marie Murphy recognized the veterans in attendance, reading the names and branches of service for each. Nolen Smith and Caitlin De Graaf were featured soloists as the chorus sang Lee Greenwood's "God Bless the USA," led by director Robin White.
Joey Fouty, another eighth-grader, introduced the event's keynote speaker, retired Navy E-6 Richard Bennett. Following Bennett's address, JROTC members presented the flags of all branches of the US military while the Arnall band played "Armed Forces on Parade: A Service Medley."
Arnall student Amaiya Shropshire announced each branch as its song was played and asked those veterans who served to stand during their respective songs. Fallen soldiers were honored with a solo trumpet performance of "Taps" by student Conner James, during which everyone in attendance was asked to stand.
Patriot's Pen essayists share thoughts
Four Arnall students – Miles Parham, Riley Pray, Avreigh Rutledge and Jena Sechrest, all eighth-graders – presented their entries for this year's VFW Patriot's Pen Essay Contest. This year's theme is "What Makes America Great."
"Living in America means opportunity, freedom, liberty and independence," wrote Pray, whose essay centered on the historical importance of hard work by soldiers and residents to lay the foundation for the freedoms that are available to everyone.
"What makes America great is The American Dream," Pray wrote. "...Every American – no matter what social class they were born into or where they were born – has a right to The American Dream."
A can-do attitude and an abundance of resources make America a beacon for people seeking better lives, according to Parham.
"We have surpassed nations older than us," said Parham, reading from his essay, which also praises the military and points out that America has been a country for less than 250 years.
"Not only is that amazing, but quick," he said. "Just imagine what's possible in the future."
While he focused on the positive, Parham did not shy away from situations that need addressing to make America even better.
"Like any other, we have a bad collection of events," he said. "Some of us have problems that specific people can't escape."
However, "We have power to progress further," Parham said. "We can be what makes America great."
Unity, tolerance, equality and freedom
Unity, tolerance, equality and Constitutional protections make America great, according to Rutledge, who wrote about her friendships with people from all over the world.
"Each of their backgrounds, views and perspectives have helped me be able to see the world through their eyes," she said. "And when you look at our country through someone else's eyes, you can see a great America."
Sechrest wrote that education makes America great.
"Many people take what we have for granted," she said. "We are so lucky to have our teachers coming to school every day to provide us with an education."
The people who fought for the freedom Americans now enjoy should not be taken for granted either, Sechrest said.
"We wouldn't be here to this day if it wasn't for the grandparents, great-grandparents, mothers and fathers that fought for our freedom," she said.