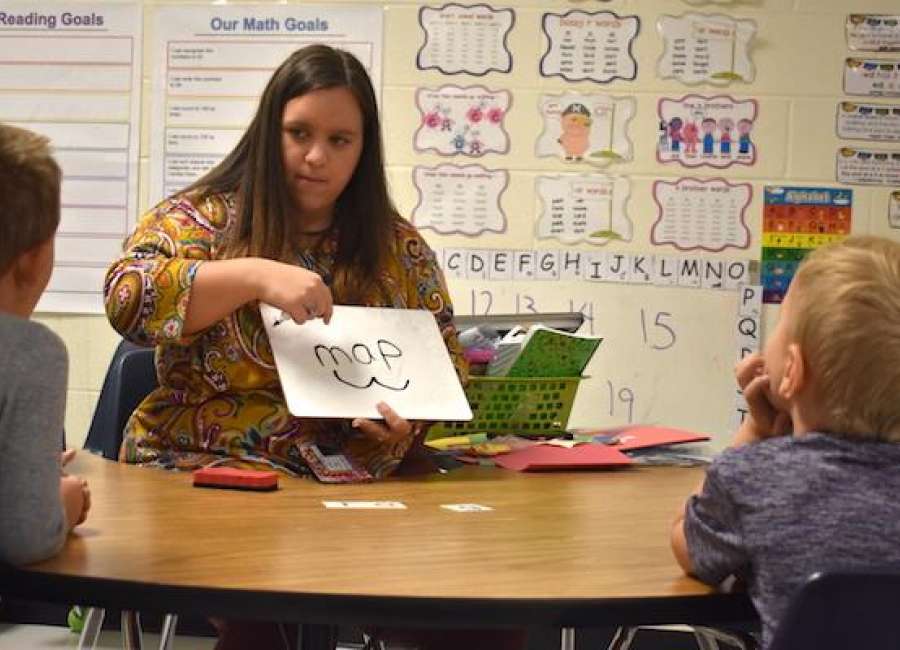 She's always wanted to be a teacher, but when it was time for Courtney Griffin to choose a career, she decided to become an X-ray technician.

"Growing up, when anybody asked me what I wanted to be, it was always 'teacher, teacher, teacher,'" Griffin said. "But when I was graduating from high school and had to make that decision, I spent a year and a half in X-ray. And then I realized I was not going to be happy."
So Griffin went to work in a daycare for three years.
"I realized that, yep, kids are still my thing," she said. "And that I still wanted to teach."
She'd hopped elementary schools twice, starting out at Moreland and moving to the then-brand new Glanton Elementary for two years.
"And then they redrew the district lines and I went back to Moreland," Griffin said.
While she said both schools are special to her, she happened to reach out to her former teacher at Glanton, Shelley Crittendon, when she decided to look for a paraprofessional position.
"I asked her if there were going to be any openings for parapros," Griffin said. "It turned out that one of the kindergarten parapros was retiring."
It was the first position she applied for and the first interview she had. It seemed like fate when she got the job and headed back to her old school.
"I was blessed with that," she said. "I feel like Mrs. Crittendon knew that I went there and that was a big part of me getting the job."
Last year was her first as a parapro, and Griffin worked in a kindergarten classroom. This year, she moved to an instructional support position and works with all grades except fourth and fifth.
"It's almost like an (early intervention program) class," she said. "I work with kids that need the extra boost. We work on letters, numbers, shapes, sight words, anything you can name. It's just an extra 30 minutes in the morning that they get help."
Griffin said the best part of her job is when a student understands or achieves something new – when one "gets it."
"That's when you feel like you have a purpose, that you're doing something with your life," she said.
Griffin is working toward her teaching degree online, and when she finishes her degree in late 2021 or early 2022, she said she hopes to come back to teach full-time at Glanton, or possibly Moreland.
Meanwhile, she's filling up a notebook with ideas from the classroom teachers she works with at Glanton in addition to her studies. And Griffin said she's loving the view from the other side at the little school on the hill.
"It really does feel like a family," she said.
Editor's Note: This article is part of a series of profiles of educators who are now teaching in schools they attended.