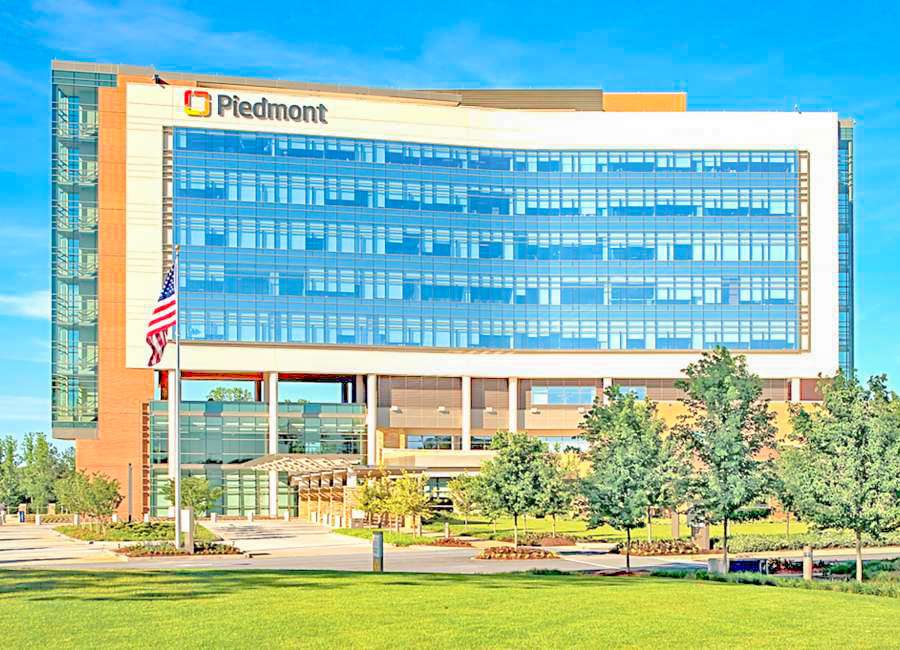 BY ANDY MILLER - Special to the NTH
Piedmont Newnan is one of six hospitals in the Piedmont Healthcare system, and one of only 19 hospitals in Georgia and only 33 percent nationally, to earn an 'A' from The Leapfrog Group's fall 2019 Leapfrog Hospital Safety Grade.
This is the 10th consecutive grading period Piedmont Newnan Hospital has earned an 'A.'
The designation recognizes Piedmont Newnan's efforts in protecting patients from harm and providing safer health care.
The Leapfrog Group is a national nonprofit organization committed to improving health care quality and safety for consumers and purchasers. The Safety Grade assigns an 'A', 'B', 'C', 'D' or 'F' grade to hospitals across the country based on their performance in preventing medical errors, injuries, accidents, infections and other harms to patients in their care.
"At Piedmont Newnan, we take great pride in providing high-quality, patient-centered care to the people in the community that our hospital serves," said Piedmont Newnan CEO Mike Robertson in a press release. "It's an amazing accomplishment for our team, and earning this 'A' grade for the tenth consecutive time demonstrates our continued commitment to the safety of our patients."
Piedmont Healthcare's hospitals account for 31.5 percent of all of the hospitals in Georgia that received A's, making it the safest healthcare system in Georgia with more 'A' grades than any other healthcare system in the state, according to Piedmont.
"'A' hospitals show us their leadership in protecting patients from preventable medical harm and error," said Leah Binder, president and CEO of The Leapfrog Group. "It takes genuine commitment at every level – from clinicians to administrators to the board of directors – and we congratulate the teams who have worked so hard to earn this 'A.'"
Developed under the guidance of a national expert panel, the Leapfrog Hospital Safety Grade uses 28 measures of publicly available hospital safety data to assign grades to more than 2,600 U.S. acute-care hospitals twice per year. The Hospital Safety Grade's methodology is peer-reviewed and fully transparent, and the results are free to the public.
One in four Georgia hospitals earned an "A" grade in the latest safety ratings by the Leapfrog Group, released Thursday.
That percentage is lower than the one-third of Georgia hospitals scoring an "A" in the spring 2019 Leapfrog report. The new rate dropped Georgia from 15th among states to 34th for its percentage of hospitals getting a top grade.
Leapfrog, a patient safety organization founded by employers, issues the rankings semi-annually, in fall and spring. It's a widely watched rating system, and is touted by hospitals that do well in the grades.
Hospitals that scored an 'A'
Georgia's 19 "A" hospitals were a mix of urban, suburban and smaller rural facilities. Among hospital systems in the state, Piedmont Healthcare had six top-grade facilities, HCA had four and WellStar Health System had three.
Leapfrog says it has the nation's only rating system that's focused entirely on patient safety, recording statistics on preventable errors, accidents, injuries and infections that occur in hospitals.
More than 2,600 hospitals nationally were graded, with 33 percent earning an "A"; 25 percent a "B"; 34 percent a "C"; 8 percent a "D"; and just under 1 percent an "F."
Other findings
The five states with the highest percentages of "A" hospitals were: Maine (59 percent), Utah (56 percent), Virginia (56 percent), Oregon (48 percent) and North Carolina (47 percent).
Three states – Wyoming, Alaska and North Dakota – had no "A" hospitals. The three are among the mostly thinly populated states in the nation and have relatively few hospitals.
Thirty-six hospitals nationwide have achieved an "A" in every grading update since the launch of the Safety Grade in spring 2012. That includes AdventHealth Gordon in Calhoun.
No Georgia hospital received an "F."
Leapfrog
Leapfrog said the release of updated Safety Grades this fall coincides with the 20th anniversary of the Institute of Medicine's groundbreaking report, To Err Is Human, which revealed that nearly 100,000 lives were being lost every year due to preventable medical errors.
Subsequent research suggests that the actual number may be twice as high, Leapfrog said.
"In stark contrast to 20 years ago, we're now able to pinpoint where the problems are, and that allows us to grade hospitals," Leah Binder, president and CEO of the Leapfrog Group, said in a statement.
"It also allows us to better track progress. Encouragingly, we are seeing fewer deaths from the preventable errors we monitor in our grading process."
The Leapfrog Hospital Safety Grade uses national performance measures from the federal Centers for Medicare & Medicaid Services (CMS), the Leapfrog Hospital Survey and other supplemental data sources.
The Safety Grade is based on 28 measurements, all currently in use by national measurement and reporting programs.
Earl Rogers, president and CEO of the Georgia Hospital Association, said in a statement that the Leapfrog report "shows that nearly 40 percent of graded Georgia hospitals either improved their scores from the last quarter or maintained an 'A' grade, highlighting our hospitals' commitment to improving patient quality and safety."
"Ultimately, the LeapFrog scores are just one tool to assist patients in their health care decisions. We encourage patients to use all available tools at their disposal, such as consulting with doctors, nurses and other health care providers and talking with friends and family," Rogers added.
Kandice Bell, NTH staff writer, contributed to this story.