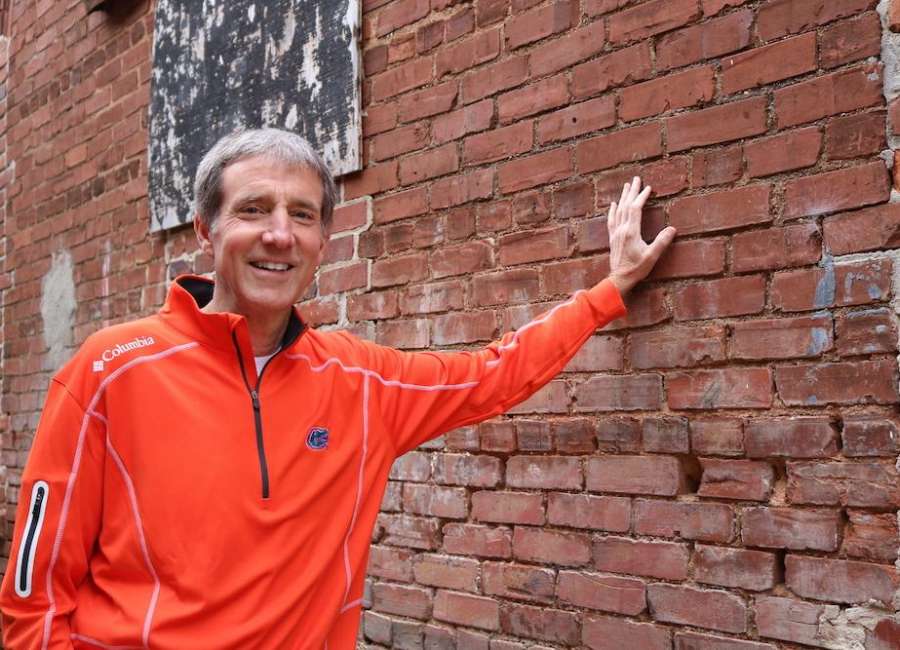 1. Penn State was allowing an average of less than 76 rushing yards a game before taking on Ohio State. Then the Buckeyes rushed for 91 yards. On their first possession of the game. Ohio State 28, Penn State 17.
1-a. Idea for another bowl game, because there's always room for just one more: The Not Ready for Prime Time Bowl. This year's matchup could feature Notre Dame and Penn State. In fact go ahead and pencil them in for the next five years or so.
2. Interesting statistic from the Vanderbilt-East Tennessee State game in Nashville. There were more points scored (38) than there were fans at the game.
3. LSU was favored by a record 42 points for its game against Arkansas. If not for the two sympathy touchdowns the Tigers allowed in the final quarter it could have been worse than that. Final score: LSU 56, Arkansas 20. The Tigers should be heavily favored in their SEC championship game with Georgia; not by 42 points, but pretty darn close.
4. With five Power Five conferences and ergo five Power Five conference champions, isn't a four-team playoff by definition a formula for disaster? Don't expect the SEC runner up or a one-loss SEC team that didn't even play for the conference championship to make it to the 'final four' this year, although:
4-a. It would be interesting on December 28 to see (a) Georgia play Ohio State, a team led by quarterback and former Bulldog Justin Fields, and/or (b) Alabama play Oklahoma, a team led by quarterback and former Tide Jalen Hurts. It doesn't matter what I think: as I already mentioned neither SEC team is going to make it to the playoffs.
5. (For the reader that called me out last week for not mentioning Georgia won the SEC East.) SEC East champion Georgia's offense looked unimpressive in a 19-13 victory over an even more unimpressive Texas A&M offense. The Bulldogs have two chances against LSU, and I think we all know what I mean by that.
5-a. Noteworthy quarterback comparison from this week's games:
LSU's Joe Burrow: 23 of 28 for 327 yards and three touchdowns
Georgia's Jake Fromm: 11 of 23 for 163 yards and one touchdown
5-b. Also worth mentioning: LSU running back Clyde Edwards-Helaire had the performance of the week, if not the season: six carries for 188 yards and three touchdowns.
5-c. Aggie coach Jimbo Fisher appears to be out of his element coaching in the SEC. In other news, there is a team in the ACC with an opening for a head coach: FSU.
6. When Kansas lost to Iowa State (41-31), it was their 49th consecutive loss on the road, meaning they haven't won a game since Reagan was President (or thereabouts).
7. With Oregon's 31-28 loss to Arizona State, it appears the Big 12 champion will take the 4th spot in the playoffs (with *Clemson, LSU and Ohio State getting the other three). The Oklahoma-Baylor game the second time around—this time to determine the Big 12 champ--could be fun, particularly since the Bears rebounded well after losing in overtime last week in round one by beating Texas 24-10. Interesting fact: Brewer's father and grandfather are both Texas alums, a school that showed no interest in recruiting the current Baylor quarterback out of high school. Isn't revenge sweet? As to why the Pac 12 champion—Utah or Oregon--is now out of the running for the playoffs, there are two reasons: (a) if Oregon wins, they still had two losses in the regular season, and (b) if Utah wins, the playoff committee will be thinking 'so what, all they did was beat a team that already lost to Arizona State.'
*ESPN analyst Greg McElroy came up with the line of the week: 'Clemson hasn't beat(en) anybody with a heartbeat all year.' In other words, business as usual in the ACC.
8. The Heisman race is over. See 5-a.
9. The Rocky Bottom Award goes to Miami after a 30-24 loss to Florida International. Hurricane coach Manny Diaz is now officially the first name on the list of 2020's 'Coaches to be Fired in their Second Year on the Job.' (This year's list includes FSU's Willie Taggart and Arkansas' Chad Morris.) Incidentally FIU coach Butch Davis used to be the head coach at Miami. To answer an earlier question: yes, revenge is sweet.
9-a. After being turned down by both FSU and Arkansas, there are rumors that Kansas officials are negotiating with Miami about the possibility of a home-and-home series in the very near future, specifically 'the sooner the better.'
10. Riddle me this, Batman. Which was more impressive: Alabama's offense scoring 66 points against Western Carolina, or their defense holding the Catamounts to 3 points? Answer: Unless you said 'neither,' you missed the clue earlier: 'Western Carolina.'
While we're on the subject of Alabama, it could just be me but aren't we all getting tired of hearing about the so-called 'dynasties' (real or imagined). With the possible exception of those born or living in the city of any given team or the alumnus of a particular university, can we all pretty much agree that most of us would enjoy a season or two without the talking heads espousing ad infinitum about any or all of the following:
Alabama, Clemson and at least one of the 'O' schools—Ohio State or Oklahoma--in college football. (Had Notre Dame been a viable contender for the National Championship, they would have been included. But they're not.)
Kentucky and Duke in college basketball.
New England Patriots in professional football.
Tiger Woods in professional golf as well as any-and-all-things-Nike. If you want to see how high I can get up on a soapbox, just ask me what I think about the company with the 'swoosh.'
New York Yankees in professional baseball. Even though it's been a decade since their last World Series victory, they still have more than twice as many championships (27) as their closest competitor, the St. Louis Cardinals (11).
Golden State Warriors and whatever team LeBron James is playing for at any given time in professional basketball.
The same three guys that win the four major tournaments in professional tennis.
Whatever team(s?) is dominating professional hockey and soccer. (I know nothing about either sport and if everyone is being totally honest I'm guessing most of you don't either.)
Scott Ludwig lives, runs and writes in Senoia. His latest book, "Southern Charm" is a collection of his first 101 columns for The Newnan Times-Herald. He can be reached at magicludwig1@gmail.com .