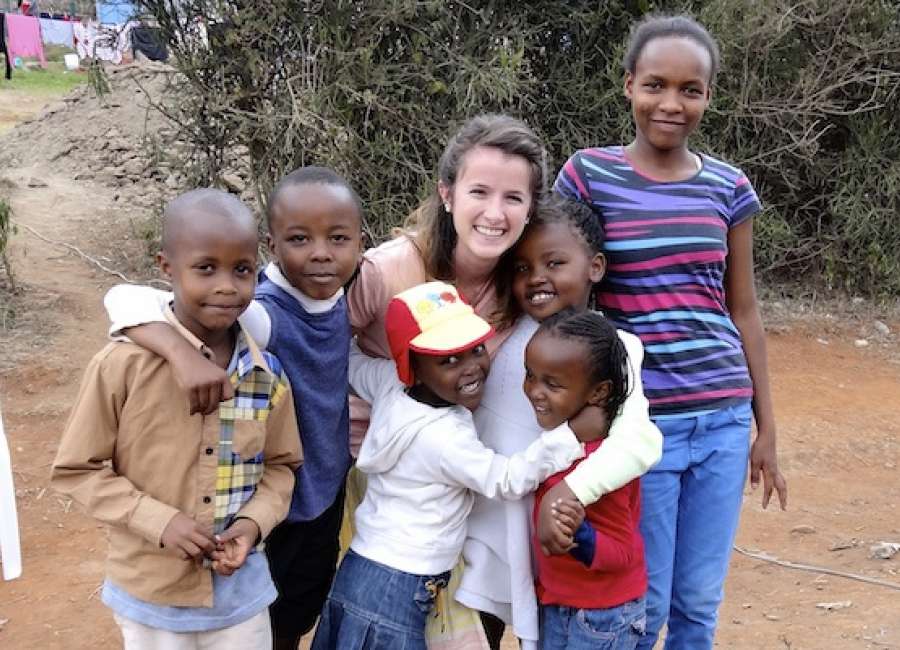 When Caitlin Crane was 14, she heard a story about a girl in India that would change her life forever.
She was at a fundraiser for an organization that rescues girls from sex trafficking in India. The speaker talked about a girl who had been rescued who was the same age as Crane.
Until that point, Crane said she had never heard of sex trafficking, and it shocked her that someone her age had been through something like that.
"That just really planted a seed in my heart that over the next few years grew into a passion," she said.
When she attended the Passion Conference in Atlanta in 2012, Crane said they talked about human trafficking on a global scale, and that's the first time she realized how big of an issue it is.
The International Labour Organization estimates that there are 40.3 million victims of human trafficking globally. Of those, 81 percent are trapped in forced labor, 25 percent of them are children and 75 percent are women and girls.
The U.S. Department of Homeland Security defines human trafficking as the use of force, fraud or coercion to obtain some type of labor or commercial sex act.
Crane said that after the conference, she realized that this issue was not going away. She said she felt called to do something about it in the long run.
When she was 21, she decided to start a nonprofit called Just1 International.
"I remember calling my pastor at the time and saying, 'Hey, what do you think about these ideas I have?' And he said, 'I think you should do it.' And I was like OK, challenge accepted," Crane said.
She started the organization in December of 2013, but without formal training, she had to learn on the job. One of the first steps she took was helping provide a safe house for girls being exploited in Kenya.
Crane said she already had a relationship with a missionary in Kenya who was rescuing girls from different forms of exploitation. The missionary needed a safe house to care for the girls after being rescued.
The girls had been rescued out of several different abuse, exploitation or abandonment situations.
Just1 partnered with the missionary to help fundraise for the safe house, and it took them three years to raise the money. Now, they are in the process of building it.
Just1 also helps support the 21 rescued girls financially. Individual donors, churches, businesses and online merchandise sales allow Just1 to support the girls in Kenya and the work they do in the U.S.
"If this can happen to me, it can happen to you"
Around the same time Crane was getting the organization started, something happened to her that put the work she was doing in perspective.
She had met a man who was older than her, and he began pursuing her and wanted to start a relationship. He told her he loved her and wanted to marry her.
"He really just manipulated me and lied to me about some pretty big things. He told me he had stage three lung cancer to get me to stay in the relationship," she said.
Unfortunately, it took Crane about a year to find out the whole truth, and it took her a couple of more years for her to realize that she had been taken advantage of and exploited by him.
"It was crazy to realize that if he had been a trafficker, I would have been a trafficked victim. He used a lot of the same tactics traffickers use to lure in their victims," she said.
Although Crane knew how traffickers and those looking to exploit younger people lure in their victims, she was still blindsided.
Because of her experience, the work that Just1 does in the U.S. includes Crane going into schools and youth groups to educate teens about how they can protect themselves from exploitation. She teaches them about tactics that abusers use.
"If this can happen to me, it can happen to you," Crane said.
Spreading The Message
Her goal is to equip youth with knowledge so they can prevent it from happening to them.
Now, the organization is working to put its prevention information online, and Crane is making videos on the presentations she presents to groups so that the information can be spread nationally.
Just1 has a board made up of five people who work in like-minded roles, including a missionary, an owner of a Christian T-Shirt business and a pastor. Crane said they also have volunteers and interns who help her with events and big projects.
One way Crane said she grounds herself when faced with such a large-scale global problem is by focusing on the name of the organization, Just1.
"I remember when I first started this work, just being overwhelmed by the magnitude of the issue and millions of people trapped in this. I just had the realization if we could rescue just one child, it'll be all worth it," Crane said.
Just1 is launching their year-end fundraiser on Giving Tuesday, Dec. 3, and the money raised will go toward Christmas gifts, school fees, uniforms and supplies for rescued children, as well as educating at-risk children to protect themselves from sex trafficking.