When William Banks passed away Nov. 15, a memorial wreath was placed underneath his larger-than-life portrait in downtown Newnan.

It seemed a fitting tribute for a man who seemed, well… larger than life.
"There are not going to be many more like William Banks," said Jim Rogers, a longtime friend. "He was the last of a breed, a true Southern gentleman."
Before his death at age 95, William Nathaniel Banks Jr. was not only well-known for his knowledge of antiques and architecture – his Newnan home, Bankshaven, is deeply enmeshed in Georgia history, and so are its gardens – but also for his love of the arts.
For many years, he was a regular contributor to The Magazine Antiques, and Banks also was a playwright. Two of his plays, "The Curate's Play" and "The Glad Girls," were professionally produced.
Banks refused to use a computer or word processor. For his entire life, he wrote on a manual typewriter – even when, at age 92, he wrote an article about a home in Amherst, N.H. after meticulously researching the history of the house and the individuals associated with it.
"He was really remarkable," Rogers said.
Although Banks owned a historic 19th century property in New Hampshire and for a time maintained an apartment in New York City as well, he was deeply connected to his hometown and the people who live here. His mother, Evelyn, was from Newnan.
A longtime supporter of the arts, Banks was a life member of the board of directors of the High Museum of Art and a member of the MacDowell Colony, a contemporary arts organization in New Hampshire. He strongly supported the local arts as well – his portrait is part of Mary Beth Meehan's "Seeing Newnan" art installation – and he was a 2012 recipient of the Richard Brooks Visionary Award of Artistic Distinction.
Friends and family say Banks always was a dapper man-about-town, rarely seen without a sport coat and a handkerchief in his pocket. His butler met guests at the door of Bankshaven with a glass of champagne, and younger guests at his Christmas Eve gatherings eagerly anticipated the Godiva chocolate Santas he put out especially for them.
Banks used a "secret" bell under his place at the dining room table to summon help for serving, refilling or clearing away during meals. He made sure his guests were well taken care of – so much so, said his cousin, Ed Brasch, that it occasionally startled visitors.
"When I was getting married long ago, some friends of mine came to stay," Brasch said. "They left their suitcases upstairs, and they were amazed when they came back, because the butler had unpacked everything and put it neatly away in drawers."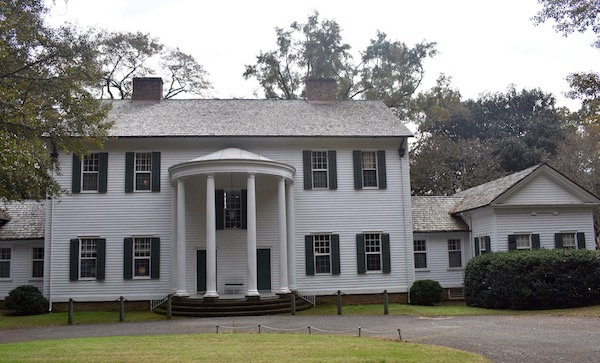 Banks was a Phi Beta Kappa graduate of Yale University, and as his interest in all things early American grew, so did his desire to make Bankshaven his own – even if it meant saying goodbye to the 1920s Tudor-style house built by his father.
"He talked his mother into tearing down the perfectly lovely home there so he could move a home from (near) Milledgeville to Newnan," Rogers said.
Banks became enamored with the house in the 1960s after learning it was designed and built a century before his family home by Daniel Pratt, a New Hampshire native who hugely influenced Southern architecture.
"I was awestruck by a unique house that had remained virtually unaltered for more than a century; and, I confess, I fell in love," Banks wrote in a 2015 article for The Magazine Antiques.
The house has been featured in that magazine, and others, many times throughout the years.
Banks razed his original house and reconstructed the 1820s Federal house on his 280-acre family property – on which William C. Pauley, the first landscape architect licensed in Georgia, had designed the gardens.
"He demolished the beautiful home that was there prior to that to make room for this one, because the gardens were so outstanding," Brasch said.
Banks added two wings to the meticulously restored Pratt home, then filled it with Federal and Empire treasures. And his efforts were celebrated.
An article from the Winter 1981 issue of Southern Accents Magazine – the cover of which is graced with a photo of Banks' restored home – gushed, "This special house, its furnishings, and the grounds and gardens of Bankshaven all reflect William Banks' insight, taste, and, above all, his dedication to the preservation of the beauty of the past."
The neoclassical "Gordon-Banks house" also was featured on the cover of The Magazine Antiques in September of 1972, with an extensive pictorial that included the Doric columns, the three-story spiral staircase and even the swans that once populated the lake behind the home.
Banks, an only child, never married or had children. Being born into wealth afforded him the opportunity to travel extensively, study, lecture and write about early American furniture, architecture and artwork.
It also allowed him to have some fun. Banks owned several Mercedes automobiles throughout the years, including a 1963 220 SE four-seater convertible. Black, with a red interior. A car that Brasch knows well, because he always loved that car, and his cousin knew it.
A few years after Banks bought the car, Brasch received a beautifully wrapped Christmas gift. Underneath the wrappings was an exact model of the Mercedes and an envelope containing a check for $10,000 – an amount that would easily purchase the car at that time.
"I was so excited that I failed to notice the check was signed by Santa Claus, not by William," Brasch said with a laugh.
About a year ago, Banks gave Brasch the car.
And Bankshaven was tentatively willed to the Georgia Trust for Historic Preservation.
The 2015 piece penned by Banks for The Magazine Antiques was titled "A charmed life." Rogers, who spent time with Banks in pastimes ranging from doubles tennis to hunting, said the title could apply to more than just his friend's article.
"It epitomizes how I feel he lived," Rogers said. "He lived a charmed life."