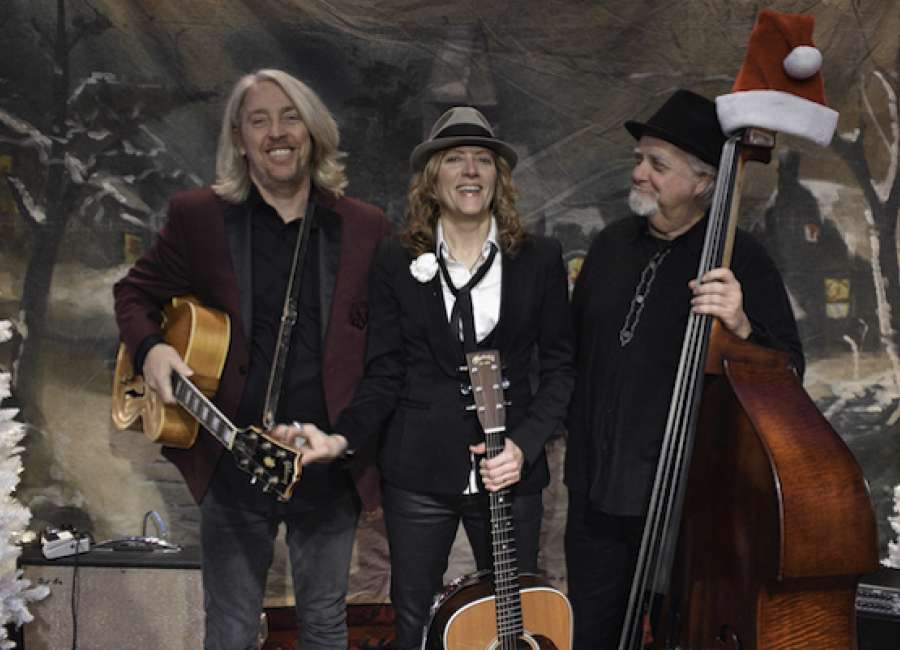 Christmas is around the corner, and that means it's almost Toddie Time in Newnan.

The Hot Toddies – Doug Kees, Michelle Malone and Tommy Dean – will play their third annual holiday show Below the Neck in downtown Newnan Dec. 3. The two-set show will double as a CD release party for the group's new record, Toddie Time 2.
Advance ticket sales include a copy of the CD, which is only available at Hot Toddies shows.
"We recorded it this summer, and it's songs we've not recorded before," said Kees, who is playing his first southside show since June, when he celebrated 30 years in Newnan with a concert at the Wadsworth Auditorium. "It'll be super cool."
The Newnan performance is near the beginning of a three-week run of Hot Toddies shows.
"Performing with the Hot Toddies is the most fun I've ever had," Malone said. "It's a great way to build community and celebrate friends."
The Atlanta singer-songwriter said she feels a special connection with the Christmas standards on both Hot Toddies records. She grew up listening to classic Christmas songs with her grandmother and said she has fond memories of being in the car while her grandmother "sang every single Christmas song she knew."
"I was very close to her, and that's the main reason these songs mean so much to me," Malone said. "They take me back to a special time with family."
The songs may be standards, but the Hot Toddies' take on them is anything but.
"With Toddie Time 2, we broadened our horizons a bit," Malone said. "We didn't want to just rehash the songs."
"There are some new and cool arrangements," Kees said. "Our version of 'Auld Lang Syne' is moody and vibe-y and not like anything you've ever heard. I love it."
The Toddies also gave "Away in a Manger" a different treatment, recording it in a minor key.
"To me, the lyrics are more meaningful because the music is a little more serious," Malone said. "The lyrics are mournful and dark."
The joyous, gospel "Go Tell It on the Mountain" and a bluesy version of "Silent Night" are a nod to Malone's childhood Christmases backed by the likes of Louis Armstrong and Billie Holliday.
"(Toddie Time 2) has a jazz and blues foundation to it, because the singers of the standards I heard from my family growing up were of that genre," she said.
Kees – who released his first solo album of acoustic songs, Roots and Boughs, earlier this year – said he is looking forward to seeing some familiar faces in Newnan. He saw some in September at the Fox Theatre, where he and Malone took the stage during a show with several other Georgia-based acts.
The show was a benefit for the Fox Theatre Institute, which raises money to help preserve historic theatres, and it came on the heels of a weeks-long tour of the west coast for Kees and Malone.
"It was an amazing show," said Kees, who reconnected with friends from REM, the Georgia Satellites and Drivin' N Cryin'. "It was like an Atlanta music high school reunion. Everybody was so happy to see each other. It felt very friendly and really affirming."
He said it was an adjustment to be onstage instead of in the audience.
"At first, when I walked out to play, I was visualizing where I sat in the balcony for 'Gone With the Wind' and trying to find my seat from the last time I saw 'The Nutcracker,'" Kees said. "I had to remind myself to stop doing that and play the song."
He said spreading Christmas cheer with the Hot Toddies in more intimate performances, like in Newnan, will be a "shot in the arm."
"I'm excited about it," Kees said.
Malone said playing in Newnan feels a bit like coming home.
"Obviously it's fun because Doug knows everybody," she said. "He's firmly ensconced in the community. I've also played here enough to know people, so it feels familiar."
In fact, Malone said she recently learned that her family for generations lived in nearby Alvaton – Strickland Town, in Meriwether County – and that her great-grandmother was a Strickland.
"It's strange because I didn't grow up here, but I feel connected somehow," she said.
Malone's last performance Below the Neck was March's Blues and BBQ Supper Club, and she said the Hot Toddies show will be more of an after-dinner cocktails event, with dancing and singing and Christmas fun.
"Y'all know us and love us, so we expect to see you," she said.