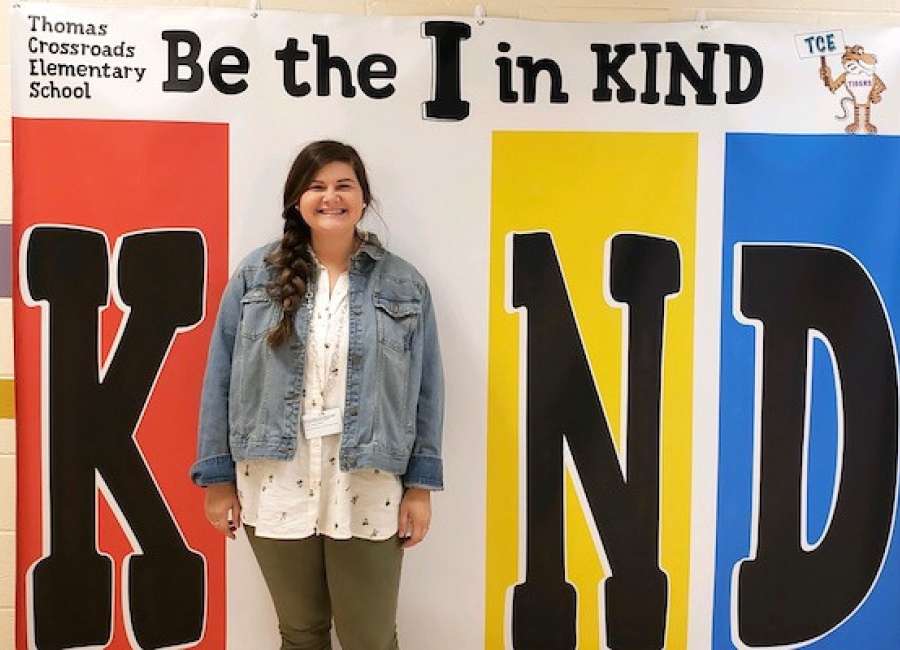 When Ali Epps began working at Thomas Crossroads Elementary School as a paraprofessional this fall, she found that walking the halls brought back many memories from elementary school.
Epps attended Thomas Crossroads for her fourth- and fifth-grade elementary years and has been hired as a paraprofessional for this school year as she finishes her education degree.
"The best way to describe being at Thomas Crossroads is that it feels like going home. It's comfortable to me to be back in a familiar environment," she said.
Epps will graduate in May from the University of West Georgia with a degree in early childhood education with a concentration in special education.
After babysitting kids for years, Epps said she felt it was natural to study to become a teacher.
"I just love kids. You can't be a teacher if you don't like it," Epps said.
She was approached by professors at the UWG Newnan campus about adding a special education concentration to her degree, and she felt like that would be a good fit for her.
Epps had volunteered with special needs students at Northgate when she was a student there through the Partners Club, and she said working with special needs students has always been something she loved.
One of her student teaching assignments required by her degree program was at Canongate Elementary, the school she attended for first through third grade.
This year, she decided to apply for a full-time position at Thomas Crossroads that would also help her with the hours needed for student teaching.
She works specifically with first- and second-graders who have autism.
Although Epps said it has been hard to balance class while working a full-time job, she said she knows the experience will help her down the road.
The school feels the same to Epps, she said, and she remembers looking at the mural in the lunchroom while eating there as a student. She sees it every day now.
"The gym and everything is in the same spot. The field I used to play kickball on is still there. It's funny because I have these random memories," she said.
Epps said she also remembers some of the people who worked there when she was a student. LaTangie Ingram, the bookkeeper, used to work as the front office clerk, and Epps said Ingram remembers her and her mom.
Also still working at Thomas Crossroads is Epps' fourth-grade teacher, Shirley Freeland.
Epps said she ran into Freeland in the hallway on her first day there, and her former teacher was surprised to see her.
"As a teacher with 30 years' experience, I have had many students pass through my classroom doors, and although we try as teachers to remember them all, it is not always easy to do so. Ali Epps was one of those that left an impression on my heart and was an absolute joy to teach," Freeland said.
When Epps graduates from UWG in May, she said she hopes to remain working in the Coweta County School System, specifically at the elementary level.
"I grew up going to school here, so I know how great the schools are in Coweta County," she said. "All the schools I have been at have been super welcoming and helpful, and I would love to stay."
Editor's Note: This is the first in a series of profiles of educators who are now teaching in schools they attended.