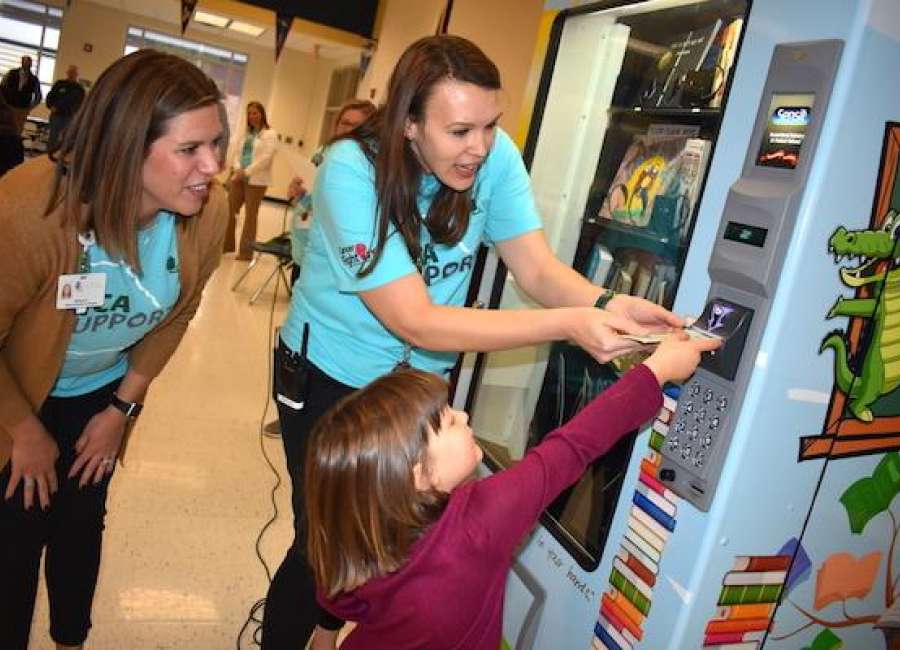 Students at Glanton Elementary School must have been extra good this year, because Santa just couldn't wait to surprise them with an early Christmas gift.

At a pre-Thanksgiving assembly, the wrapping came off and a secret kept for weeks was finally revealed: a book vending machine, built and decorated especially for Glanton students by community partners Buffalo Rock, Cancer Treatment Centers of America and Henson Signs.
"They have worked together to give us this treasure," Principal Yovandra Curtis said. "It is a gift that will keep on giving."
The vending machine – retrofitted to accommodate books – accepts "Book Bucks," special currency that can be earned by students for exceptional academic performance and behavior. When he or she accumulates enough Book Bucks, a student can feed them into the vending machine and choose any book they want to take home and keep.
Media Specialist Stephanie Landrum – along with Curtis and teachers Renee Ward and Tammy Ayers – pitched the idea after seeing similar projects online. In a letter to prospective sponsors, Landrum explained that many Glanton students do not have access to books at home, and that a book vending machine will encourage students to develop personal libraries to provide more in-home reading opportunities for students and their families.
VIPs attending the unveiling assembly included school system officials and representatives from the sponsor companies.
"We are very happy to be able to present you with this gift," said Ricky Ayers of CTCA, who spoke on behalf of all three sponsors.
When Landrum took the microphone, students guessed the surprise might have something to do with books – or maybe coffee.
"One of my favorite things about being your librarian is that I get to be involved in your reading lives," Landrum said. "We talk about what we love to read, you tell me your opinions on things – you tell me what books you want to read. So that's a huge joy you've brought me being here at Glanton."
Landrum emphasized the importance of reading for fun before dropping more hints about what was underneath the pretty wrapping paper and giant bow.
"Our surprise this morning is a wonderful way for you all to grow as readers and to help us create and keep a culture and a love of reading here at Glanton Elementary," Landrum said.
The excitement reached a fever pitch as the machine was revealed, and several students tried it out with the help of the special guests.
Ward said students should see the project as a reminder to "dream big."
"This began with a simple idea," she said. "The idea grew from a wish to a reality. Sometimes you may have to ask for help in order to achieve your dream, like we did. But there's always a way to get what you want if you just work for it. You just might end up with something bigger than you ever dreamed."