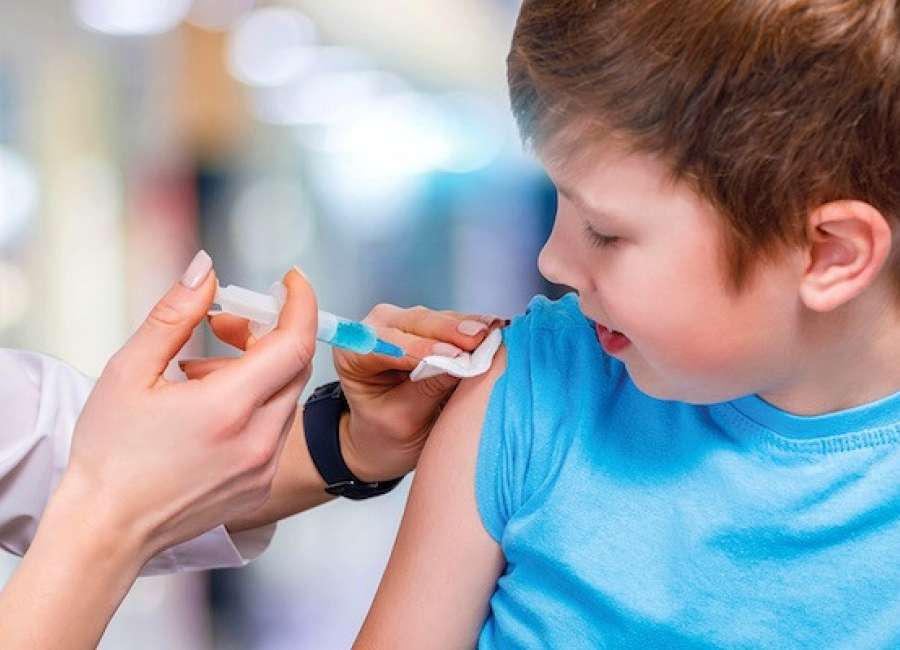 This year the U.S. has seen the most reported cases of measles since 1992, and Georgia has been no exception to the outbreaks.
So far this year, there have been 18 confirmed cases of measles in Georgia, according to the Georgia Department of Public Health.
In the last two decades, Georgia has only seen five cases of measles: one in 2009, 2010 and 2015, and two cases in 2012.
The Health Testing Centers conducted research to determine how vaccination rates have changed since 2009. They examined data from the Centers for Disease Control and Prevention (CDC), analyzing vaccination rates among kindergarteners and teenagers from 2009 to 2018.
Georgia's vaccination rate for MMR, DTap, Varicella, Hepatitis B and Polio among kindergartners decreased by 6 percentage points, the largest decline of any state.
In the 2009-2010 school year in Georgia, 99.6 percent of kindergartners were fully vaccinated, while for the 2018-2019 school year, 93.6 percent were, according to the CDC.
Other notable statistics from the Health Testing Centers report include:
Overall, U.S. vaccination rates fall below the CDC's target rates, including rates for the MMR (measles, mumps and rubella) and Polio vaccines.
A majority of U.S. States, 27, have seen decreases in vaccination rates since 2009.
Georgia is tied for the 19th lowest MMR vaccination rate at 93.4 percent and has the 15th lowest Polio vaccination rate at 93.4 percent. Both fall below CDC target rates.
Public school system policy
One way to ensure children are vaccinated is through public school requirements. Georgia law dictates that the Coweta County School System and other public school systems around the state follow certain rules regarding immunizations that students are required to have to attend school.
"Every child entering Georgia public schools for the first time, regardless of grade level, must present a completed certificate of immunization to the school, and a copy must be retained in the child's permanent record. This record must include immunization against diphtheria, pertussis, tetanus, poliomyelitis, measles, rubella, mumps, Hepatitis B, varicella, and if younger than 5 years of age, Haemophilus Influenza type B and pneumococcal disease," according to the Coweta school system's policy on immunizations.
The record must be on a form provided by the Department of Human Resources. Verification of immunization can be made only by a doctor or a qualified employee of the local board of health, according to the policy.
However, a doctor can issue a Certificate of Immunization, indicating a medical exemption for a child, which must be renewed annually. Some students cannot receive vaccinations if they're immuno-compromised – for example, if they are battling cancer, according to Coweta school system Lead Health Services Coordinator Shannon Hendrix-Caplinger.
A parent can also object to the immunization of their child on religious grounds, with a notarized affidavit affirming that the vaccination required conflicts with their religious beliefs, according to the policy.
However, Hendrix-Caplinger emphasized the importance of students who can receive the required vaccines getting them so that students who can't be vaccinated will stay healthy.
This is known as "herd immunity," which the CDC defines as, "A situation in which a sufficient proportion of a population is immune to an infectious disease (through vaccination and/or prior illness) to make its spread from person to person unlikely. Even individuals not vaccinated (such as newborns and those with chronic illnesses) are offered some protection because the disease has little opportunity to spread within the community."
Herd immunity is especially important when it comes to measles because 90 to 95 percent of the population has to have the vaccine to prevent an outbreak, according to the Health Testing Centers.
Although Hendrix-Caplinger said there are parents in every county who choose not to vaccinate, the Coweta County School System is emphasizing the importance of vaccinations.
Currently, there are 1,597 kindergarten students enrolled in the county, 111 of whom are unvaccinated. Of the students that are unvaccinated, 72 have a religious exemption on file, and 39 have a medical exemption on file, according to Hayla Folden, District 4 Public Health.
By providing documented exemptions, the county has kept a 100 percent compliance rate for the state's vaccination requirements for kindergartners, even though only 93 percent are fully vaccinated. This is on track with the CDC report for the entire state of Georgia.
"Vaccines protect families, teens and children by preventing disease. They help avoid expensive treatment and hospitalization needed to treat infectious diseases like flu and meningitis. Vaccinations also reduce absences both at school and at work and decrease the spread of illness in the home, workplace and community. Talk with your physician and make sure your entire family is up to date on vaccinations," Folden said.
Misinformation on social media
One of the reasons the Health Testing Centers identifies for the drop in vaccinations in Georgia is the "vaccine hesitancy" over the last decade and the spread of anti-vaccine misinformation on social media.
The rise of social media groups that disseminate false information has had a considerable impact on what people believe about vaccinations.
One Facebook group started by a metro-Atlanta mother has nearly 900 members with varying beliefs. They do not identify as "anti-vaccine" but as "pro-consent," claiming to inform parents of all aspects of childhood vaccination, according to an article from Georgia Health News.
However, social media companies such as Facebook, Pinterest and YouTube are beginning to crack down on content about vaccines that show up on their platforms. In March, Facebook became the latest social media giant to announce plans to make it harder for people to find information from anti-vaccine communities, according to Georgia Health News.
In an announcement titled, "Combatting Vaccine Misinformation" posted March 7, Facebook said that it would reduce some users' rankings and stop recommending content that does not present accurate information about vaccines. This would make anti-vaccine content appear lower on a user's feed.
Facebook said it would lower the ranking of pages and groups that are sharing vaccine misinformation. Also, ads that contain similar messaging about vaccines will be taken down or disabled. These measures extend across both the Facebook and Instagram platforms, according to Georgia Health News.