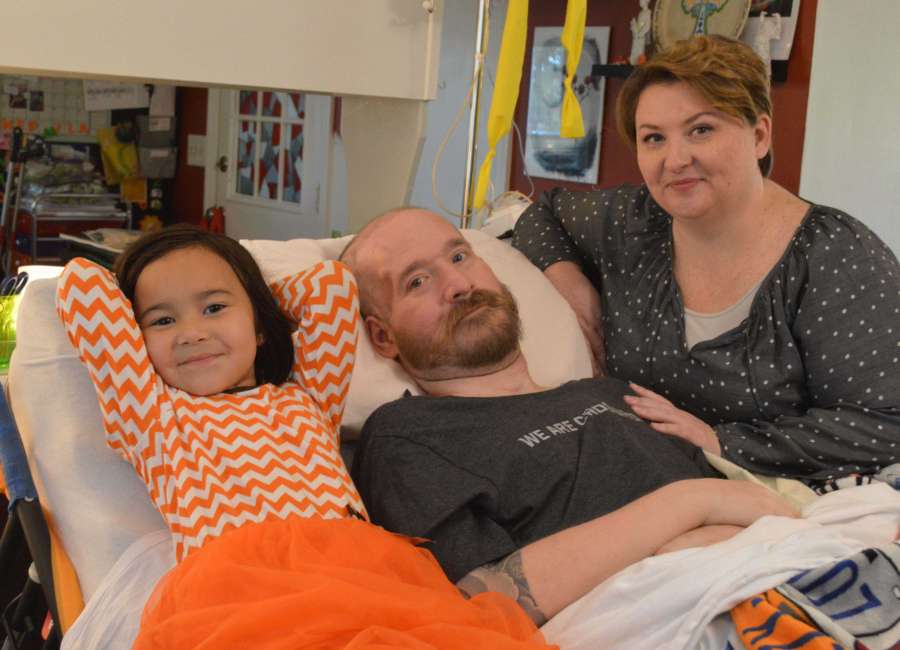 Four years ago, the girl once known as Kendra was living a life many people could likely never imagine for a child not yet 3.
When she was rescued from that life by police and brought into foster care, she was scared, she was shy, and she would barely speak to anyone.
But then she got a new family, a new life and a new name.
Now 6, Emersyn is all smiles, bouncing around her home, laughing with her mom and dad, playing with her puppy and doing cartwheels.
It hasn't been an easy journey for the Taylor family. As Emersyn was doing well and the family was moving toward adoption, tragedy struck.
One evening, Daniel Taylor told his wife, Amanda, to pack a bag. They were going off for a weekend getaway, and friends were on the way to watch their four foster children.
They'd been in their room at Lake Lanier when an aneurysm burst inside his brain.
"There were no warning signs," Amanda said. In hindsight, it's a blessing it happened when it did, she said. He wasn't driving, and the kids were already taken care of.
"The worst thing happened in the best way it could have," she said.
After surgery, he had a stroke. Rehab was progressing well with the chance he could walk again, until a devastating infection set him back.
Daniel is stuck in a hospital bed in the living room, on a feeding tube. But he gets regular therapy and his speech is improving. Amanda has quit her job as an art teacher, and the family is paying for COBRA insurance coverage.
Though he now has a disability, it will be at least another year before Medicare kicks in.
Emersyn's adoption day, in May, was the first time he had left the house for anything but a hospital visit.
The family has had strong support from their church, from the Faith Riders motorcycle group, and from their foster care team through the church's foster care ministry.
Seeing Emersyn with her father, "you'd think that he had always been this way," Amanda said. "It's just like it's normal. She runs around, she talks to him."
Amanda doesn't try to hide the medical equipment or wound care. Emersyn eats dinner beside her dad and climbs up beside him to watch movies.
A different route
For the Taylors, foster care and adoption were the results of years of trying to have a second child after the birth of their daughter, Phoebe.
Eventually, they were told that expensive in vitro fertilization was the only option. "We talked about it and prayed about it," Amanda said. They decided to pursue adoption instead.
"We decided to adopt from foster care because there are so many children who need homes," Amanda said.
They found there were many children in Georgia who needed loving homes.
But they didn't end up taking the "foster to adopt" route.
When Kendra first went into foster care, she was placed with the Taylors' friends and fellow Crossroads Church member, Jenn and Dan Nolder. That summer, the Taylors went to a Braves game with several church members, and that's when they met Kendra.
"She wouldn't go to anybody, she wouldn't speak," Taylor said. But for some reason, she really took to Phoebe, then 18, and Amanda. "Throughout the whole game she either sat in her lap or my lap," Amanda said.
The Nolders asked if the Taylors would be interested in doing some respite and keeping Kendra while they went on a mission trip.
About three days in, Amanda wasn't sure she was ready for it. "I was like – this is intense, this is a lot," she said. But by the end of the week, everybody had a great time. About 20 minutes after Kendra was back at her foster home, Amanda got a call.
"Jenn said she had been talking more in those 20 minutes than in the four months she had had her, and would we consider fostering her," she said.
The Taylors weren't even done with their foster parenting requirements but started keeping Kendra on the weekends and going to doctor and therapy appointments.
Then, she became their first foster child, with the agreement she would be the only child in the household for at least six months. Then Henry County DFCS, which oversaw Kendra's case, asked if the Taylors would consider adoption.
"We said yes," Amanda said.
Kendra went to regular therapy, and, at first, had supervised visits with both her mother and father. Neither ever tested clean for drugs, and eventually both fell by the wayside.
After Kendra had been in their home for about six months and was feeling comfortable, the Taylors started to take in other foster children. They've had 14 total, but Kendra is always the big sister.
"She loved it," Amanda said. A few months after the aneurysm, when Daniel went back into the hospital, Amanda knew she couldn't continue to take care of the three foster children they had at the time, so they were transferred to another home.
"Even now, she asks us when she's going to get another friend to come and stay," Amanda said.
Emersyn's teachers told them about a time that a child at school was talking about being scared.
Emersyn told them, "If you're ever scared or afraid and you don't have any food, you can come to our house, because my mom and dad can take care of you," Amanda said. "She knows that kids come and stay with us. We get them healthy and we take care of them until their mom and dad get better."
Emersyn has PTSD and will probably be in therapy for a long time, Amanda said. But she's happy and loved.
A new name
The Taylor's didn't plan on changing Kendra's name. That was her idea.
About a year after she came to live with them, Kendra asked Phoebe how she got her name.
"I said, 'Well, that's what I named her,'" Amanda said. "She got very upset because we didn't give her a name." So when they started heading toward adoption, they started talking about a new name.
"In her head, that is what adoption was – we got to give her a new name," Amanda said.
But first, they had to come up with one. After a very deliberate process, they settled on Emersyn. And when she heard it, "she said, 'Yep, that is my name,'" Amanda said. At first, she would ignore anyone who tried to call her Kendra. "She would say, 'I don't know who you're talking to but my name is not Kendra. My name is Emersyn.'"
When asked about her adoption day, Emersyn remembers dancing, her white dress and her mom brushing her hair and putting on shiny lip gloss.
"I was excited," Emersyn said. "When I was 2 years old, I was scared because I had a different mom. But my different mom didn't take care of me, and so then she came," she said, referring to Amanda.
"When I was 3 years old, I was really shy. When Daddy came, he put me around his neck and that was so fun. And then he held me like an airplane," she said. And she started not being so shy.
One of Emersyn's greatest wants is to see her parents have a wedding.
She's mad that she wasn't there for their wedding many years ago, Amanda said. So when Daniel gets better, they may renew their vows.
Emersyn wants to be the ring bearer. And the flower girl.