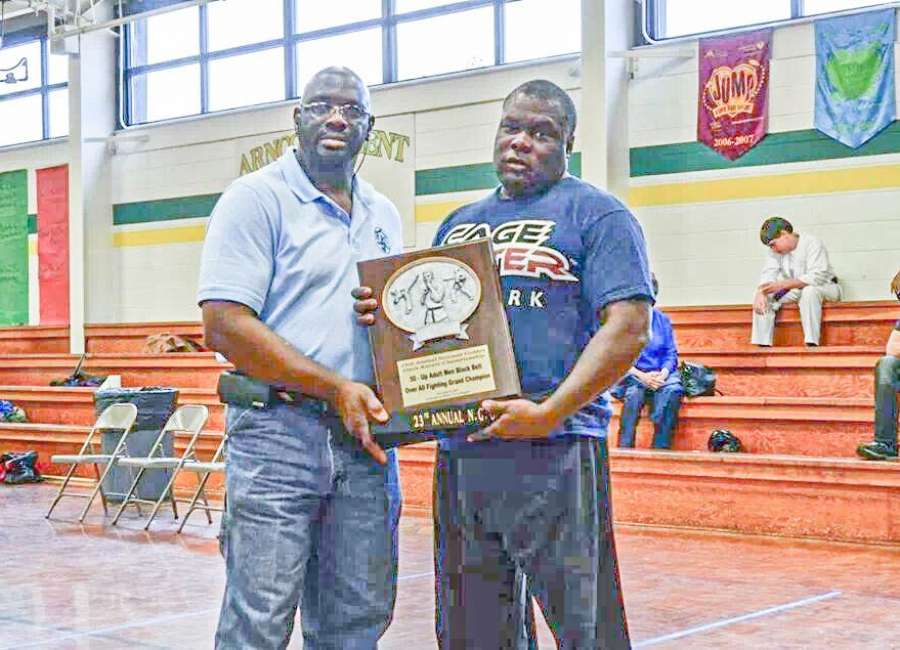 Sidney Clark is a fierce competitor.
The fifth-degree black belt in karate is also a gentle giant who has compassion for those around him and a huge passion for giving back to the Coweta County community.
The 55-year-old's love of competition started almost four decades ago when he was one of the best wrestlers at Newnan High School from 1980-82.
"I have been a martial artist since the age of 17 and wrestling since I was in fourth grade," he said.
His wrestling accolades included winning a region championship and finishing fifth at the state meet his senior year.
That led to a wrestling scholarship to Carson-Newman College in Jefferson City, Tenn.
An injury quickly derailed his college career, but not his hunger for competition and staying active.
Soon after returning home, he switched gears, moving off the wrestling mat to his first karate studio.
It took him just two years to earn his first black belt.
"Things really took off from there and I started competing," he said.
Clark has always gained inspiration from the two people he calls his biggest heroes, his mother Jeerelene Payton, and his brother Caesar Payton.
His brother was a two-time wrestling state champion at Newnan and his mother always pushed her sons to strive for excellence in everything they did.
"Ever since we started wrestling my mom warned us, we were not going to be able to quit," he said. "I was the hardheaded one, I always had weight problems. She would make these meals and when I would dive in and try to eat, she would remind me it was wrestling season and we weren't going to go through this again.
"She really taught me discipline. When everybody else was eating her meals, I was eating pasta or salad. She always said if you are going to do this you are going to do it all the way."
Almost 40 later, he reminds his mom of the way she raised him when she sometimes suggests he is too old to still be competing.
"I tell her if we are going to do this, we are going to do this all the way," he said.
He is also getting ready to celebrate his wedding anniversary with the love of his life, his wife Chandrea, a lady who also inspires him.
The long martial arts journey has been a process for the Newnan High School graduate.
Two years ago, Clark earned his fifth-degree black belt under the direction of Henry Dixon.
Suffering the injury in college might have put an end to his wrestling career, but Clark refused to sit on the sidelines or feel sorry for himself.
He gives credit to Melvin "The Cat" Reese for introducing him to martial arts and changing the direction of his life.
"Things really took off for me," Clark said. "I have world titles in freestyle karate, national titles, team titles and I have won tough man contests, take down contest and kickboxing titles."
With the huge growing popularity of mixed martial arts, Clark has also dabbled in that sport too, winning two MMA matches.
Despite all his success as a martial arts competitor, Clark's biggest joy has been giving back to the community.
Thanks to plenty of sponsorships, Clark has been able to conduct free women's self-defense classes and anti-bullying classes for children for a decade
"I teach them how to escape and get away because there is no such thing as a 98-pound woman beat up a 250-pound muscle man," Clark said. "The best thing they can use is their mind. I have them thinking. If you have somebody following you, instead of confronting them and using some technique you learned at the YMCA, just cross the street and go into a store."
It could also be something as simple as looking into and under your car.
My favorite saying is don't be a statistic, make them the statistic," Clark said.
Clark's compassion and biggest joy comes through especially during the holidays.
Over the years he has given away turkeys at Thanksgiving and toys to needy children at Christmas.
Last year, he was recognized by Canby Lane Elementary for his generosity in giving away toys at Christmas.
He has also worked closely with battered women's shelters to teach self-defense techniques.
A car accident in April has slowed Clark down just a little bit and put some of his charitable giving on the backburner, but he plans to be back at it next year.
That includes working with the Coweta County Sheriff's Department on coordinating self-defense classes.
"We haven't really decided how many classes we are going to do, but I would love for us to do one a month. There are going to be involved with anti-bullying classes too," he said.