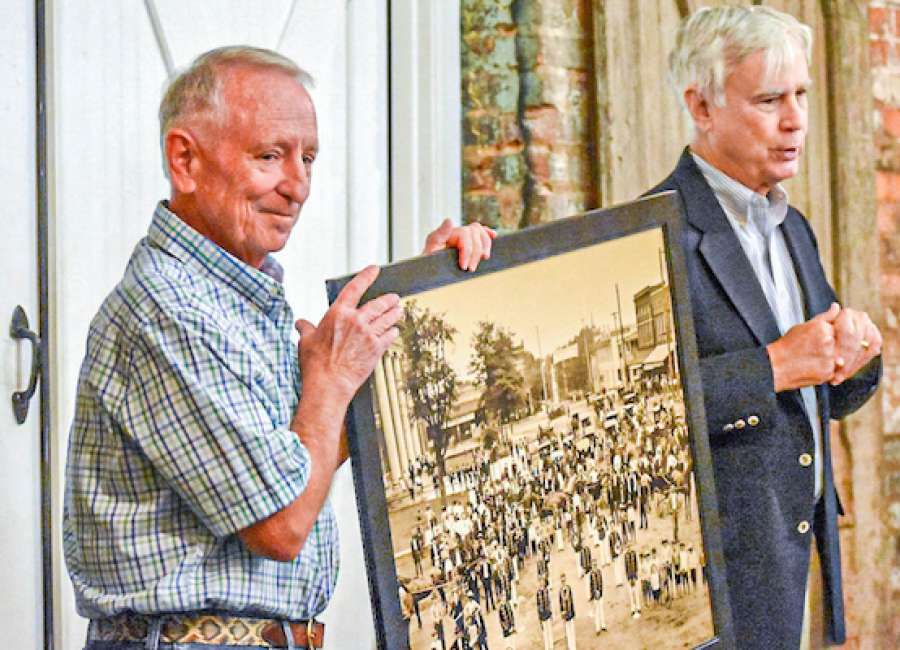 Once upon a time, a broken-down wagon stranded a down-on-its-luck family in Newnan, where that family eventually started the manufacturing company that helped the city grow and prosper for the next century.

Duke Blackburn, a sixth-generation Newnan member of the founding family, wrapped up the Newnan-Coweta Historical Society's "Living in Coweta' lecture series recently, recounting family stories along with some of the history of the R.D. Cole Manufacturing Company at the Historic Train Depot.
It all started in the 1850s, Blackburn said, with that broken wagon and the family's faith. After a legal battle cost Robert Duke Cole his Covington property and farm, Cole's family loaded their few remaining personal items – which included a rocking chair and a clock, the latter of which Blackburn had on display during the lecture – onto their wagons and headed for Alabama.
But their wagon broke down near where the depot now stands, Blackburn said, and as the family began working to repair their own wagon, local people began showing up to have theirs repaired as well. Cole officially set up shop with a sawmill in 1854, and a foundry followed.
Blackburn attributes the success to his family's faith.
"Here they are, right here, and their wagon breaks down," Blackburn said. "They're strongly religious. When that happened, and I believe their faith guided them toward the right road."
An industrious bunch
The Coles were an industrious bunch from the beginning, counting among their early endeavors a coach shop and a blacksmith shop. They eventually bought a steam engine, started a foundry, made $4 parts and began manufacturing steam engines, Blackburn said, selling hundreds to sawmills.
"The foundry came in to build components," he said. "They had gears, they had pulleys, they had cogs… it kept evolving through the years."
R.D. Cole expanded into water tanks, the first of which was made of wood and built in Atlanta. Metal tanks – some of which still stand today – followed, manufactured in sections, hoisted into place with a series of winches, and riveted together using sledgehammers in those pre-welding days. By the 1890s, R.D. Cole Manufacturing Company was the second-largest water tower manufacturer in the United States.
A similar manufacturing system was used to make the huge riveted steel boilers also sold by R.D. Cole, Blackburn said. but transporting them to customers required no small amount of planning. They were manufactured in four sections, and each cylinder weight 100,000 pounds. Transportation by railroad required three flat cars, and navigation was tricky.
"They had to engineer it so that when they went around a curve, it wouldn't force the cars off the tracks," Blackburn said.
The problem with window sashes
Cole not only found inspiration for expanding his business by observing everyday needs, but in uncommon places as well – even in other people's trash. He once found a receipt for a handmade window sash, exceedingly expensive, difficult to produce without the benefit of machinery and time-consuming to fit during home construction in those days.
But Cole was refused a bank loan to fund his proposal to mechanize window sash production.
"They said 'No, that's ludicrous. We're not buying machinery for that,''' Blackburn said.
The owners of Willcoxon Manufacturing Company, which manufactured cotton rope at a mill in Sargent, ended up loaning Cole the money to build the window sash machinery – which included a giant, steam-powered, swinging saw that would horrify today's workplace safety officials.
"Can you imagine how dangerous that thing was?" Blackburn said. "It was like a live guillotine."
Securing the loan for the machinery was a pivotal point in the company, which sparked a construction boom by speeding up the window-building and installation process during new construction.
"It really was the key, because... it was extremely difficult to make a window sash," said Tom Camp, a former historical society president. "Everybody around here could build a house, but very few people could build a window sash."
In the early 1900s, Bryan Blackburn – Blackburn's grandfather – was hired at R.D. Cole and ended up marrying the company president's daughter, Blackburn's grandmother. After his grandmother's death, Blackburn found many valuable historical documents in her safe, including Cole's diary, but he said he was particularly moved by the contents of a small purse.
"In that purse was R.D. Cole's pocketwatch," he said.
Impact on Newnan today
R.D. Cole Manufacturing Company – and the family, whose many descendants are still firmly ensconced in the culture and business of the area – not only had a major impact on the prosperity of Newnan, but on its aesthetic as well. Some of the city's downtown buildings, including the 1904 Coweta County Courthouse and several churches, were built or facilitated by Coles.
For years, local landmarks could be used as a sort of timeline of the evolution of R.D. Cole Manufacturing. They included a Liberty cargo ship's mast and a standpipe, which no longer exist, and what is now the Caldwell Tanks property.
The company passed out of the family's hands in 1968, when it was bought by Garver Tank and Manufacturing Company, a subsidiary of Union Tank Car Company out of Chicago.
However, a piece of R.D. Cole history recently was brought back to life. The company's iconic original steam whistle – which could be heard as far away as Roscoe when it sounded six times a day – has been restored, and it was on display at the depot during Blackburn's presentation.