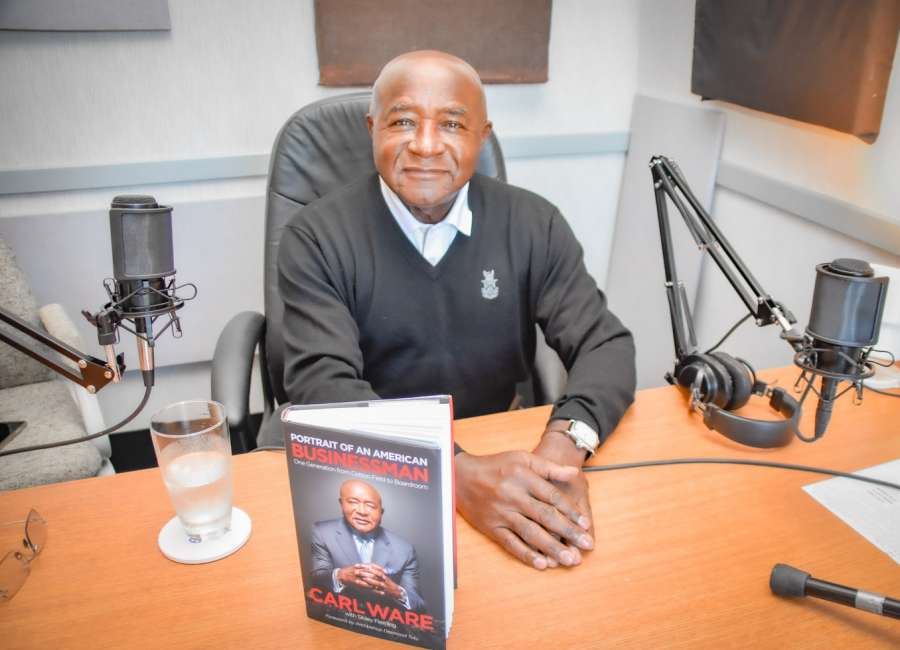 Saying that Carl Ware has led a remarkable life seems like an understatement.

From being the son of a Coweta sharecropper to playing an instrumental role in the demise of apartheid in South Africa, Ware has seen a lifetime of challenges and successes.
The now-retired Coca-Cola executive is still active, and recently completed his first book – "Portrait of an American Businessman."
Ware, now 76, said his idea was to create "a soulful business book" – one that not only accurately tells his story from a first-hand account, but shares how his circumstances helped prepare him for each new challenge life presented and the impact those decisions made.
Click here listen to the full conversation with Carl Ware on the latest "Movers, Shakers, and History Makers" podcast on www.NTHPodcasts.com .

From Arnco to Atlanta
While Ware's accomplishments as an African-American pioneer in both business and politics are undeniable, he wasn't the first family member to make history.
Ware's father, Ulas "U.B." Ware, is credited with being the first black man to register to vote in Newnan's congressional district since Reconstruction. The feat was significant, considering the circumstances.
Because of lynching, torture and terror spread by the KKK, from 1904-1910, black voter registraton in Georgia fell from 28.3 percent to 4.3 percent. In 1905, Coweta's voter roll listen 3,375 whites and 577 blacks. By 1925, only seven black men and two black women remained on the roll.
Ware said his father was always curious about politics and the right to vote in his community. So when Ulas said he wished to cast his vote in 1949, Sheriff Lamar Potts met him in Sargent and drove him to the courthouse steps.
"There were no white-hooded men burning crosses or an angry mob shouting words of hate or holding up signs emblazoned with racial epithets," Ware said. "That kind of thing didn't happen with Lamar Potts in charge."
After voting, Ulas came back to Sargent and he told the other black men they should go to register to vote as well.
Ware said his father was a humble mill laborer, but he had earned a reputation from both the white and black communities as an intelligent, hard-working man. No matter how little he had, Ulas shared with people who were less fortunate.
"(He taught) his children that giving back was a privilege rather than an obligation," Ware said. "We were poor, but far from living in poverty. We always had a garden and food to eat and give to other people."
Ware said that was one of the earliest recollections of giving back – a recurring theme throughout his life.
"No matter what, you're never too poor to give somebody something," he said.
When Carl was four, Ulas struck a sharecropping agreement with Paul Smith, the owner of a 650-acre farm near Sargent.
Smith purchased the land after returning home from World War II and allowed the Wares to live rent-free on the land in exchange for labor. The split on the crops was 50/50 – an unorthodox deal for the time, Ware recalled.
"The typical arrangement was that the sharecropper usually took home a third of what he raised," Ware said.
But while many African-American families were leaving the South during the Jim Crow era, Ware's family decided to stay.
"It was a matter of self-determination, of having the courage and the will to forge a future of their choosing, despite the obstacles," Ware said.
The ultimate goal for the Wares was to eventually purchase the land they worked. When the opportunity arose, the family made it happen. In order to save the $500 necessary for the down payment, the family pooled their money from their respective jobs.
To help out, the Ware brothers spent their summers clearing brush on a farm 10 miles north of Roscoe for a country physician known as Doc Tanner for $11 a week. Clearing the bottoms meant being prepared for stings, sun and snakebites.
"We wore hats, boots and covered our arms - no matter how hot it got," he recalled.
School resumed in September, but the Ware youth returned in October after making sure the crops were in.
"We might have been a little behind in school, but we always caught up," he said.
Ware attended Central High School alongside other noteworthy African-Amercian Cowetans including ophthalmologist Willam "Hook" Hall, who worked on President Ronald Reagan following his assissination attempt, and Dr. Hamilton "Hamp" Bohannon – the famous R&B artist who has a Newnan street named after him.
After purchasing the land, the family built its own home from second-hand wood, salvaged from homes being torn down. In his book, Ware paints a picture of a family that's no stranger to hard work but never wanted for anything.
Reshaping Atlanta politics
When Ware left for Clark College in 1961, the South remained under Jim Crow and Ware stood on the cusp of the Civil Rights Movement as it headed into the 1960s. While he was a student, Dr. Martin Luther King Jr. frequently spoke during rallies at the Atlanta University Center.
By the end of the decade, Ware had spent time as a student in Pittsburgh before returning home and entering the world of politics as Atlanta prepared for a sea of change that would showcase a new way of running things.
In 1973, Ware was elected to the Atlanta City Council, one of five new African-American council members elected to the body – nine black members and nine white. Two black women were elected to the Atlanta Board of Education, giving it a 5-4 black majority.
"It was the pivotal year in changing the guard in Atlanta politics," Ware said. "It started a domino effect."
During his time in Atlanta politics, Ware was responsible for helping to create the "25 percent law," which required that at least 25 percent of all city contracts for goods and services be granted to minority- and female-owned enterprises.
"We wanted Atlanta to be a city of inclusion," he said. "The banks and Wall Street said it would jeopardize our stellar financial rating and it would render the airport a 'boondoggle,' but we proved them wrong."
Ultimately, the project for airport expansion came in ahead of schedule and under budget with at least 25 percent of contracts being carried out by African-Americans and women, according to Ware.
"It was groundbreaking," he said. "Cities around the country began to adopt the same kind of public policy."
Coca-Cola and worldwide change
In 1979, Ware made the difficult choice to leave Atlanta politics and join the Coca-Cola Company, taking a top marketing position. Echoing his achievement with the 25 percent law, Ware undertook the responsibility of finding the first African-American bottler for the company.
"Even though we consume 25 percent of Coca-Cola's product, there wasn't a solitary African-American bottler," he said.
Bottling companies were typically franchised by families who handed down ownership through generations. Many offered to fund the enterprise, but no one wanted to run it, according to Ware.
Ultimately, J. Bruce Llewellyn, owner of a chain of supermarkets in New York City and previous chairman of the largest black-owned bank in New York, agreed to sell his company to pursue a franchise.
With a list of investors including Julius "Dr. J" Irving and Bill Cosby, Llewellyn and his wife Shahara acquired a majority share in the Philadelphia Coca-Cola Bottling Company and made it the fourth-largest black-owned business in America, according to Fortune magazine.
Only a few years later, Ware repeated the success – but under much more difficult circumstances – this time in South Africa.
"We created first black-owned franchise during apartheid, when it was 'illegal' to have that kind of entity," Ware said. "What I enjoyed most about working for Coca-Cola was the platform of power and freedom to do the things I believe in."
These successes, according to Ware, were made possible through his previous experiences from the sharecropper field to civil rights rallies under Dr. King and serving the city of Atlanta.
"Those experiences gave me the basis and strength that were effectively utilized throughout my career," he said.
A new chapter
In 2003, Ware began working on a transcript for his autobiography, but eventually decided against moving forward, saying it just didn't feel right.
Ware let it steep for several years and eventually met Sibley Fleming, the granddaughter of Celestine Sibley, who was a renowned author and writer for the Atlanta Constitution. Ware knew her from his days as an Atlanta council member.
The two threw out the old manuscript and began all over again. Ware said the fresh start gave him a much different perspective and credited Fleming for making it a work he's exceptionally proud of.
"From what I saw in the slave graveyards in Franklin County to my place of birth in Arnco – all those different words and feelings, she was able to help me take those emotions and put Carl into the minds of the readers," Ware said. "That's a skill that's amazing to me."
The duo compiled a list of 50 people to interview – including Archbishop Demond Tutu, who wrote the foreword for the book.
"I flew to South Africa four times to make sure that side of the story was correct," he said.
Ware said he initially thought of self-publishing the book, but decided on Mercer Press, based the publisher's previous efforts with books on Jimmy Carter and the Candler Family of Coca-Cola.
"I'm in good company and it's been a privilege to publish with them," he said.
There's no question the corporate world of today isn't the same one Ware entered in 1979. So with a legacy built on creating cultures of inclusivity, what challenges does Ware see for workers heading into the second decade of the 21st century?
"There's no question racism still exists – you know it's there, but do not let that be an obstacle," he said. "You've got to train your mind to be evaluated on your performance and insist on being evaluated on that basis. You have to train to be over-prepared, deliver results and ensure that your agenda and the company's agenda are together.
"But what makes the difference is learning how to be a leader – to adapt to different cultures and how to inspire people, motivate them to get their best, be a team player," he said.
"Robert W. Woodruff once said the difference between an ordinary leader and a great leader is an ordinary leader sees to the end of the block," he said. "A great leader can see around the corner – to see those things you can't envision."
••••
To listen to the full conversation with Carl Ware, check out the latest episode of the "Movers, Shakers, and History Makers" podcast on www.NTHPodcasts.com .