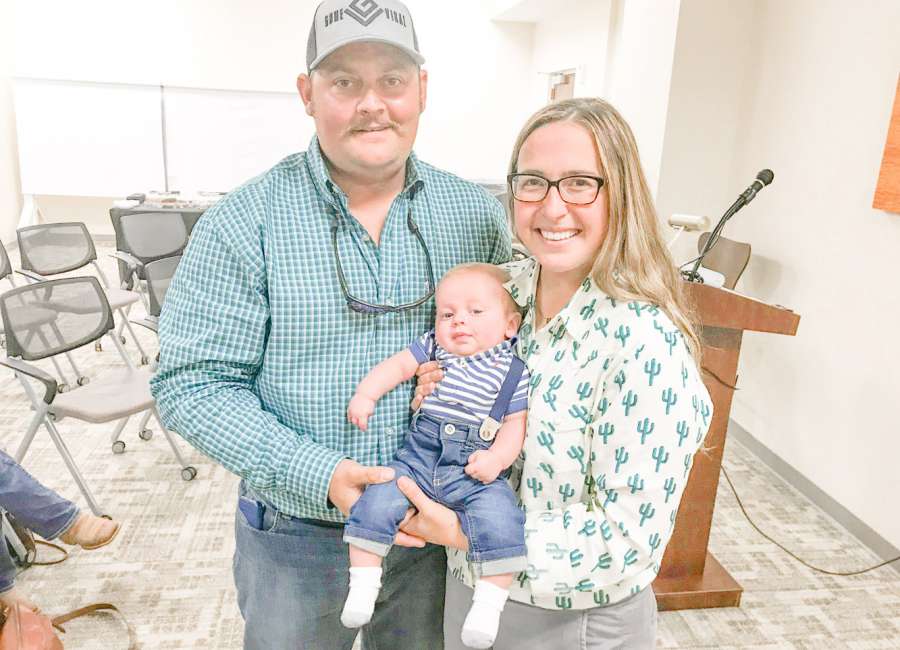 Local couple shares story of losing a son at 37 weeks.
Ethan and Carley Harper lost their first son, Hudson, in 2018. He was stillborn at 37 weeks.

They shared their experience during the Wave of Light ceremony in commemoration of National Pregnancy and Infant Loss Awareness Month.
Piedmont Newnan Hospital hosted the event on Tuesday, Oct. 15, in honor of Pregnancy and Infant Loss Awareness Day.
Attendees were invited to light a candle at dusk in memory of their babies who passed too soon. Mark Riley, Piedmont Newnan's chaplain, provided a brief message of remembrance and a moment of silence.
"Pregnancy and infant loss affects an estimated 1 in 4 women, and we want to ensure that no one in our community feels they are suffering alone," said Ashley Maxwell, director of Women's Services at Piedmont Newnan.
National Pregnancy and Infant Loss Awareness Month
October was proclaimed National Pregnancy and Infant Loss Awareness Month in 1988 by then-President Ronald Reagan, according to Piedmont Healthcare.
Reagan said, "When a child loses his parent, they are called an orphan. When a spouse loses her or his partner, they are called a widow or widower. When parents lose their child, there isn't a word to describe them. This month recognizes the loss so many parents experience across the United States and around the world."
Local couple shares story
Carley Harper had a great pregnancy and prenatal care until she was about 30 weeks pregnant and doctors diagnosed her with preeclampsia.
At 37 weeks pregnant, Carley didn't feel good and thought it was just a normal part of pregnancy, but then felt like she was going into labor.
Her husband Ethan drove to Piedmont Newnan around midnight, and on the way to the hospital her abdomen became stiff and rigid. Carley had a full placental abruption between the time they left the house and arrived at the hospital.
When they arrived, they received the news that they lost their baby and Carly had to have an emergency C-section. She stayed in the hospital for a week due to heavy blood loss and blood transfusions.
"When we went home, it was the worst feeling we ever felt to leave the hospital without a baby Carley had carried for 37 weeks," said Ethan.
The next fall, Carley found out she was pregnant again and at 18 weeks pregnant, they found out she had a partial abruption and placenta previa. She was put on full bed rest until she delivered at 31 weeks.
She delivered a healthy baby boy, Beau, who is now almost four months old.
The couple said they wanted others to know that through trials and tribulations and hard times, you can find joy.
Additional statistics
According to the American Pregnancy Association, 6 million pregnancies occur each year in the United States, but America loses more babies annually than 28 other nations.
Four million of the 6 million pregnancies in the U.S. result in live births, while the remaining nearly two million resulted in the loss of a baby, according to the American Pregnancy Association.
Fifty percent of the time, there is no explanation, according to the APA.
"It's important to us that we support those who have suffered pregnancy and infant loss and provide a space for remembrance and community," Maxwell said.