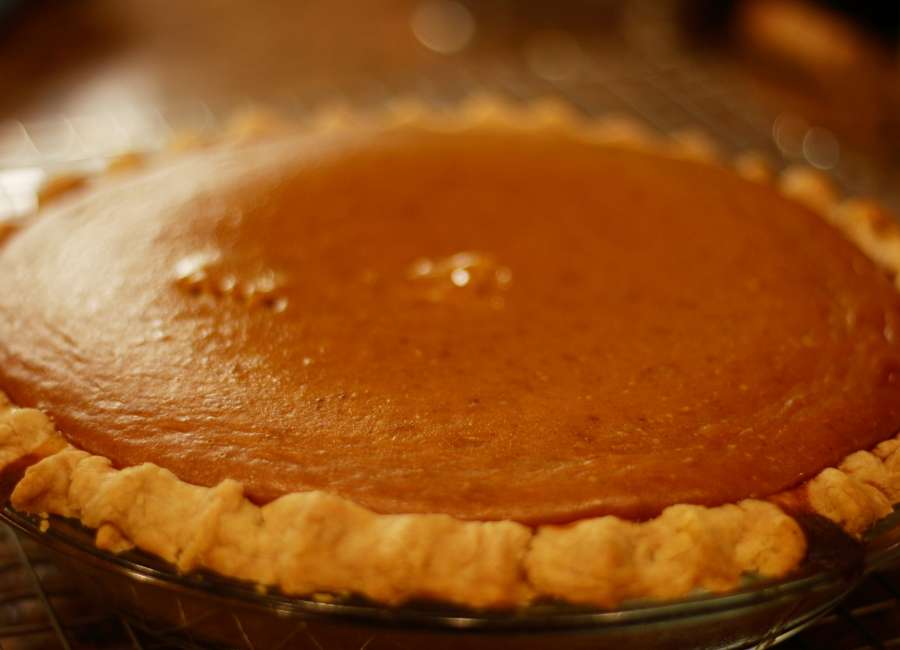 Give in to your sweet tooth.
Monday is National Dessert Day, which is observed annually on Oct. 14.
According to www.holidayscalendar.com, it's unknown when the holiday began in the United States.
The English word dessert stems from the French word "desservir," according to www.checkiday.com . Desservir means to remove what has been served, as dessert would be served after all of the other dishes had been removed from the table.
To help you observe the food holiday, here are some recipes for cookies, pie, pudding, cake and ice cream that you can try at home.
Pumpkin Pie
Ingredients:
1 egg
1 tablespoon all-purpose flour
3/4 cup white sugar
1/2 teaspoon salt
1 1/2 cups pumpkin puree
1 1/2 cups evaporated milk
1/2 teaspoon ground cinnamon
1/2 teaspoon ground ginger
1/4 teaspoon ground nutmeg
2 tablespoons light corn syrup
1 recipe pastry for a nine-inch single crust pie
Recipe:
Preheat oven to 450 degrees F (230 degrees C).
Add the sugar gradually to the pumpkin puree. Beat well and stir in the flour, salt and spices. Stir in the corn syrup and beat well. Stir in the slightly beaten egg, then slowly add the evaporated milk, mixing until well blended.
Pour the batter into the unbaked pie shell.
Bake at 450 degrees F (230 degrees C) for 10 minutes then reduce the oven temperature to 325 degrees F (165 degrees C) and continue baking pie for an additional 30 minutes or until a knife inserted into the mixture comes out clean.
(Recipe courtesy: allrecipes.com)
Chocolate Pudding
Ingredients:
2 cups whole milk
1/2 cup sugar
1/3 cup natural cocoa powder
4 teaspoons cornstarch
3 large egg yolks
2 teaspoons pure vanilla extract
1/4 teaspoon fine salt
3/4 cup whipping cream
Recipe:
Put 1 1/2 cups of the milk, the sugar and the cocoa in a nonreactive saucepan. Bring to a simmer, over medium-high heat. Remove from heat.
Whisk the remaining 1/2 cup of the milk, cornstarch, salt, egg yolks and vanilla in a bowl.
Whisk the hot milk into the egg mixture.
Return to the saucepan and cook over medium-high heat whisking constantly, until the pudding comes to a full boil. Reduce the heat to maintain a simmer, and continue whisking until thick, about 2 or 3 minutes more.
Pour the pudding into 6 small cups. Cover with plastic wrap and refrigerate for at least 4 hours or ideally overnight until set.
Before serving, pour the cream into a bowl. Whip the cream with a whisk or a hand held mixer, and continue beating until soft peaks form. Serve each pudding with whipped cream on top.
(Recipe courtesy: foodnetwork.com)
Vanilla Ice Cream
Ingredients:
3/4 cup white sugar
1 cup heavy whipping cream
2 1/4 cups milk
2 teaspoons vanilla extract
Recipe:
Stir sugar, cream and milk into a saucepan over low heat until sugar has dissolved. Heat just until mix is hot and a small ring of foam appears around the edge.
Transfer cream mixture to a pourable container such as a large measuring cup. Stir in vanilla extract and chill mix thoroughly, at least 2 hours.
Pour cold ice cream mix into an ice cream maker, turn on the machine, and churn according to manufacturer's directions, 20 to 25 minutes.
When ice cream is softly frozen, serve immediately or place a piece of plastic wrap directly on the ice cream and place in freezer to ripen, 2 to 3 hours.
(Recipe courtesy: allrecipes.com)
Chocolate Chip Cookies
Ingredients:
1 cup butter, softened
1 cup white sugar
1 cup packed brown sugar
2 eggs
2 teaspoons vanilla extract
1 teaspoon baking soda
2 teaspoons hot water
1/2 teaspoon salt
3 cups all-purpose flour
2 cups semisweet chocolate chips
1 cup chopped walnuts
Recipe:
Preheat oven to 350 degrees F.
Cream together the butter, white sugar and brown sugar until smooth. Beat in the eggs one at a time, then stir in the vanilla.
Dissolve baking soda in hot water. Add to batter along with salt.
Stir in flour, chocolate chips and nuts. Drop by large spoonfuls onto ungreased pans.
Bake for about 10 minutes in the preheated oven, or until edges are nicely browned.
(Recipe courtesy: allrecipes.com)
Carrot Cake
Ingredients:
6 cups grated carrots
1 cup brown sugar
1 cup raisins
4 eggs
1 1/2 cups white sugar
1 cup vegetable oil
2 teaspoons vanilla extract
1 cup crushed pineapple, drained
3 cups all-purpose flour
1 1/2 teaspoons baking soda
1 teaspoon salt
4 teaspoons ground cinnamon
1 cup chopped walnuts
Recipe:
In a medium bowl, combine grated carrots and brown sugar. Set aside for 60 minutes, then stir in raisins.
Preheat oven to 350 degrees F . Grease and flour two 10-inch cake pans.
In a large bowl, beat eggs until light. Gradually beat in the white sugar, oil and vanilla. Stir in the pineapple. Combine the flour, baking soda, salt and cinnamon, stir into the wet mixture until absorbed. Finally stir in the carrot mixture and the walnuts. Pour evenly into the prepared pans.
Bake for 45 to 50 minutes in the preheated oven, until cake tests done with a toothpick. Cool for 10 minutes before removing from pan. When completely cooled, frost with cream cheese frosting.
(Recipe courtesy: allrecipes.com)