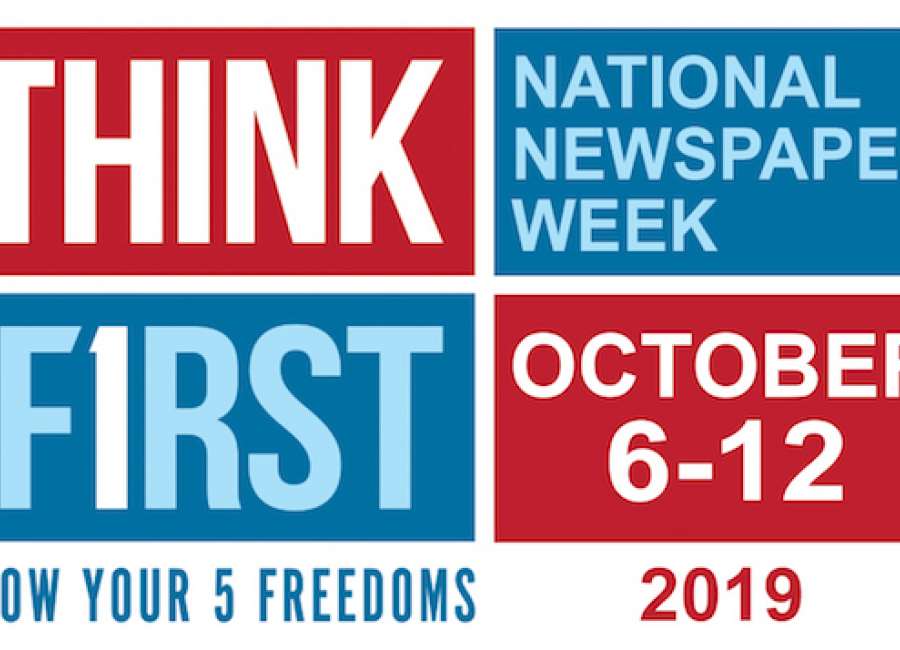 The 79th annual National Newspaper Week is being celebrated this week, Oct. 6-12, with a theme of First Amendment rights.
National Newspaper Week is an annual observance recognizing the service of newspapers and their employees across North America and is sponsored by the Newspaper Association Managers, according to www.nationalnewspaperweek.com .
This year's theme is "Think F1rst – Know Your 5 Freedoms," which emphasizes the importance of the First Amendment to the United States Constitution. The First Amendment says:
"Congress shall make no law respecting an establishment of religion, or prohibiting the free exercise thereof; or abridging the freedom of speech, or of the press; or the right of the people peaceably to assemble, and to petition the Government for a redress of grievances."
Since 1789, the First Amendment has granted U.S. citizens the right to freedom of religion, speech, press, assembly and the right to petition the government.
These freedoms are especially of importance to newspapers who hold the government accountable, elevate ideas, bring about social change and make sure justice is done, according to Richard Griffiths, president of the Georgia First Amendment Foundation.
Griffiths said newspaper reporters ask the tough questions, figure out important topics and help the public understand complex issues so they can make rational decisions about them.
"The First Amendment was a gift from our country's founding fathers who understood the importance of robust discussion," said Griffiths.
Griffiths said he does a lot of work in Eastern Europe, where he advises news organizations that are under attack from their governments.
In Poland, the government has created state-run media outlets, and the privately owned media's freedom of speech has been weakened, according to Griffiths.
Griffiths quoted Ronald Reagan, who said, "There is no more essential ingredient than a free, strong and independent press to our continued success in what the founding fathers called our 'noble experiment' in self-government."
The right to an independent press is something that we are privileged to have in the U.S., according to Griffiths. While journalists may appreciate their First Amendment rights because of how often we exercise them, the rights extend to everyone.
U.S. citizens have the right to read what they want and practice whatever faith they choose. Our rights to free speech extend to having something published in a newspaper, tweeting something on social media or even standing on a street corner and shouting.
People may not always like what they see, hear and read, but they can challenge ideas using their freedom of speech, according to Griffiths.
"We can only hang on to the privileges and responsibilities of our rights by exercising them and continuing to express our appreciation of them," Griffiths said.
The Georgia First Amendment Foundation works to educate about accountability journalism, free speech and open government.
They offer training on how open government works in Georgia and how to obtain records and documents. The foundation also has a guide to open records on their website that gives information about what is covered under open records at www.gfaf.org .