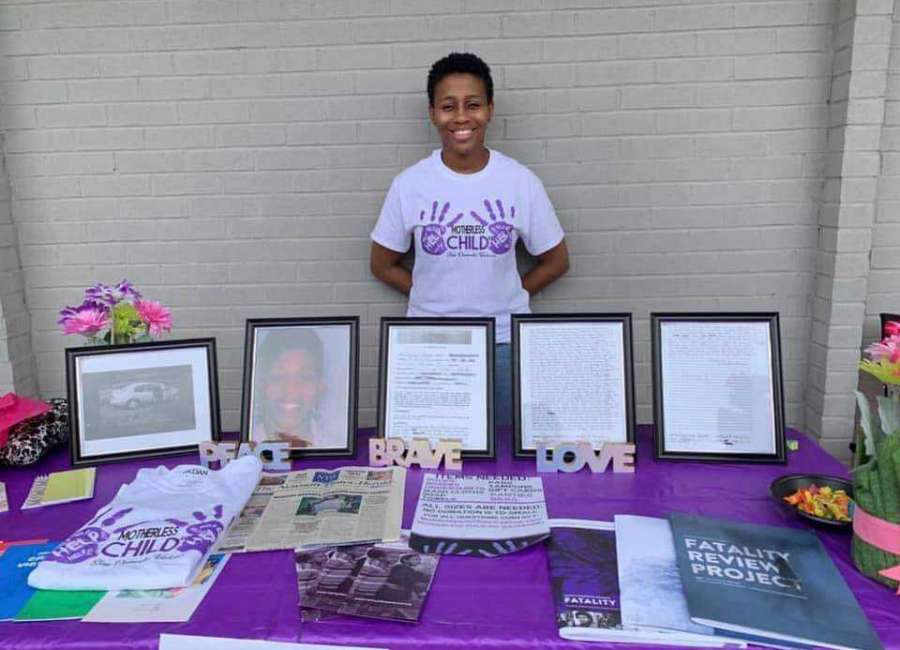 It's been 20 years since Coweta native Octavia Geter-Fuller and her siblings lost their mother, but Geter-Fuller is still using the tragic experience to help spread awareness about domestic violence, especially this month, National Domestic Violence Awareness Month.
Geter-Fuller's mother, Stephanie Marie Houston, was 29 when she was gunned down by her boyfriend of only nine months on Sept. 13, 1999, on Main Street in Forest Park, Ga.
The tragedy happened one day before Geter's 13th birthday.
Motherless Child documentary
Last year, Geter-Fuller and her brother and sister started a nonprofit, Motherless Child Inc., in honor of their mother. Geter-Fuller is even working on a documentary, "The Stephanie Houston Gay Story." Local videography and photography company, Britt Media, is working on the project.
Geter-Fuller said her sister was 10 years old and her brother was only 8 when their mother was killed.
She still remembers the events of that day, saying many questions are still left unanswered.
Geter-Fuller said Shun Lamar Williams, 30, was waiting in the parking lot of their residence.
"He was sitting there in the car and we rode past him and he started chasing us and shooting at the car," Geter-Fuller said. "I still remember my mom's last words. She said, 'Get down. He is going to kill us all.'"
In the documentary, Houston's phone call to 911 can be heard just before she is fatally shot.
Geter-Fuller said Williams ran the car off the road. He then grabbed her mother by her hair and dragged her out of the vehicle.
"She was saying, 'No, no, no,' and he shot her three times," she said.
Geter-Fuller said her brother was trying to help his mother while her other sister ran to get help.
"I was left face-to-face with him," Geter-Fuller said.
Geter-Fuller remembered Williams saying, "You know I love your mom, but we had to die together."
Williams then shot himself.
"I was in a state of shock. I could not move. I was like a deer caught in headlights," Geter-Fuller said.
According to a Newnan Times-Herald story, a warrant for aggravated assault had been filed the Friday before the shooting by Houston in Clayton County. Houston told police she feared for her life, but the police were unsuccessful in arresting Williams that weekend.
Williams was pronounced dead on the scene, and Houston was transported to Southern Regional Hospital, where she was later pronounced dead.
Williams left letters behind explaining his actions. Geter-Fuller said she has never read the letters, but will read them soon.
Geter-Fuller said she and her siblings decided to create the documentary, "The Stephanie Houston Gay Story," for transparency.
"We can speak about the barriers and speak on statistics regarding domestic violence all day, but will it work, will it help?" Geter-Fuller said. "That's the question I asked myself. We want to touch people and we want to bring out our emotions, so we are sharing our story."
The trailer is out now on YouTube.
Helping see the signs

She said many family members may not be aware of abuse or know what signs to look for, saying the incidents surrounding her mother's death were very shocking. She said helping solves those discrepancies is part of the organization's mission.
"We knew nothing until after she got killed. She hid her pain well," Geter-Fuller said. "I pray this documentary helps victims to seek help and also change the mindset of the abusers, which is the root of the problem. My goal is to save lives, change mindsets and break generational curses one day at a time."
Geter-Fuller said the word "help" is very important to her and her siblings.
"It was our mother's last word she had written on her police statement three days prior to her death," Geter-Fuller said. "It also was the last word we heard her screaming before she was murdered."
Geter-Fuller said filming is still underway.
"The story and her legacy will be retold by family and friends," Geter-Fuller said.
Looking toward the future
As far as the nonprofit, Geter-Fuller said the organization has grown since its inception last September.
The nonprofit has hosted a purse for purpose drive, which Geter-Fuller said consisted of women at the shelter picking out a purse and stuffing it with basic necessities items. The organization is preparing for the second event.
"We have been successful with supporters donating to give needed items back to domestic violence shelters on a continuous basis," Geter-Fuller said.
The organization also sponsored prom for a student, awarded two scholarships and continues to donate school supplies and clothes throughout the community.
"I had no idea we were going to start growing fast, but we could not have done this without the help of supporters. It feels good when others see our vision," Geter-Fuller said.
The organization is currently working on transitional gap services and collaborating with local community resources and spreading awareness/public advocacy.
"I have named this program 'Everyday Counts!' This program will allow us to stand in the gap when the victim and families are transitioning from the shelter to a new environment by offering help," Geter-Fuller said. "Every day counts when you are living life in fear. We want to help in any way possible."
The organization is working on a canned food drive, a Christmas Pageant as a fundraiser for college scholarships, and a women's conference for the youth with Powell Chapel UMC.
Geter-Fuller advises victims to seek help.
"Don't be afraid to seek help. It can save your life, children and family lives," Geter-Fuller said. "Our mother refused to go into a shelter. She stated, 'I didn't want to live that way.' It could have saved her life. Pick up on the signs as early as possible. Don't become okay or comfortable with it. Don't settle. It's not love."
Geter-Fuller said the organization is trying to bring public awareness to every single thing that revolves around domestic violence, including mental health and suicide prevention.
"Maya Angelou said it best, 'Each time a woman stands for herself without knowing it possibly, without claiming it, she stands for all women,'" Geter-Fuller said.
Geter-Fuller also said the Georgia Coalition Against Domestic Violence has provided a project planner to help with strategic planning.
Domestic violence statistics
According to The National Coalition Against Domestic Violence (NCADV), on average, nearly 20 people per minute are physically abused by an intimate partner in the United States. That's more than 10 million women and men each year.
Statistics show that 1 in 3 women and 1 in 4 men will be victims of some form of physical violence by an intimate partner within their lifetime.
The NCADV statistics show that 1 in 7 women and 1 in 18 men have been stalked by an intimate partner during their lifetime to the point that they felt very fearful or believed that they or someone close to them would be harmed or killed.
On a typical day, there are more than 20,000 phone calls placed to domestic violence hotlines nationwide.
For more information on Motherless Child Inc., email motherlesschildinc@yahoo.com or visit its Facebook page https://www.facebook.com/mothe... .