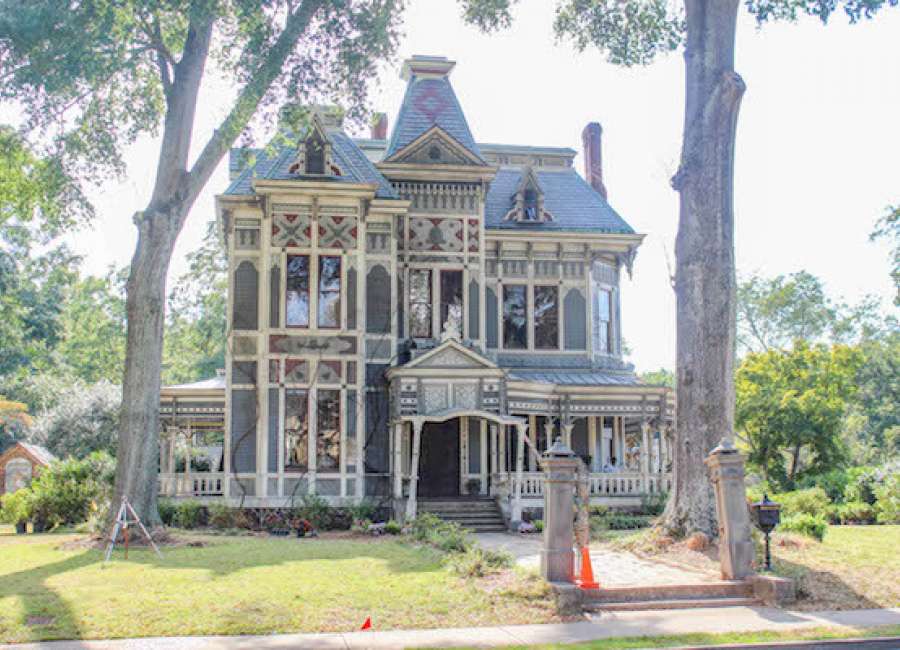 Some of the projects filmed at 155 Greenville Street are meant to give viewers a fright, but Newnan's real-life nightmare is road closures.

The historic house has been used as a filming location for several movies and TV shows, including "The House With a Clock in its Walls." The HBO series "Lovecraft Country" is set to wrap up filming this weekend, and as the city waves goodbye to Random Productions, it likely will be saying goodbye to the picturesque home's film career as well.
Residents, merchants and motorists have increasingly lost patience for the delays caused when production crews close the busy thoroughfare during filming, and Newnan Mayor Keith Brady said he does not intend to approve future projects at the house that would require drivers to find a way through or around the mess caused by full or partial closures of Greenville Street.
"When you block a street downtown, there are a couple of fairly easy detours, but on Greenville Street, that's not the case," said Brady, who pointed out that Greenville Street – also a federal highway – handles a high volume of traffic between Newnan and Moreland and the I-85 exit there. "It creates a lot of difficulty for the people who travel that road."
Greenville Street closures were one of the multiple disruptions local merchants and residents have objected to as more and bigger filming projects have come to Newnan. Lack of appropriate compensation for lost sales at businesses and poor communication with production company representatives also have been a problem, they say.
As a result, Random Productions – the company responsible for "Lovecraft Country" – was forced to scale back its "overwhelming" initial request for the current round of filming, eliminating days, locations and parking space requests in addition to signing compensation agreements with businesses affected by road and sidewalk closures. The council approved the company's revised filming plan at its Sept. 24 meeting.
Emory Bray, who owns Newnan Plaza Pawn Shop and Greenville Street Discount Store near the home where "Lovecraft Country" is being filmed, said his business has been greatly impacted by the street closures caused by filming earlier this year.
"Nobody is going to come through the detour," Bray said. "In the pawn shop business, we get a lot of customers who are living on the edge. They need $200 to pay their power bill or they're going to be cut off, or they need money to get back and forth to work. They can't go to the bank for that, and they can't wait. They're going to go to another pawn shop, and we're going to lose their business permanently."
Bray was one of several merchants who spoke out against the latest round of filming at the council's Sept. 10 meeting, during which Brady took Random Productions representatives to task for bringing their plan before the council without first having secured agreements with the people and businesses near the proposed filming locations.
"If the mayor had not stood behind the people of the city and said no to the permit, nobody would have gotten a dime," Bray said, adding that he was satisfied with the compensation he received. "I know they've got a hard job to do, that they've got to appease everybody to get their job done, but we came to a breaking point and we needed to do something."
Last spring, the city of Newnan implemented a policy that prevents all but the largest film projects from having to present proposals in front of the entire council. And the latest project is not the first that required shrinking to fit the city before it was approved.
"We've learned some lessons from other communities," Brady said.
The city has learned some lessons from earlier productions as well, which is why the mayor said he had a phone conversation with Bill Carraro, an executive producer for "Lovecraft Country," prior to the Sept. 24 council meeting.
"One of the questions I asked was, 'Are you sure you understand that there won't be another permit for this house?'" Brady said. "He said they might have to come back one more time, and I said, 'You're going to have to figure out a way to film it while you're here.' I'm assuming he's going to do that, because he's been put on notice that location is finished."
Brady said he is not worried that "retiring" 155 Greenville Street might dampen the enthusiasm of TV and movie production crews who might film in Newnan – after all, he said, that location is a residentially zoned property, not a commercial film site.
"I'm more concerned about the people who live here and have businesses here," he said. "I'm concerned about the people who shop and have a daily life in our city, rather than someone who comes in and has a one-off. I'm not upset by any means – my frustration comes from the fact that my constituents aren't happy – but there's also a limit to what can go on, and I've reached my limit with that house being used as a movie site."
(Editor's Note: The Newnan Times-Herald reached out to Random Productions for comments but did not receive a response.)