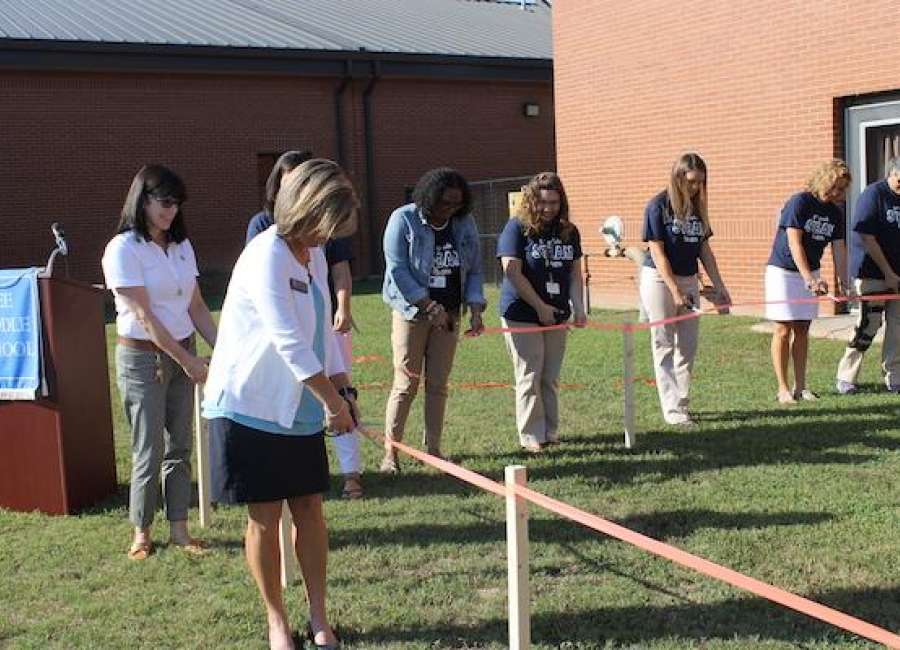 Lee Middle School held a ribbon-cutting for its STEAM Team greenhouse on Friday, Oct. 4.
The STEAM -- Science, Technology, Engineering, Art and Mathematics -- Team's goal to construct the greenhouse during this school year is a collaborative effort to bring real-life education opportunities to students, according to Principal Dr. Cindy Bennett.
The ribbon-cutting began with a welcome from Bennett. Then, student speakers addressed the crowd about their project.
"Project-based learning has been the core of the STEAM Team, and all students have benefitted from this process both academically and socially," Bennett said.
The STEAM Team is currently comprised of seventh and eighth-grade teachers who teach English/language arts, math, science and social studies, an art teacher, two special education teachers, three paraprofessionals and 214 students.
Students who receive special education services, gifted services and regular education services are all represented in the STEAM Team, and all collaborated in groups to research and design the student selected project of the greenhouse.
The STEAM Team also dedicated a bench that will sit next to the greenhouse to former teacher assistant, Vivian Claar.
"Her spirit for innovative, hands-on learning will continue with the next generation of STEAM Team students at Lee Middle School," Bennett said.
Students were able to construct models of the greenhouse, and they will have the opportunity to help with the construction. Bennett said they are planning on having the greenhouse complete by the end of the school year.
Currently, they are selling legacy bricks that will serve as the foundation of the greenhouse and will surround it.
The bricks will be on sale online at www.bricksrus.com beginning on Oct. 19 if you have questions, email stephanie.humphrey@cowetaschools.net .