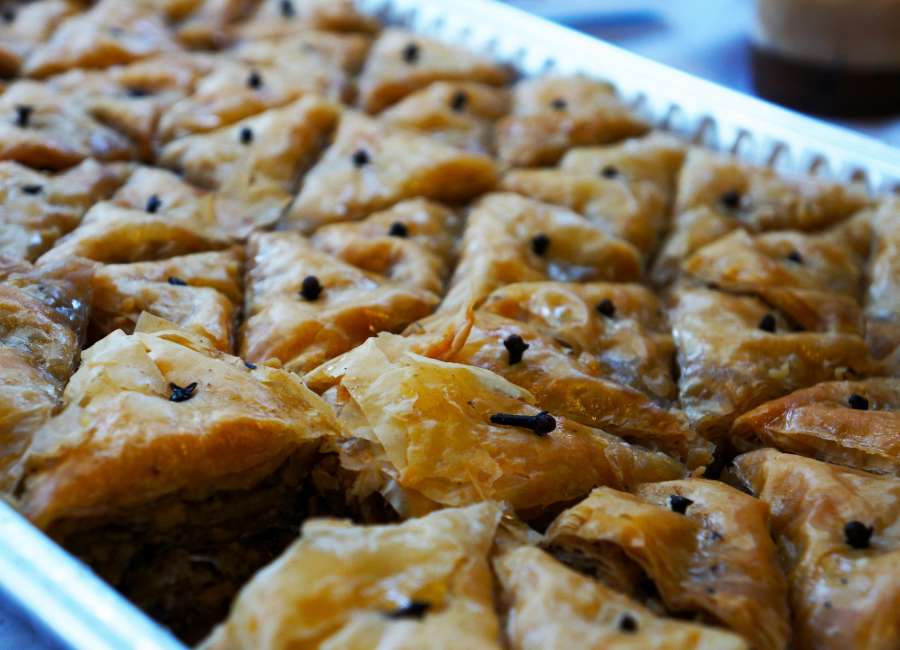 Here are some Greek recipes you can try at home.
Baklava
Ingredients:
1 (16 ounce) package phyllo dough
1 pound chopped nuts
1 cup butter
1 teaspoon ground cinnamon
1 cup water
1 cup white sugar
1 teaspoon vanilla extract
1/2 cup honey
Recipe:
Preheat oven to 350 degrees F. Butter the bottoms and sides of a 9x13 inch pan.
Chop nuts and toss with cinnamon. Set aside. Unroll phyllo dough. Cut whole stack in half to fit pan. Cover phyllo with a dampened cloth to keep from drying out as you work. Place two sheets of dough in pan, butter thoroughly. Repeat until you have 8 sheets layered. Sprinkle 2 - 3 tablespoons of nut mixture on top. Top with two sheets of dough, butter, nuts, layering as you go. The top layer should be about 6 - 8 sheets deep.
Using a sharp knife cut into diamond or square shapes all the way to the bottom of the pan. You may cut into 4 long rows to make diagonal cuts. Bake for about 50 minutes until baklava is golden and crisp.
Make sauce while baklava is baking. Boil sugar and water until sugar is melted. Add vanilla and honey. Simmer for about 20 minutes.
Remove baklava from oven and immediately spoon sauce over it. Let cool. Serve in cupcake papers. This freezes well. Leave it uncovered as it gets soggy if it is wrapped up.
(Recipe courtesy: allrecipes.com)
Spanakopita
Ingredients:
3 (10 ounce) packages frozen chopped spinach, thawed and drained
1 tablespoon vegetable oil
1 1/2 cups finely chopped onion
8 ounces feta cheese, crumbled
1 1/4 cups shredded Swiss cheese
3/4 cup grated Parmesan cheese
2 eggs, beaten
1/4 cup chopped fresh parsley
1 dash ground cinnamon
1 cup butter, melted
Recipe:
Preheat oven to 375 degrees F.
Place spinach in a steamer over 1 inch of boiling water, and cover. Cook until tender, about 2 to 6 minutes. Drain and press to remove all water. Meanwhile, heat oil in a large skillet over medium heat. Saute onion until tender, but do not brown. Stir in cooked spinach and continue cooking until all moisture has evaporated. Remove from heat and cool to room temperature.
In a large bowl combine feta cheese, Swiss cheese, Parmesan cheese, eggs, parsley and cinnamon. Stir in spinach and onion mixture.
Brush the bottom of a 17x11 inch jelly roll pan with butter. Place 1 sheet of dough in the bottom of the pan; brush with butter. Continue to layer 13 more sheets of dough, brushing every other sheet with butter. Spread spinach and cheese mixture over dough. Continue layering with remaining dough, brushing every other sheet with butter. Tuck edges of dough under. Brush top sheet with butter and, using a sharp knife, score top layer into diamonds.
Bake in preheated oven for 40 minutes, or until golden brown.
(Recipe courtesy: allrecipes.com)
Tiropita
Ingredients:
6 tablespoons butter
1/2 cup all-purpose flour
2 cups milk
1 teaspoon salt
1 pinch nutmeg
1 pound feta cheese
3 ounces grated Greek Kefalotiri cheese
4 eggs, beaten
1/4 cup chopped fresh parsley
3/4 pound phyllo dough, thawed
3/4 cup melted butter for brushing
Recipe:
Melt 6 tablespoons butter in small saucepan over medium-low heat. Whisk in the flour until smooth and cook, stirring constantly, for 2 minutes. Gradually pour in the milk, stirring constantly with a whisk or wooden spoon. Add the salt and nutmeg, stirring occasionally, until mixture is bubbly and thickened, 5 to 10 minutes.
Mash the feta cheese with a fork in a bowl and stir in the grated kefalotiri, beaten eggs and parsley. Pour in the hot white sauce and mix well.
Preheat oven to 350 degrees F. Butter a 9x13-inch baking dish.
Line the buttered baking dish with a sheet of phyllo dough and brush it with melted butter; keep the remaining phyllo sheets covered with plastic wrap while you work. Repeat with half of the phyllo sheets, brushing each sheet with butter, and letting them come up the sides of the baking dish. Pour in the cheese filling.
Lay the remaining pastry sheets on top of the filling, brushing each with butter. Brush the top of the last sheet with butter and, with a sharp knife, score the top sheets into strips about 3 inches wide from one end of the baking dish to the other.
Bake in the preheated oven until the pastry is golden brown and crisp, about 45 minutes. Let stand for 5 minutes, then cut into squares and serve hot.
(Recipe courtesy: allrecipes.com)
Kourambiedes
Ingredients:
1 cup unsalted butter
4 tablespoons powdered sugar
1 teaspoon vanilla extract
2 cups sifted all-purpose flour
1 cup chopped pecans
36 whole cloves
1/2 cup powdered sugar for coating
Recipe:
Preheat oven to 350 degrees F.
In a medium bowl, cream the butter and 4 tablespoons powdered sugar together. Stir in the vanilla, then the flour, then the pecans.
Roll dough into walnut-sized balls and insert a clove into each one. Place on an unprepared cookie sheet and bake for 15 to 18 minutes in the preheated oven. Roll the cookies in powdered sugar while they are still hot. Remove cloves before serving.
(Recipe courtesy: allrecipes.com)