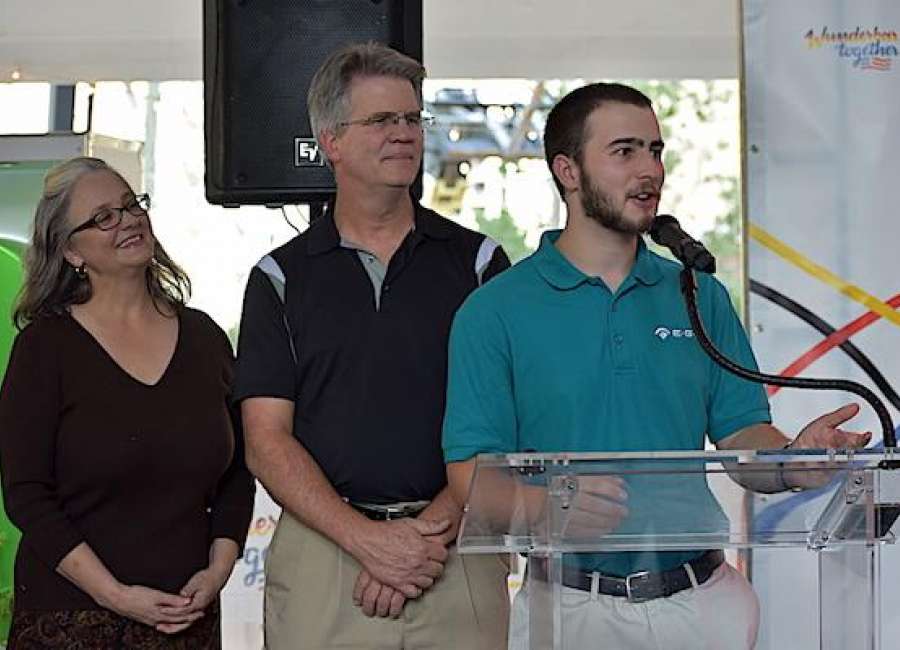 In 2016, eight Coweta County companies signed agreements with 10 high school sophomores to launch the first German-style apprenticeship program in the United States.

Six of those aspiring industrial mechanics finished the program last spring, and their graduations were celebrated at the Wunderbar Together PopUp Tour in Midtown Atlanta. Hosted by the German American Chamber of Commerce of the Southern United States, Inc. (GACC South), the celebration included founding companies, education and business leaders and others instrumental in founding and supporting the program.
The Coweta students became part of a carefully constructed replica of the German apprenticeship system that has supplied a pipeline of skilled workers for that country's businesses and industry for more than a century.
The program allows students to begin their apprenticeships in 10th grade with a combination of traditional high school classes, college-level manufacturing courses and apprenticeship modules that will pay them $8/hour. By the 12th grade, students will spend 80 percent of their days learning at the manufacturing site and earn $12/hour.
After three years of training, apprentices will have earned as much as $25,000 in pay, their high school diplomas, college credits and credit toward an associate degree in industrial mechanics. Apprentices also have the opportunity to sit for German certification, which is recognized throughout the world.
More than 40 Georgia high school students in three counties now participate in the apprenticeship program along with 17 manufacturing partners in three counties.
Josiah Henderson, who now works for his original industry sponsor, E.G.O. North America, talked about what the program meant to him.
"It meant job security and a career after high school," said Henderson, a 2019 graduate of Northgate High School who earned an associate degree from West Georgia Technical College in tandem with his high school studies.
Henderson, Cole McKeehan – a fellow Northgate/WGTC graduate and E.G.O. employee – along with Levi Coe (Northgate High School, Grenzebach Corporation), Nathan Sakala (Newnan High School, Winpak), Max Godwin (Northgate, Yamaha Corporation) and Caleb Bray (Northgate, Yamaha Corporation) each completed more than 40 hours of credit over the course of their high school careers.
A Georgia high school diploma requires just 23 credits.
"They were well-coached by their high school counselors, supported by the people in the community and learned from companies who taught them what this was all about, but they took the challenge," said Mark Whitlock, CEO of the Coweta County School System's Central Educational Center.
CEC and Whitlock were recognized for being instrumental in the development of the apprenticeship program and the Georgia Consortium of Advanced Technical Training, but Whitlock credited the students' hard work for their success.
"This is a rigorous program that they committed to and most of what they completed was at the technical college level," Whitlock said. "They spent time with their manufacturers and they spent time on co-curricular projects that are common to this apprenticeship around the world, and they were successful."
Henderson's father, Alan, said he is very proud of his son and the other apprentices, and he thanked those involved in the program's creation for the opportunities it gives students.
"I really believe this is the way education needs to go," Alan Henderson said. "Thank you for your vision, commitment and investment of funds, time and energy. Thank you for letting us be part of the first generation."
Stefanie Ziska, president and CEO of GACC South, praised the founding companies – including Grenzebach, E.G.O., Yamaha, Kason, Yokogawa, Winpak, KCMA Corporation and Groov-Pin – for working together to begin training the workers they so desperately need.
"You came on even when all your questions couldn't be answered, but all of you knew how important it was to be part of the solution to create a skilled workforce," she said.
David Keller, president and managing director of E.G.O., said the past three years have been a learning process for all those involved.
"Three years ago we really didn't know what we were doing," he said. "We had a concept, we had ideas, we knew how it worked in Germany, but every year, every process was new and had never been done before."
But success is evident in the continued growth of the program, according to Keller.
"Every single step, these kids stuck through it," he said. "They paved the way for the next class, and the next class, and the class after that. It's continuing to grow throughout the state and it's making an impact on the companies that are part of this program.
"We stand here today and talk about six kids, but in the long term, there will be more programs and more students, and eventually this will impact, very positively, not just Coweta and other counties and the state of Georgia, but the United States. And it started here, with kids like Josiah," Keller said.