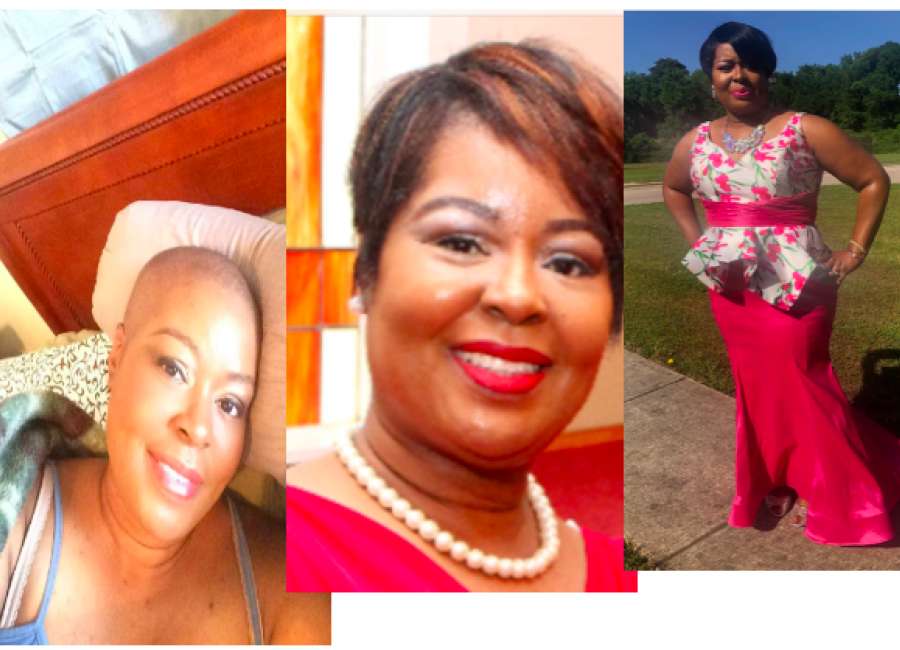 Local breast cancer survivor says faith and encouragement helped her heal.
In 2019, an estimated 268,600 new cases of invasive breast cancer are expected to be diagnosed in women in the U.S. Daniela Bailey never knew she'd be forced to battle breast cancer.

Bailey said she was diagnosed in 2014, which was "bittersweet."
"The sweetness of the year was that I graduated with my bachelor's degree, my oldest daughter graduated from high school and my mother retired from the workforce," she said. "The bitterness was in August, I was diagnosed with stage 3 breast cancer."
Bailey described diagnosed with "the Big C," was a shock and a numbing experience.
"I was headed to being promoted on my job and on the second day of training," Bailey said. "I received a call from the doctor reporting I have breast cancer. I would have never thought the Big C would knock at my door."
Bailey said she was speechless, and knew that she was headed down a journey that would ultimately change her life forever.
Being a woman of faith has been the key to Bailey's healing and survival. Her husband Rev. Dr. K.G. Bailey is the pastor of White Oak Grove Baptist Church in Senoia.
"Although I did not know what to expect, I held on to my faith trusting God in the process," Bailey said. "I remember sleeping sitting up feeling so much pain and pressure."
Bailey said she underwent 20 weeks of chemotherapy and 28 days of radiation.
"I have been stuck by needles so many times, I stopped counting," Bailey said.
Bailey said losing her hair was difficult, but she learned to be okay with it.
"I found out on this journey you make the hair; the hair doesn't make you," Bailey said. "I met so many wonderful people on the journey of healing. I also lost some new friends during my journey."
Bailey said she endured some difficult days, but encouragement from family and friends gave her some comfort.
"Someone was always there to give me an encouraging word," she said. "My friends and church family support were a major factor in my healing process. I would not have made it without their continued support. I had sad moments, but I had a whole lot of joyous moments."
Bailey said she is proud to be a five-year survivor. She encourages other cancer patients to never give up and keep the faith.
"If I could share any wisdom, no matter what life brings you, take the Lord with you in the midst of the process," Bailey said.
Most women don't know if they are at a high risk of breast cancer, according to Dr. Anita Johnson, director of Breast Surgical Oncology at Cancer Treatment Centers of America, Atlanta.
Johnson said she recommends women who have no family history of cancer to start receiving breast cancer screenings at the age of 40.
For women in the U.S., breast cancer death rates are higher than those for any other cancer, besides lung cancer, according to www.breastcancer.org.
Breast cancer statistics
– Breast cancer incidence rates in the U.S. began decreasing in the year 2000, after increasing for the previous two decades. They dropped by 7 percent from 2002 to 2003 alone. One theory is that this decrease was partially due to the reduced use of hormone replacement therapy (HRT) by women after the results of a large study called the Women's Health Initiative were published in 2002. These results suggested a connection between HRT and increased breast cancer risk.
– About 41,760 women in the U.S. are expected to die in 2019 from breast cancer, though death rates have been decreasing since 1989. Women under 50 have experienced larger decreases. These decreases are thought to be the result of treatment advances, earlier detection through screening, and increased awareness.
– For women in the U.S., breast cancer death rates are higher than those for any other cancer, besides lung cancer.
– Besides skin cancer, breast cancer is the most commonly diagnosed cancer among American women. In 2019, it's estimated that about 30% of newly diagnosed cancers in women will be breast cancers.
– In women under 45, breast cancer is more common in African-American women than white women. Overall, African-American women are more likely to die of breast cancer. For Asian, Hispanic, and Native-American women, the risk of developing and dying from breast cancer is lower.
– As of January 2019, there are more than 3.1 million women with a history of breast cancer in the U.S. This includes women currently being treated and women who have finished treatment.
– A woman's risk of breast cancer nearly doubles if she has a first-degree relative (mother, sister, daughter) who has been diagnosed with breast cancer. Less than 15 percent of women who get breast cancer have a family member diagnosed with it.
– About 5-10 percent of breast cancers can be linked to gene mutations inherited from one's mother or father.
– About 85 percent of breast cancers occur in women who have no family history of breast cancer. These occur due to genetic mutations that happen as a result of the aging process and life in general, rather than inherited mutations.
– The most significant risk factors for breast cancer are gender (being a woman) and age (growing older).