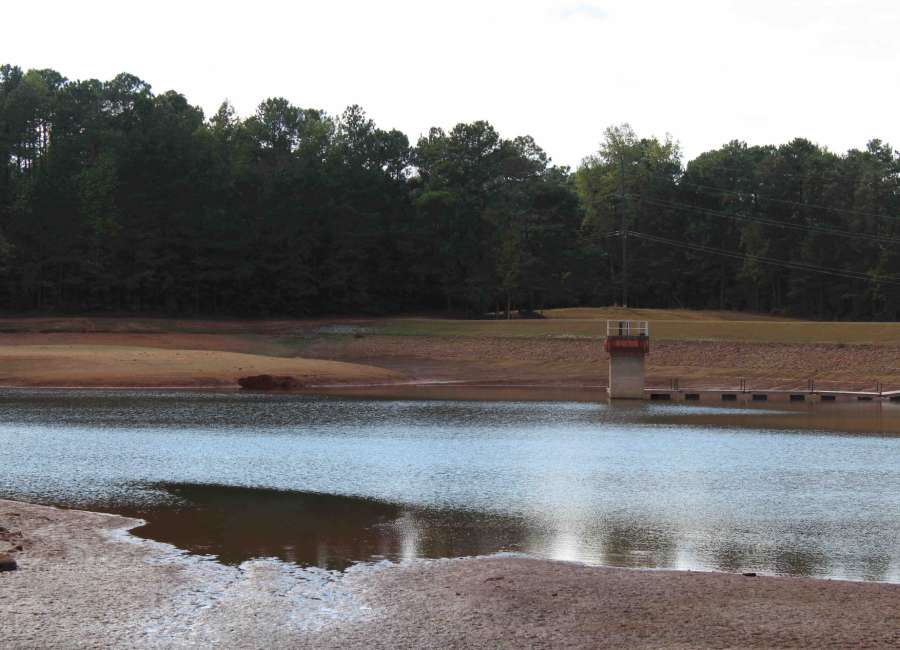 Half of Coweta County is considered to be under "extreme drought" and the Coweta County Water and Sewerage Authority has implemented Level II watering restrictions for its customers.
The state of Georgia hasn't imposed watering restrictions, but the authority requested a waiver from the state to allow it to go ahead and take action.
Newnan Utilities isn't imposing any watering restrictions at this time, according to Brandon Lovett, director of water operations.
The Level II restrictions limit outdoor irrigation to two days a week and forbid many other kinds of outdoor watering.
Outdoor irrigation is allowed on Wednesdays and Saturdays from 4 p.m. to 10 a.m. for those with even-numbered or unnumbered addresses, and Thursdays and Sundays from 4 p.m. to 10 a.m. for odd-numbered addresses.
Restrictions do not apply to the irrigation of food gardens.
Washing hard surfaces such as gutters and sidewalks isn't allowed, unless necessary for public health and safety.
Nor is using water for ornamental purposes, washing vehicles, non-commercial washing or pressure washing of buildings or structures, or charity or non-commercial fundraising car washes.
The northern portion of Coweta is in extreme drought, and most of the rest of the county is considered severe drought, except for the extreme southwest corner, which is under moderate drought, according to Drought.gov .
The lack of rainfall, coupled with unusually high temperatures for this time of year, have led to high water demand, according to Jay Boren, CEO of the Coweta Water and Sewerage Authority.
"We were seeing demand that was two-and-a-half to three million gallons per day higher than it was this time last year," Boren said.
The authority's B.T. Brown Reservoir is currently at 64 percent capacity, Boren said. The authority produces some water from the reservoir, and buys water from Newnan Utilities and the city of Griffin.
Griffin was already in the process of getting a waiver to go to Level I restrictions when the authority decided to ask for authorization to take it to Level II, according to Boren.
Level I is just about awareness, not restrictions, Boren said.
"We wanted to be kind of semi-aggressive," and chose to go straight to Level II, he said.
Because of the high temperatures, people are still watering their grass, and going to Level II should cut down on that water use.
Now that the vast majority of the authority's customers are on "smart" water meters, authority staff will know if irrigation meters are running during the restricted times.
Boren said the authority will focus on sending out reminder emails to customers who are watering in violation of the new restrictions.
"It's going to be more of education and reminding," Boren said. However, if the drought continues and the reservoir level keeps going down, "we'll probably start getting a little more aggressive with it."
The cooler temperatures in the past few days have already helped lower demand, Boren said, and the weather forecasts show a slight chance of rain next week.
Boren said he has been on several conference calls about drought response, and there is a drought issue in the entire Apalachicola-Chattahoochee-Flint river basin.
Newnan Utilities' reservoir system is currently at 73 percent, said Lovett.
NU's drought contingency plan doesn't call for water restrictions until that level hits 60 percent – this time of year. If the levels were this low in late spring or early summer, that would be a different matter altogether, according to Lovett.
"October is the driest month of the year," Lovett said. "In November and December, we start getting rainy weather patterns."
Though the 40 to 50 percent chance of rain next week might not pan out, "at least we're seeing some chance, as opposed to the zero percent we've been seeing for two months now," Lovett said.
The Newnan Utilities system has several interconnected reservoirs, and water can be pumped from one lake to another. The more visible lakes on Corinth Road and Sewell Road can make the situation look worse than it is.
"The depletion of the outside reservoirs is by design," Lovett said. Concentrating the water in fewer lakes cuts down on water loss by evaporation.
But the visible reservoirs are definitely attention-getters. Lovett said when people see that reservoir, they might pay a little closer attention to water use.
Newnan Utilities pumps out of several creeks to fill the reservoirs. The creek levels haven't been high enough for much pumping in the past several weeks.
Last week, there was enough rain that they were able to pump out of White Oak Creek for a few days, Lovett said, but that was it.
He's not expecting to pump again any time soon. "We're going to manage solely off of our reservoir levels," he said. "We have been very fortunate to have those reservoirs… they're doing what they're supposed to do."
When the rains come back, the lakes can refill fairly quickly. The state experienced a significant drought in 2007. When the rains finally returned, the reservoir started to recover at over 10 percent per week, Lovett said.
The forecast calls for a 40 percent chance of afternoon showers Saturday and chances of rain all next week.
Extreme drought is affecting 4.5 percent of the state, and 23.8 percent of the state is in severe drought. An additional 33.3 percent is considered a moderate drought.
None of the state is considered an exceptional drought at this time.