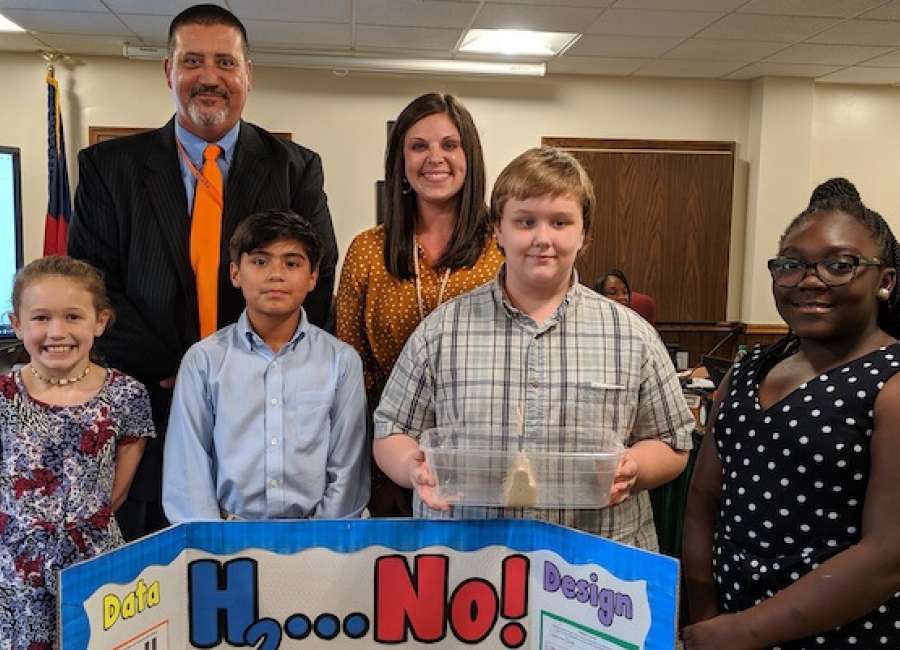 Fifth-grade students from Atkinson Elementary School presented their class project on levees to the Coweta County Board of Education at their October monthly meeting.
Atkinson Principal Ben Tarleton said that a point of emphasis in their 2019-2020 school improvement plan is the mastery of rigorous content standards.
"We are engaging students in rigorous and innovative learning opportunities," he said.
Kristen Yates' fifth-grade science class was required to understand both constructive and destructive forces to the earth's surface as part of their earth science standards, Yates said.
Students investigated human interventions to prevent or lessen these effects, and the response they studied was the function of a levee.
In groups, students designed, constructed and tested a levee of their own.
"Problem solving and collaboration are two skillsets that we diligently work towards at Atkinson in the fifth grade. It's important to us that we provide these opportunities for students to utilize these skills," Yates said.
Students presented the process of designing and building the levee to the school board.
"Parts of the activity allow us to take control of our learning by being involved in the action," Aaliyah Barner said.
Student Hunter Pitts explained the design process and some of the materials they were given to use.
"When designing, we were provided the materials that would be available to us when constructing. Some of these materials were clay, popsicle sticks and sponges," he said.
The students then showed the board of education members a working levee model that they completed.
"The goal of the levee was to make sure the water did not breach onto the other side because no community wants to deal with flooding," said JP Hughes.
Student Gianna Wold read a letter she wrote to the city of Newnan, encouraging them to build a levee.
"I know that it is important to be prepared for the event of a flood, and a levee is one intervention that can help with this phenomenon. For that reason, I decided to write a letter to our local officials in order to inform them of the hazards of flooding," she said.