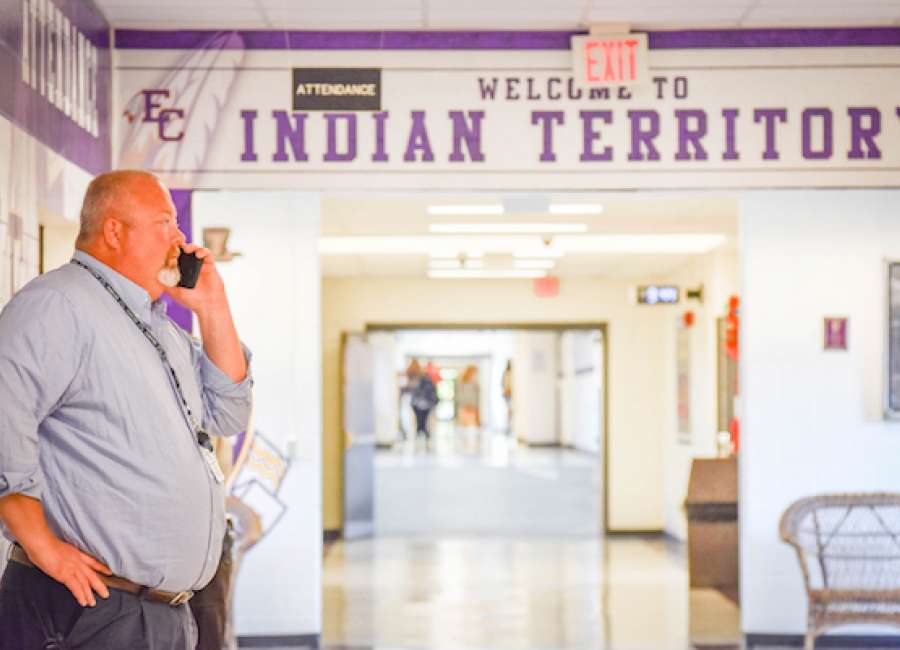 October is National Principals Month, and Newnan Times-Herald reporter Rebecca Leftwich headed back to class for a look at what it takes to run a Coweta County school.

For the first of a series of three stories, Leftwich spent part of a school day with Principal Steve Allen of East Coweta High School. She followed along with Allen as he went about his daily routine on the sprawling ECHS campus, which is home to 3,300 students in grades 9-12 – the largest school in the Coweta County School System, and one of the largest high schools in Georgia.
•••
It's 8:48 a.m. on a Tuesday in early October, and Principal Steve Allen's voice is booming out over the school-wide intercom system.

He praises the academic team for winning second place in competition and thanks staff for its hard work that paid off in recent standardized testing gains. He reminds everyone to keep respecting each other's differences before ending this round of morning announcements the same way he has for years.
"I love you, and I always will," he tells the 3,300 students of East Coweta High School.
Those words have strength, and if Allen didn't understand that at first, it only took him one day to figure it out. Several years ago, when he first started telling kids during announcements he loves them, he had misgivings and stopped after about a week of the daily affirmations.
"As soon as I quit, I probably had 45 or 50 emails from students saying, 'Hey, you didn't tell us you loved us this morning!'" he said. "And that hit me like a ton of bricks. Man, I didn't let up after that."
He's not just a disembodied voice, either. Allen is an ever-present, imposing figure in the hallways of the sprawling Sharpsburg campus, towering several ticks above 6 feet tall and built like a '70s-era NFL linebacker, swinging a rarely used coach's whistle in his hand to discourage dawdlers when the class change chimes sound.
He greets his students as they pass – "Hey, smiley!" "What's up, big dawg?" – and often receives smiles, hugs and high-fives in return.
Love is a powerful word
Allen has deliberately cultivated an open-door culture in the six years he has been chief at East Coweta. He says he wants his students to feel comfortable talking to him.
"When I was in school, the last thing kids really wanted to do was go talk to the principal," Allen said. "But I want them to understand this is a place where they are valued and their opinion matters."
But love isn't all high-fives in the hallway, he said. And sometimes his morning announcements are more lecture than light.
"If I see some stuff going on and I need to get on to them, I'll get on them," Allen said. "I don't care a bit to square up on them. I'll say, 'Hey, guys, this is Pops here. You need to cool your jets and we need to get back down to business. And I love you, but I'm going to tell you I'm not happy about the way you're acting right now.'"
He deals with the inevitable, volatile situations that arise in any high school in the same way.
"You don't say something and then not live by it," he said. "Love is a powerful word."
Living in seconds
Allen's perpetual presence makes East Coweta feel much smaller than one of the largest brick-and-mortar high schools in Georgia. But just as in any high school, serious problems suddenly can change the course of a day.
"We live in seconds in a high school like this," Allen said. "We live in the world of adolescents and egocentrism. Kids don't see they're not invincible."
In February of 2018, a week after 17 people were killed in a Florida school shooting, a rash of unrelated incidents and threats at Coweta schools resulted in four arrests. One of those arrested was a 17-year-old East Coweta student who was carrying a loaded 9mm gun in his waistband.
Allen and the school's two longtime SROs, Lt. Rodney Ison and Lt. Vince Meadows, isolated and disarmed the student within minutes of being notified he might have a gun – long before most of the students and staff were aware of any threat.
Superintendent Steve Barker credited Allen's "culture of trust" for the quick resolution.
"Kids find a place where they fit," Allen said. "There are all kinds of different groups in high school, but here's the thing: they're all kids. I hope you could take any one of those kids out there and say, 'Hey, do you think Mr. Allen cares about you?' And I hope each one of them would say, 'Yeah, I do.'"
Inside the hub
Allen covers the corridors at an alarming pace, popping in on school nurse Deena Kasparek to confer about compensation days before heading to the media center to check the progress of the new Chromebook rollouts.
His phone is constantly either sounding off or at his ear, and when he heads back to his office – the hub of activity for the educational labyrinth – there is a line of staff members, counselors, administrators and parents who all need a piece of him immediately.
The school's secretary, Angela Tinsley, is an East Coweta alumnus. She navigates her duties – and a couple of visits from her daughter, a student at EC – with ease, answering calls, directing visitors, calling students by groups to exchange their laptops and adding lunches, uniforms, shoes and other items to the "Mom, I forgot my…" pile.
She sends several students into the principal's office for what clearly are unpleasantries.
"What I deal with is the behavior," Allen said. "I don't attack a kid, or anybody. And I don't take anything personally."
Seven assistant principals are among the 250-plus staff members who help Allen manage the school, and he says he is careful not to micromanage.
"The secret to the way our school runs is that we have great kids and a great staff that believes in their mission," he said. "People talk a lot about buy-in. I don't want people to buy in. I want our staff to understand this is one of the most important jobs they could ever have, and you shouldn't have to buy into that."
Focus on the positive
Allen taught special education at East Coweta from 1997-2005 before becoming assistant principal at Smokey Road Middle School, and then he served as athletic director and assistant principal at Newnan High School before returning to ECHS.
In those years, he's seen more and more opportunities open up for Coweta high-schoolers at the Central Educational Center, as well as through dual-enrollment and other programs.
"These kids need to be able to taste success, and it's all about finding what interests them and getting them into something they can put their heart and soul into," he said. "We're certainly going in the right direction in everything this county is doing."
Allen said that is obvious in statistics like gains in standardized testing and graduation rates.
"Somebody comes to me and starts talking about we've got this problem or that problem, I say, 'OK, well what about the kids that are coming to school every day and doing what they're supposed to be doing?'" he said. "Let's talk about those numbers. Those numbers are huge, outweighs the negative much more than anything else. We have to look at the positives as well as the negatives."
But Allen said people should always matter more than numbers.
"The bottom line of all of this for anybody, no matter where you work is this: people could care less about what you know until they know you care," he said.