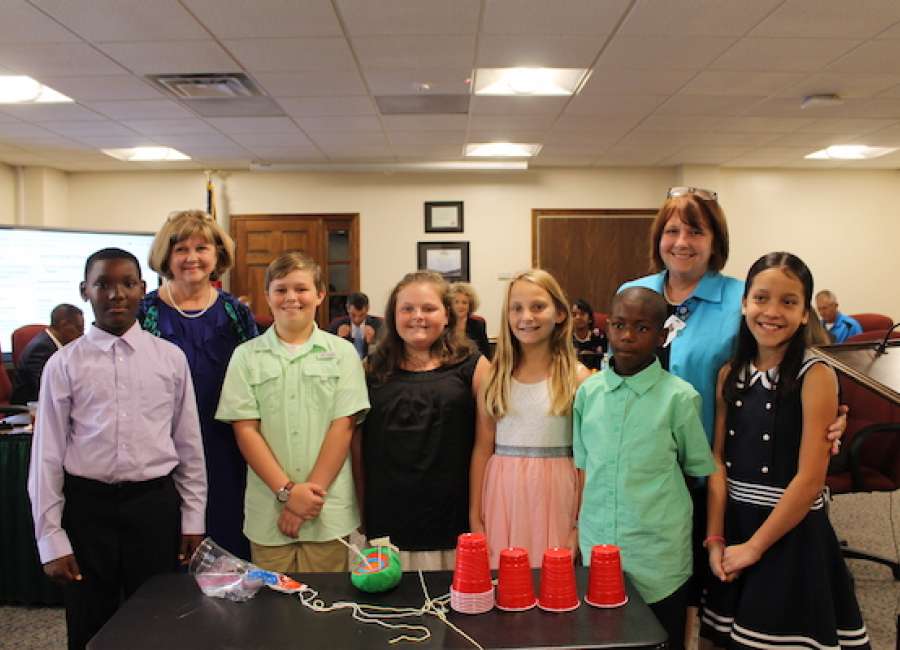 Western Elementary School fifth graders presented what they have learned in their science labs to the Coweta County School Board at their meeting on Tuesday night. 
Patsy Hart's fifth-grade science students have been using simple models to illustrate how changes in the surface of the earth are caused by constructive and destructive processes, according to Hart. 
"We believe we must empower our students to be active and accountable participants in their learning," said Western Principal Dr. Jan Franks.  
The fifth-grade science students at Western have shown a 46 percent gain from 2016 to 2018 on the Georgia Milestones science assessment, according to Franks. 
Hart provided labs for her students about convergent plate boundaries, seismic waves, the formation of a volcano and they learned a plate tectonics rap. 
She said her goal was to support students' ability to visualize the earth's integrated systems and to connect the lesson to real life through watching live videos of the earthquakes on the west coast.
"The thing I like most about this class is making the models. This activity taught me about my planet," said student Bentravian Hutchinson. 
Hart taught the students that the choices they make daily can be constructive or destructive.
School board members and Superintendent Dr. Steve Barker were impressed with what the students had learned. 
"Years ago I taught seventh grade, and I'll tell you what – we have really increased the rigor of what we expect students to know and be able to do," Barker said.