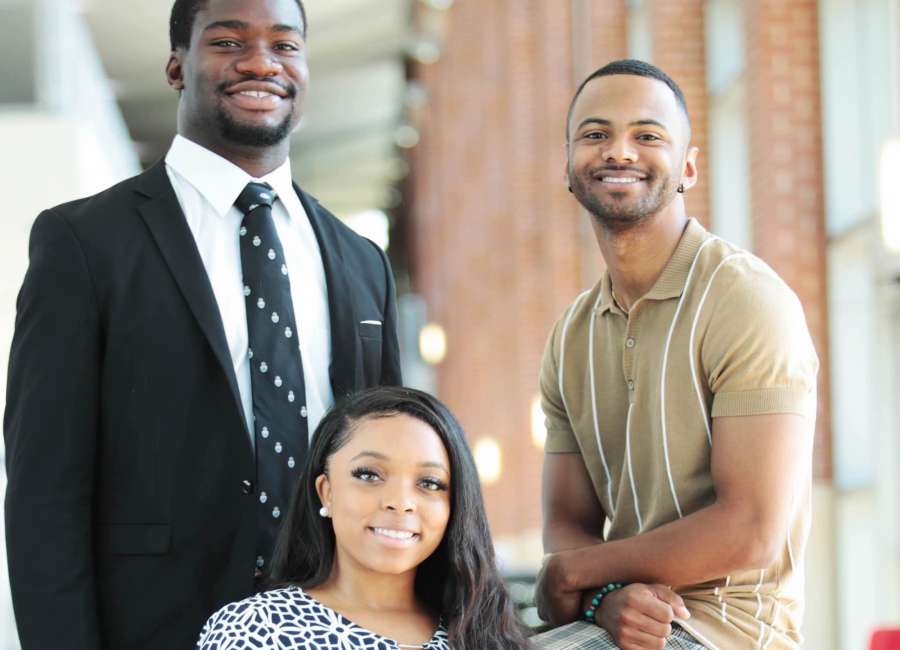 By Allie Smith

Finding employment after graduation can be difficult, but it may have just gotten a little easier for three University of West Georgia students.
UWG students Nnamdi Onwumere, Shadarius Stokes and Emani Bennett – all in the Richards College of Business – were given the opportunity to intern for a company that aims to provide their interns full-time employment post-graduation.
Enterprise Holdings Inc. offers students a 10- to 12-week internship opportunity to gain hands-on business experience while preparing them for a future full-time position within the company.
Heather Kahl, group talent acquisition manager for Enterprise Holdings, shared that student interns learn a variety of business skills during their time with the company, including critical thinking, problem-solving, teamwork, collaboration, written communication, and decision-making – all in an effort to ensure they are prepared for full-time work.
"We want them to convert to full time because we invest a lot of time into our interns," said Kahl. "We make sure they really apply their experience and learn before they're a full time professional."  
Each of the students mirror the enthusiasm Enterprise feels regarding the internship, expressing how much they have learned in the process.
"The experience opened so many doors for me to succeed – helping me establish connections, making it easier for me to get out there and learn new things by being exposed to a professional work environment," said Bennett, who plans to graduate this December with degrees in business management and marketing. "There was never a day when I felt overwhelmed because I was surrounded by people who were naturally inspiring."
Dr. Jymmyca Wyatt, director of career services at UWG, expressed the university's gratitude toward Enterprise and their willingness to invest in these students.
"Applying for this internship is just like applying for a full-time job; students are asked to provide a resume and cover letter and be present for an interview," Wyatt said. "We are very fortunate to have had these students participate this summer, as I know they learned a great deal."
For the students, even if they plan to pursue employment elsewhere after graduation, they have learned many valuable lessons to take with them into their next career endeavor. Networking professionally has helped prepare these students for a variety of environments.
Onwumere, who graduated from UWG this summer shortly after his internship experience ended, shared that through this experience, he learned skills that transfer beyond just the Enterprise office.
"I learned how to be more dependable to people, and work in a fluid, functional team," said Onwumere, who majored in management information systems and business management. "For any students who are interested in leadership and rising through the ranks of a large company like Enterprise, this opportunity was an invaluable start to my career. I learned to work on a team and understand different aspects of how their enterprise works."
Spending just one summer with Enterprise has set these students up for an easier job hunt after they graduate, while giving them a great experience and learning opportunity as well.
"I was able to gain experience in inspecting inventory and planning marketing strategies to acquire new leads," said Stokes, who's majoring in marketing and plans to graduate this December. "Working in Enterprise's truck rental sector, I learned how to remain calm in what could be stressful situations and provide exceptional service to customers no matter what. It was just a great experience. I wouldn't trade it for anything."