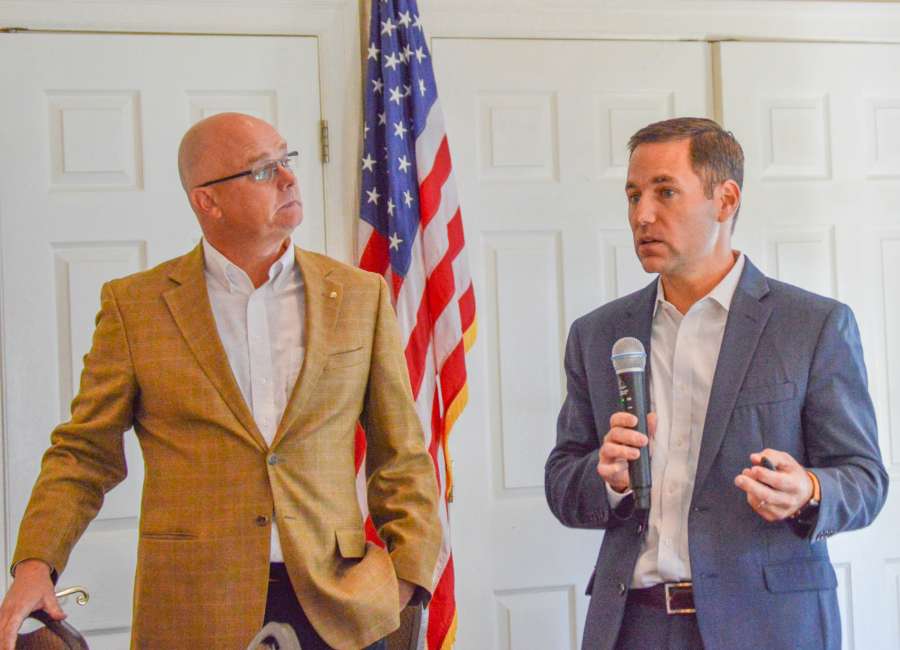 If the city of Newnan dedicated every penny of its property tax revenue to widening Lower Fayetteville Road it would take over a decade to get enough money, Newnan City Manager Cleatus Philips told the Newnan Rotary Club Friday.

"That shows you how important the TSPLOST is for projects like that to be successful," said Phillips who, along with Coweta County Administrator Michael Fouts and Cynthia Bennett, gave a presentation on the proposed Transportation Special Purpose Local Option Sales Tax, which Coweta voters will decide on in November.
Projects like widening Lower Fayetteville are incredibly expensive – the price tag is over $60 million. Not even the TSPLOST will be able to fully fund that project, but money is set aside in the proposed sales tax to engineer the improvements.
It's hoped that the local money will help pull down state and federal money to fully fund the project.
If approved, the 1 percent tax is expected to bring in around $125 million over five years. Coweta County would get $82 million of that, with the rest divided amongst the cities and towns.
The money will go to a designated list of projects that were put together by a committee that spent nearly a year working on the list.
Adding the TSPLOST would bring the sales tax rate in Coweta County to 8 percent.
As of last November, roughly half of Georgia's counties have some form of TSPLOST, whether a single-county, as proposed in Coweta, or a regional TSPLOST, according to the Association County Commissioners of Georgia.
A regional TSPLOST in the Three Rivers Regional Commission area, which included Coweta, was soundly defeated in 2012.
In her remarks, Bennett referenced the upcoming District 71 election, citing deliberate disinformation is being put out by TSPLOST opponents.
One message seeks to link the TSPLOST with MARTA, which has nothing to do with it.
Bennett said she has also been contacted by someone who says the state will implement a new transportation sales tax next year, bringing the sales tax rate even higher.
"I have no idea where that even came from," Bennett said, and said it appears to be completely false.
Since 2009, Coweta hasn't put any money for road projects into the general fund budget and uses the Special Purpose Local Option Sales Tax to pay for road projects, according to Fouts.
Most of the $89 million in the 2019 SPLOST is going for resurfacing and improving existing roads. It costs an average of $290,000 a mile to repave a road in the county. In the city of Newnan, it's more like $400,000, Phillips said.
"Even though we have $90 million for roadway maintenance, there is still not enough money for these projects," Fouts said of the intersection improvements and other road projects proposed to be paid for with the TSPLOST.
No room to cut
The price of road improvements is a growing problem – there are approximately 55,000 housing units in Coweta County. As more people move in, traffic is increasing and more road work is needed.
"Those higher demands become a problem for funding. So that is what we're facing," Fouts said.
The TSPLOST would establish a new revenue source, Fouts said.
The county's current property tax millage rate is 6.6, and each mill brings in about $5 million, Fouts said. Getting the amount of revenue that TSPLOST brings in from property taxes would require a huge increase in the millage rate – something that isn't going to happen.
Fouts said people will ask, "Why can't you reduce your operating budget?" to fund transportation. But that would require cutting the county's current budget by 30 percent – something that wouldn't be sustainable.
"We can cut library hours here and there and cut down a compactor site. It would never fund the projects we have here without major changes," he said.
"You always hear people say – we need to do more with less," Phillips said. "We do."
"We are very efficient," Phillips said. But around 80 percent of the city's total budget is personnel costs, he said. To make room in the budget for all the transportation projects that are needed, "that means fewer firemen, fewer officers," he said.
And the vast majority of the city's budget is public safety.
"When we say reduce the budget, we're talking about public safety," Phillips said. "I don't think anyone in this county wants to cut these resources. We are pretty lean."
Since 1986, Coweta County has had a SPLOST, which can fund capital projects such as roads but also recreation projects, buildings, fire engines and the like. Most of the sports fields built or improved since the '80s have been funded with SPLOST.
"SPLOST proceeds allowed us to keep a lower millage rate, because we've had money to build things like the fairgrounds, the Justice Center," Fouts said, and to restore the 1904 courthouse. "Those things would not be possible without those SPLOST dollars."
A few years ago, the county commissioners voted to take the rollback millage rate, which meant budget cuts.
"We had to reduce library hours, we cut compactor hours," Fouts said. The county also had to raise rental rates and the Lynch Park pool closed when school started instead of after Labor Day.
"It immediately affected the citizens," Fouts said. "I started getting phone call after phone call about $300,000 worth of revenue. It does affect people's lives."
All of the budget information for the county and cities is subject to open records, Fouts said.
"But we go beyond that. We're very transparent," he said. "We'll show you everything we have to offer to prove that there is no fat. When we talk about cutting back, the cuts are deep and it's real."
Details on the projects and the process are available on two websites, www.cowetatsplost.com and www.drivingcoweta.com
Both proponents and opponents of the TSPLOST have made yard signs that are available to Cowetans who want them.
Pro-TSPLOST signs will be available starting Monday at the Newnan Coweta Chamber of Commerce, 23 Bullsboro Drive, Newnan.
Anti-TSPLOST signs are available from 9 a.m. to 5 p.m. at 14 Greenville St., Newnan or by appointment by calling 678-326-9705.