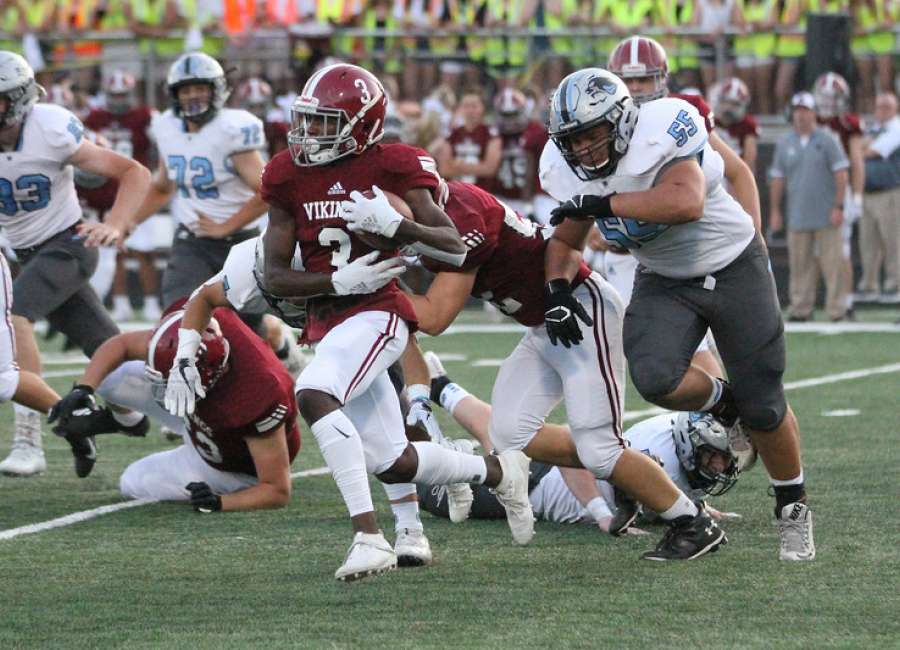 BY Justin Hodges
Special to the Newnan Times-Herald
The Starr's Mill Panthers put together a dominant effort Friday evening in shutting out Northgate by a final score of 28-0. The Northgate Vikings' offense trotted knee deep in quicksand and molasses in route to goose eggs on the final scoreboard. 
The two defenses were stout in the first quarter. Both team's offenses had focus on running the ball as the trenches were a war zone. Each of the first five possessions of the ball game ended with punts. By the end of the first quarter, Vikings senior running back Tanner Hughes was able to rip off a long run to get into Panthers' territory, but the drive stalled as the passing game could not muster anything.
Perhaps the deciding moments of the game came midway through the second quarter up until the end of the first half. Starr's Mill recovered a fumble on a Northgate pass completion just outside the red zone at the 25 yard line with about five minutes left in the second quarter. The Vikings defense fought valiantly, however Panthers running back Ben Bodne would score on a goal-line run to open the scoring at 7-0.
After another offensive drive went nowhere, Northgate's special teams had the Panthers pinned at their own five yard line with just over a minute left in the first half. A perfect opportunity to go to halftime with minimal damage had presented itself for Northgate, only for Starr's Mill to rip off an 86 yard run on the first play of the drive. Bodne would punch in another rushing touchdown to make the score 14-0.
"You gotta tip your hat to them," said Northgate head football coach Mike McDonald. "They really punched us in the mouth and we didn't respond well there."
An already catastrophic end to the first half almost went even worse for Northgate. Right after getting the ball back, senior quarterback Isaac Corbitt threw an interception just eight yards away from his own end zone. Starr's Mill kicker would miss the ensuing field goal as the first half concluded.
A two touchdown deficit is far from impossible to come back from, if and only if the team can make adjustments for the second half and dominate from the point of attack. However, in this instance Northgate was unable to come close. 
Starr's Mill attempted an onside kick to open the second half, which set Northgate up near midfield to start the drive. That drive would end in another punt. Starr's Mill began their second half offense with a 35 yard run right off the bat. The Panthers are predominantly a rushing offense and five straight running plays had them in then end zone again to make it 21-0. 
"[Starr's Mill] deserved to win tonight," said McDonald. "They played harder, out-coached us and out-hit us. That's all on me."
Northgate's offense finally began to click in the ensuing drive. Corbitt began looking more rhythmic with his passes. A long catch-and-run to senior wide receiver Damian Young broke through to Panthers' territory and several hard-nosed runs from Hughes had the Vikings positioned just outside of the red zone. The stage was set for Northgate's offense to finally put some points on the board. 
Only for a botched snap to be fumbled away by Corbitt and recovered once again  by Starr's Mill. 
"It's just consistency," said McDonald. "We'd have a good play then immediately have a negative play. We need to improve on getting four, five, six good plays and stringing those together." 
With about three minutes left in the third quarter both team's traded punts yet again. Starr's Mill had a comfortable lead, a powerful rushing attack and a worn out Northgate defense at their disposal. They wanted to run the remaining time off the clock and that is exactly what they did. 
"We fought hard in the second half, but that's just a good football team," said McDonald. "They're an experienced team and they pushed us around a good bit."
Northgate would not touch the ball again until the 2:05 mark of the fourth quarter, after another rushing touchdown from Starr's Mill. The Panthers worked the ball from their 21 yard line and nearly milked out the entire fourth quarter in the process. An exhausted Vikings defense could only do so much. 
"We're gonna get better," said McDonald. "We've got eight new guys on offense, we'll get better. 
The offense for Northgate, now 1-1 on the season, will need to improve drastically going into next week's matchup against Douglas County.