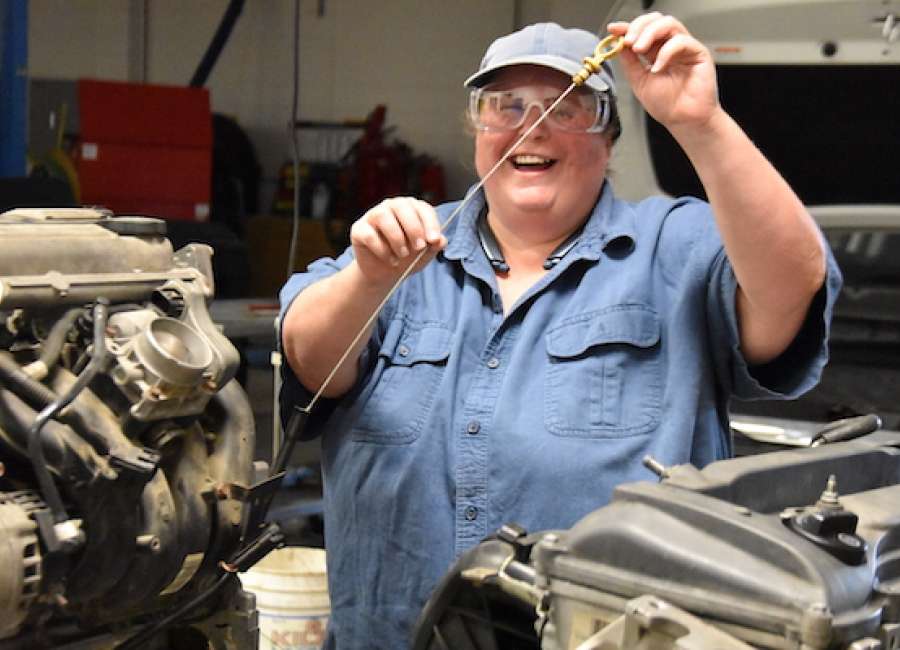 Women have more career choices than ever, and local educators say opportunities abound in the skilled trades.

West Georgia Technical College and the University of West Georgia teamed up to provide the Women in Skilled Trades Open House recently, encouraging young women to explore careers like welding, air conditioning, industrial maintenance, truck driving and STEM-related careers long dominated by men.
Those industries are booming, educators say – so much so that and the need for skilled workers is outpacing qualified candidates.
"We have local companies contact us all the time looking for machinists, welders and other skilled positions," West Georgia Technical College Dean of Trade and Technology Linda Sullivan said. "They have more openings than we have graduates in these programs, so the competition is fierce."
To try to create more interest in those high-paying, local jobs, West Georgia Tech and UWG – along with local industries – set up shop at the Central Educational Center, where a sea of booths, literature and swag greeted those attending the event.
The open house was an opportunity for women to explore some of West Georgia Tech's skilled trade programs, along with UWG programs like chemistry, computer science, criminology and video production.
"Many young women may not realize their aptitude in trade skills or STEM degrees," said Donna Lackey, UWG's director of community engagement. "This open house provides an overview of the many possibilities available close to home."
Lack of awareness about their opportunities can lead younger women in the community to become frustrated with the job market, because they often are qualified only for low-paying retail or service-sector jobs, according to WGTC Director of Public Relations Ben Chambers. And women are being offered equal compensation in those fields as well.
"There is an abundance of opportunity for these women in the skilled trades," he said. "We just need to let them know about it."
Despite skilled trades being historically considered "men's work," women often outperform their male counterparts, WGTC Senior Director of Advanced Manufacturing Steve Cromer.
"I have seen in many instances where in fields such as electronics and avionics technology – jobs held traditionally by men – women would regularly outperform their male counterparts in areas of problem-solving and troubleshooting simply because they were more attuned to detailed data collection and drawing specifications," Cromer said. "In commercial truck driving, I have observed women perform exceedingly well due to their ability to multi-task at a very high level, which is an absolute requirement for this profession."
The HOPE Career Grant also means many of skilled trade programs require little or no tuition.
"The state will kick in the HOPE Career Grant on top of the regular HOPE Grant for many WGTC diploma and certificate programs in these high-demand fields like welding, machine tool, precision manufacturing and air conditioning," Sullivan said. "That will cover tuition costs, so a student would only have to pay for books and fees."
Most of West Georgia Tech's programs can be completed in one or two years, and in the case of commercial truck driving, in only eight weeks, Sullivan said.
UWG representatives highlighted programs offered through the Newnan campus, community engagement, continuing education, eCampus, the College of Science and Math, computer sciences, health and wellness, adult learners, and veterans and career services.
"This was a great opportunity to showcase the university's opportunities for students who may be considering entering UWG, or those who might wish to articulate from the technical school to the university," Lackey said.
For more information, visit www.westgatech.edu or www.westga.edu .