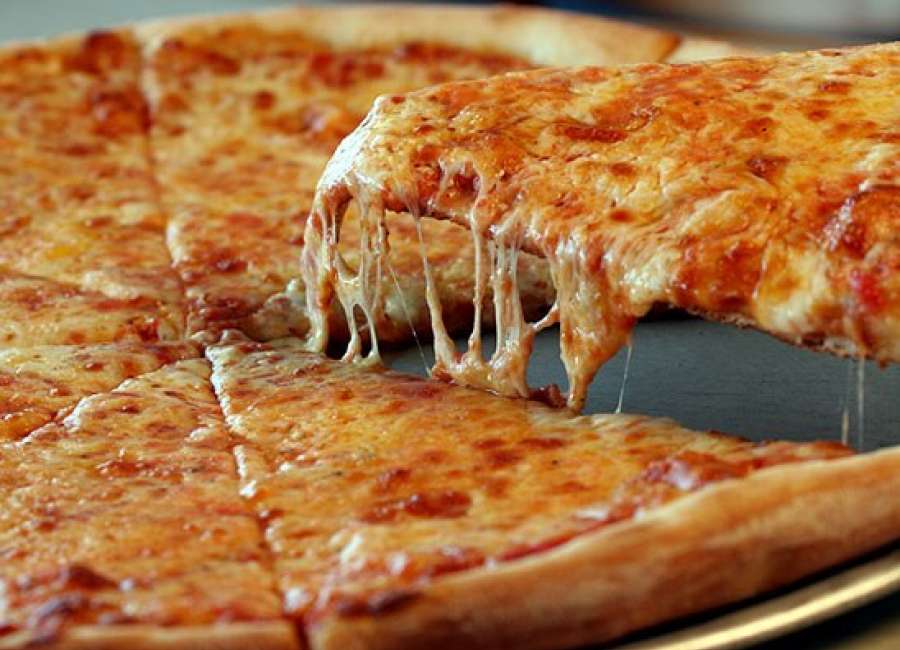 Today is National Cheese Pizza Day. To help you celebrate, here are some recipes to make your own dough, sauce and pizzas at home.
Pizza Dough
Ingredients:
3 1/2 to 4 cups bread flour, plus more for rolling
1 teaspoon sugar
1 envelope instant dry yeast
2 teaspoons kosher salt
1 1/2 cups water, 110 degrees F
2 tablespoons olive oil, plus 2 teaspoons
Recipe:
Combine the bread flour, sugar, yeast and kosher salt in the bowl of a stand mixer and combine. 
While the mixer is running, add the water and 2 tablespoons of the oil and beat until the dough forms into a ball. If the dough is sticky, add additional flour, 1 tablespoon at a time, until the dough comes together in a solid ball. If the dough is too dry, add additional water, 1 tablespoon at a time. 
Scrape the dough onto a lightly floured surface and gently knead into a smooth, firm ball.
Grease a large bowl with the remaining 2 teaspoons olive oil, add the dough, cover the bowl with plastic wrap and put it in a warm area to let it double in size, about 1 hour. 
Turn the dough out onto a lightly floured surface and divide it into 2 equal pieces. Cover each with a clean kitchen towel or plastic wrap and let them rest for 10 minutes.
(Recipe courtesy: foodnetwork.com)
Pizza Sauce
Ingredients:
1 to 2 tablespoons olive oil
3 cloves garlic, minced 
1 medium onion, chopped finely 
1/2 cup chicken broth 
Three 15-ounce cans crushed tomatoes 
Salt and pepper 
A pinch of sugar 
1 teaspoon dried oregano 
8 to 10 fresh basil leaves, chopped
Recipe:
Add a tablespoon of olive oil into a hot pan over medium-high heat. 
Throw in the garlic and chopped onions and give them a stir. Cook until the onions are soft, 4 to 5 minutes. 
Add the chicken broth, whisking to deglaze the bottom of the pan. Cook until the liquid reduces by half. 
Add the crushed tomatoes and stir to combine. 
Add salt and pepper to taste and a pinch of sugar. 
Add the dried oregano and basil. 
Reduce the heat to low and simmer for 30 minutes.
(Recipe courtesy: foodnetwork.com)
Four Cheese Pizza
Ingredients:
2 (14-inch) rolled out circles pizza dough
1 pound mozzarella, shredded
6 ounces Monterey Jack, shredded
6 ounces Asiago, shredded
3 ounces Pecorino Romano, grated
Extra-virgin olive oil
Recipe:
Preheat the oven to 550 degrees F.
Stretch the pizza dough and fit it into 2 pizza pans.
Combine the mozzarella, Monterey Jack, and Asiago cheeses in a bowl. Evenly distribute the cheese mixture over the crusts. 
Top the pizza with the Pecorino and drizzle with olive oil. 
Bake until the crust is brown and the cheese is melted, about 6 to 8 minutes.
(Recipe courtesy: foodnetwork.com)
Vegetable Pizza
Ingredients:
2 (8 ounce) packages refrigerated crescent rolls
2 (8 ounce) packages cream cheese, softened
1 cup mayonnaise
1 (1 ounce) package dry Ranch-style dressing mix
1 cup fresh broccoli, chopped
1 cup chopped tomatoes
1 cup chopped green bell pepper
1 cup chopped cauliflower
1 cup shredded carrots
1 cup shredded Cheddar cheese
Recipe:
Preheat oven to 375 degrees F.
Roll out the crescent roll dough onto a 9x13 inch baking sheet, and pinch together edges to form the pizza crust.
Bake crust for 12 minutes in the preheated oven. Once finished cooking, remove crust from oven and let cool 15 minutes without removing it from the baking sheet.
In a small mixing bowl, combine cream cheese, mayonnaise, and dry Ranch dressing. Spread the mixture over the cooled crust. Arrange broccoli, tomato, green bell pepper, cauliflower, shredded carrots and Cheddar cheese over the cream cheese layer. Chill for one hour, slice and serve.
(Recipe courtesy: allrecipes.com)
Barbecue Chicken Pizza
Ingredients:
1 teaspoon extra-virgin olive oil, plus more for brushing
1/2 pound prepared pizza dough, at room temperature
1/3 cup plus 2 tablespoons dark barbecue sauce
1 8-ounce skinless, boneless chicken breast
Kosher salt and freshly ground pepper
2/3 cup grated smoked gouda cheese (about 3 ounces)
2/3 cup grated part-skim mozzarella cheese (about 3 ounces)
1/2 small red onion, thinly sliced
Fresh cilantro, for topping
Recipe:
Brush a large bowl with olive oil. Shape the pizza dough into a ball, add it to the bowl and turn to coat with the oil. Cover tightly with plastic wrap and set aside in a warm place, 30 to 40 minutes.
Position racks in the upper third and middle of the oven. Place a pizza stone or inverted baking sheet on the top rack and preheat the oven to 425 degrees F for at least 30 minutes.
Lay out a sheet of parchment paper and brush with olive oil. Transfer the ball of dough to the parchment and roll it out into a 10-inch round, stretching it with your hands as needed. Lightly brush the dough with olive oil, cover with another piece of parchment and set aside to let rise slightly, about 30 minutes.
While the dough rises, mix 2 tablespoons barbecue sauce and 1 teaspoon olive oil in a small bowl. Put the chicken in a baking dish, season with salt and pepper and brush with the barbecue sauce mixture. Bake on the middle oven rack until cooked through, about 20 minutes. Let cool, then cut into 1/2-inch cubes.
Uncover the dough and spread with the remaining 1/3 cup barbecue sauce, leaving a 3/4-inch border. Top with the chicken, gouda, mozzarella and red onion. Slide the pizza (on the parchment) onto a pizza peel or another inverted baking sheet, then slide onto the hot stone or baking sheet; bake until the cheese melts and the crust is golden, 20 to 25 minutes. Sprinkle with cilantro.
(Recipe courtesy: foodnetwork.com)
Margherita Pizza
Ingredients:
1/4 cup olive oil
1 tablespoon minced garlic
1/2 teaspoon sea salt8 Roma tomatoes, sliced
2 (12 inch) pre-baked pizza crusts
8 ounces shredded Mozzarella cheese
4 ounces shredded Fontina cheese
10 fresh basil leaves, washed, dried
1/2 cup freshly grated Parmesan cheese
1/2 cup crumbled feta cheese
Recipe:
Stir together olive oil, garlic and salt; toss with tomatoes, and allow to stand for 15 minutes. Preheat oven to 400 degrees F (200 degrees C).
Brush each pizza crust with some of the tomato marinade. Sprinkle the pizzas evenly with Mozzarella and Fontina cheeses. Arrange tomatoes overtop, then sprinkle with shredded basil, Parmesan and feta cheese.
Bake in preheated oven until the cheese is bubbly and golden brown, about 10 minutes.
(Recipe courtesy: allrecipes.com)