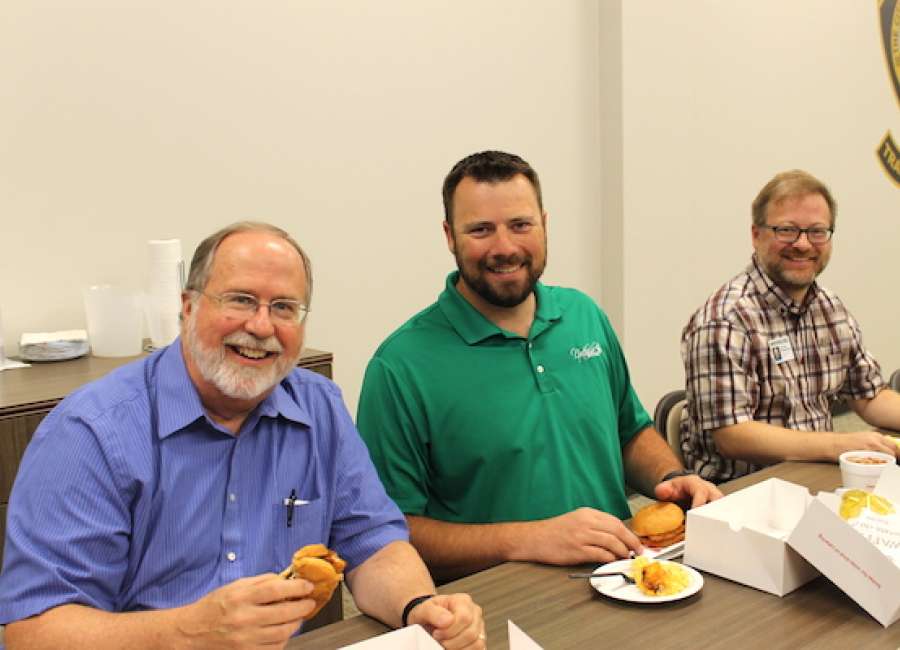 The second Pastors and Leaders Luncheon focused on the importance of building relationships now, instead of when something big happens in the community.

The program is an opportunity for people in the community to discuss community issues and get to know each other, according to Newnan Mayor Pro-Tem Cynthia Jenkins. 
The idea for the group was started after a neo-Nazi rally in April 2018. Jenkins said the community had to scramble to come together and talk after the incident. 
"When that happened, we found out we weren't as connected as we thought we were," she said. 
At this month's meeting, Sgt. Edward Lee and Cpl. Adam Griffith of the Newnan Police Department spoke about the NPD's Guitars Not Guns program. The program teaches kids to handle issues they are going through without resorting to violence or gangs, but instead by learning how to play the guitar.
"I'm gonna try to say this without Lenn Wood making fun of me because I had to talk in front of a group and I have a bad problem with saying git-ars," Griffith said. "They made fun of me about it," he said with a laugh.
Guitars Not Guns was created in San Francisco 18 years ago by current Peachtree City residents Louise and Ray Nelson, who provide the equipment for the students. The police department tries to host two classes a year, and each class lasts eight weeks. 
As a reward for graduating from the program, the students get to keep their guitars. 
Currently, the department has a class of 19 students who will graduate Oct. 8. Griffith said when they graduate, there will be a dinner for them and their families, and the students will perform. 
Lee said that the community has done a good job of supporting the program, and that First United Methodist Church even helped the students in the program put on a concert. 
Any child age 8-18 can apply to be in the free program, and you can call the police department to apply. Guitars Not Guns is held on Tuesday nights at 5 p.m. at the Newnan Public Safety Complex. 
Chief Joel Richards of the Carrollton Police Department and Dr. Benson Dorsch, police department chaplain, spoke about a program in Carrollton that is similar to the Pastors and Leaders Luncheon. 
Several months back during the planning phase, District Attorney Herb Cranford suggested that Coweta model the Pastors and Leaders meetings after Carroll County's Pastors Luncheon. 
Carroll's group meets once a month at Carrollton City Hall and members use the time to discuss local issues and build relationships. The program, which has been meeting for more than three years, after a police-involved shooting upset members of the African-American community, according to Dorsch. 
Dorsch said it is a good opportunity for pastors to learn more about the law, and how to understand people in their congregations better. 
He said they have seen the relationships built through the program make a major difference. Dorsch told a story about some kids that were stopped by police in a church parking lot late at night, and how the kids were upset because they felt they were being racially profiled. 
After a few phone calls between contacts built at the pastors luncheon group, the matter was resolved without any community uproar. 
"If you're not at the table when we have the meetings, you won't know what's going on," he said. 
Dorsch said it is important for communities to build these relationships now, instead of waiting until something goes wrong.
Jenkins agreed, saying, "Instead of waiting for another crisis, let's spend more time together."