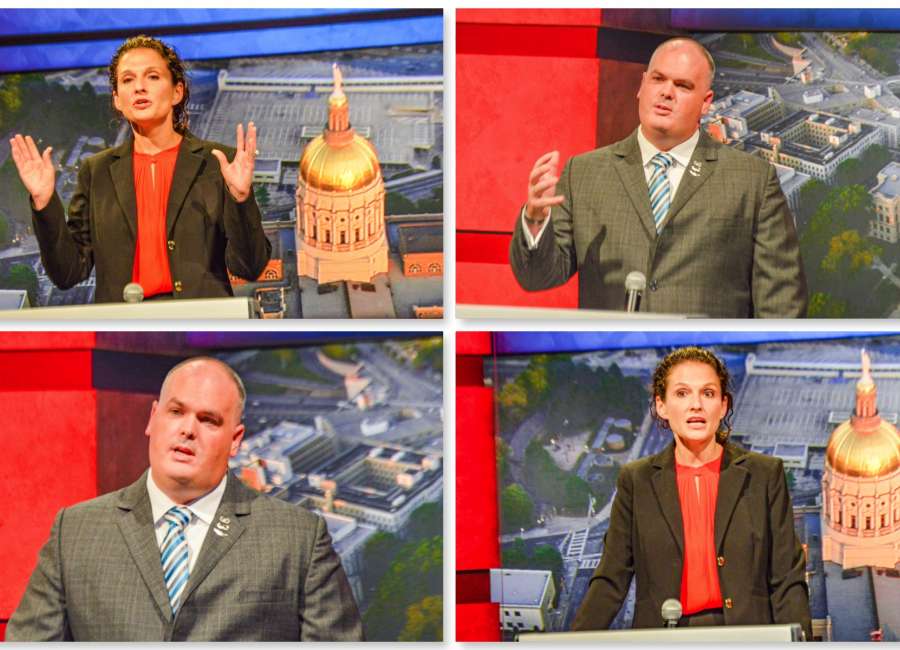 Candidates traded barbs on campaign money, MARTA, House Speaker David Ralston and their predecessor at the second forum for the Georgia House District 71 race.

Marcy Westmoreland Sakrison and Philip Singleton were the top two vote-getters in the Sept. 3 special election to replace Rep. David Stover, R-Palmetto, and will face each other in a runoff Oct. 1. Early voting begins Monday and runs through Friday. Sept. 27.
Sakrison has amassed a large campaign war chest, mostly with money from other elected officials – including $2,800 from Ralston – political action committees and lobbying firms, and that outside money has been frequently criticized by Singleton.
The majority of Singleton's donations came from individuals.
Sakrison said she has gotten endorsements from several local officials and "that tells you that they already have their trust in me."
Sakrison said donors have given her money because they trust her.
"They are excited about working with me. Not because I'm in their pocket, but because they know that I know the system up there and I'm ready to work with people for the people of House District 71," she said. "I'm ready to get up there, I'm ready to form those relationships.
Singleton said, "I'm not sure that I mentioned Mrs. Sakrison… it's her job to talk about what she cares about. I won't talk about her, ever. It's important to me to make sure we talk about our support.
"Our support is from Coweta and Fayette citizens and we're honored to have that support," he said.
Singleton has received donations from several people who were involved in a threatened lawsuit against the Coweta County Board of Education, which resulted in an investigation that lasted several months and found no wrongdoing.
Singleton said he doesn't know the backstory on all of his donors but said, "We definitely support the local school board and will make sure we're doing everything we can to support them," he said, adding that he is the vice president of the PTO at his children's school and his wife is a special education paraprofessional.
In closing statements, Singleton again mentioned outside money and that "it's a commonly known tactic for people to attack and we don't be any part of that."
"I think talking about all of the money I've received is sort of an attack," Sakrison said. "I would hate to say it, Mr. Philip Singleton, but I think you do attack."
MARTA and TSPLOST Questions
Through campaign mailings, Facebook posts, and a mysterious robocall, MARTA has become a topic in the campaign, so much so that it dominated the discussion when candidates were asked what they think is the best way for the state and counties to pay for road projects.
"MARTA is a bad idea. It's not the right option," Singleton said. He also feels the proposed Transportation Special Purpose Local Option Sales Tax, a new 1-percent sales tax for local road projects, is a bad idea. "I think we need to make sure we use the budget that we have and make sure the Georgia Department of Transportation properly appropriates money to us in the special projects in Coweta."
Sakrison said she does not and will not support MARTA. "My opponent's fascination with MARTA is nothing short of a dog whistle," she said.
The district hasn't had great representation in the past several years, said Sakrison, referring to Stover.
"When you're absent you can't get a lot done, you can't keep those relationships strong," she said. "Unless you keep those relationships strong you're not going to get the projects for your district. It's just the way it is. You can call it the establishment, you can call it anything else. But it's called relationships."
Sakrison said she will vote for the interests of the people of HD 71 and not anyone else.
But, "I'm not ashamed to say I'm going to go up there and I'm going to create relationships because I want to fight for our district," she said. "I want to put us back on the map, I want us to be able to get those special projects."
As for TSPLOST, she said she hopes that each person in the district will go and vote in the TSPLOST election.
Sakrison said, "We have been turned down for many DOT projects because somebody didn't show up, or it's just the way they handled themselves." She said she wants to bring those projects back.
The state House isn't making decisions on transportation funding for specific projects, Singleton said. By and large, it's the GDOT Board.
If people are concerned about Coweta getting the road money it deserves, Singleton suggested contacting their GDOT board member.
Sakrison's father, former Congressman Lynn Westmoreland, is the current representative on the GDOT board for Congressional District 3, which includes Coweta.
"Well, he just became that, but that doesn't matter," Sakrison said. "Our representative before refused to meet with them, they refused to meet with him," she said, referring to Stover and the GDOT board.
"When you go throwing bombs when you go to the Georgia State Legislature, you're not going to get anything done," she said.
"It's just the truth. It doesn't matter whether your really disagree with them or not, you have to handle things in a certain order."
Though legislators are officially part-time, whoever is elected will be the face of the district and the job takes a lot of dedication, said moderator Dean Jackson.
Showing Up and Working Together
"People will notice if you don't show up, and your district will pay for it if you manage to alienate your fellow legislators and other state leaders," Jackson said, who asked if the candidates are prepared to fulfill those responsibilities.
Singleton said it's a false question "to assume that if you stand on principals that it is automatically combative.
"Some people tend to view it that way," he said. But, "there is a way to stand upon your principals and stand up against the speaker of the House and say the way you're behaving is immoral," he said.
Singleton urged voters to learn about each candidate and to let the candidates speak for themselves.
"There is such a tremendous amount of misinformation out there already," Singleton said. "It shouldn't be what politics is about."
Sakrison said that Singleton has been affiliated with three different political parties in the past few years.
"He has attended Coweta and Carroll Democratic party meetings announcing he is the Democratic candidate for the U.S. House seat. Then he posted he was going to be an independent for the same U.S. House seat, and then he ended up running as a Republican," she said.
"Who will he be when he gets elected?" Sakrison asked in her closing statement.
Sakrison said that if elected she will "make sure we get heard and that will get taken care of…
"I want to hear your opinions, I want to hear your thoughts. I will cross the aisle for decisions like that, because I think I need to represent all the people of House District 71."
More stories from the political forum, including the race for Newnan City Council, District 3 Post A, will be online Monday on www.times-herald.com and Wednesday's print edition.