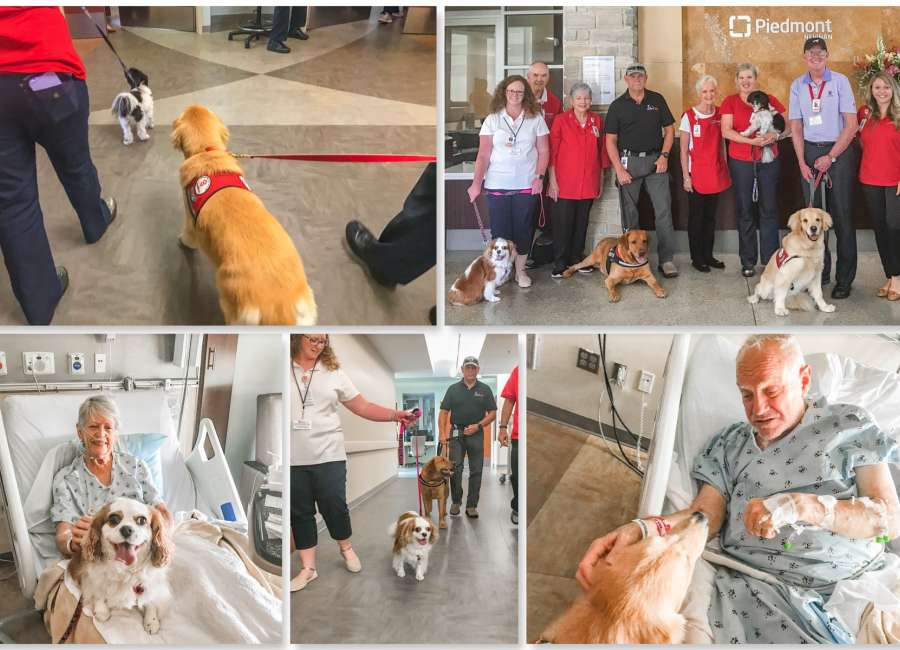 Every fourth Saturday of the month, Piedmont Newnan Hospital will receive visits from a few very special four-legged friends. 
Therapy dogs and their handlers from Happy Tails Pet Therapy in Atlanta will make hour-long visits with staff members, patients, volunteers and guests, providing comfort and healing.
Pet therapy visits provide numerous cognitive, physical, social and emotional benefits. 
Research shows that spending time with a pet can reduce blood pressure and stress, normalize heart rate, improve circulation and help patients recover from certain illnesses and medical conditions, according to Ashley Bonner, Piedmont Newnan Volunteer Specialist, who leads this program.
"We are excited to start our pet therapy program at Piedmont Newnan and brighten our patients' days," Bonner said. "The dogs definitely bring smiles to a lot of faces and are the highlight of the day."
Happy Tails Pet Therapy is a group of registered therapy teams based out of Atlanta. In addition to having therapy dogs visit the hospital, they also have therapy pets visit assisted living facilities and nursing homes, children's hospitals, mental health facilities and participate in reading programs to assist children who are struggling to read.
Norma Jean, a Golden Retriever; Bo, a Havanese; Zoe, a King Charles Cavalier; and Sam, a Labrador Retriever; visited patients on the sixth, seventh and eighth floors. Thirty-three patients received visits when the program kicked off on Saturday, Aug. 24. 
Staff members who encounter the dogs light up and smile when they see them, but it is the responses from the patients that make the experience worthwhile.
"One patient was missing his sick dog at home and was comforted by a visit from Norma Jean and Bo," Bonner said. "While another patient received a very special 'happy birthday' from the dogs."
Staff members and volunteers associated with the program saw many examples of the power of therapy dogs during their visit.
"Many patients share stories about missing their dogs during their hospital stay, while some patients even inquired about how they can become involved in the program with their dogs," Bonner said.
The pets and handlers follow hospital policy regarding health and hygiene. This policy mandates a bath for the pets within 24 hours of their visit, that the pets have clean ears and short nails and that they are healthy and up-to-date with current vaccinations. 
The dogs must be a registered member in good standing with its therapy dog organization and Piedmont Newnan verifies the certification prior to visits.
In a less active environment, such as a hospice or assisted living facility, a visit from a pet therapy dog will provide stimulation, conversation, companionship and sensory gratification to the patient, as well as comfort to the caretaker and family members, according to the website. 
An entertaining animal, such as one that knows tricks, provides a welcome diversion to distract a resident from pain. Smiles and laughter are also great medicine.
Even an animal that only has a sweet face and a gentle touch makes a valuable contribution in any kind of setting, according to Happy Tails Pets.
Happy Tails Pet Therapy is always on the lookout for new teams and Piedmont Newnan is hoping to get more volunteers close to the hospital so the dogs can visit more often. 
To learn how you and your dog can get involved, visit Happy Tails Pet Therapy's website at www.happytailspets.org.