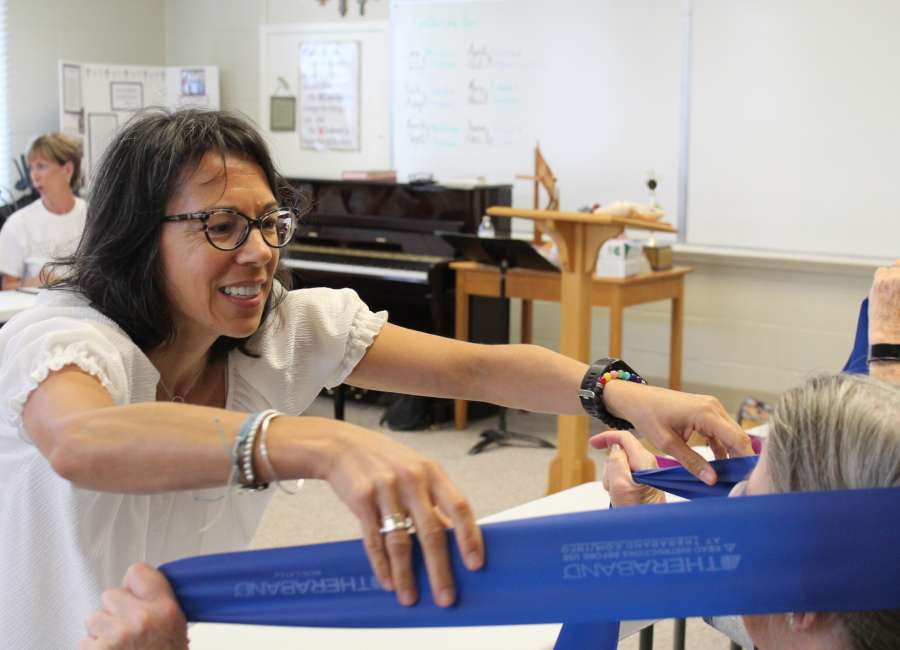 Pilates instructor Michele Drew recently taught exercises to improve posture to those living with Parkinson's Disease.
During a recent meeting of the Newnan Parkinson's Support Group, Drew focused on the importance of posture and provided exercises to help patients improve their ability to hold themselves.
PD often affects how well a patient can stand up straight, said Drew.
"It's a hot-button issue with everybody right now because everybody has a fairly sedentary lifestyle in comparison to what our parents or what our grandparents might have had," she said. "Even now, there are studies that are coming out that we're changing the shape of the spine in infants from car seats we're putting babies in."
A hunched forward, rounded posture can decrease the capacity of the lungs, according to Drew. 
If someone is sick – such as a respiratory infection – fluid could build up in the lungs because of their rounded posture, she said. If the fluid isn't removed, pneumonia could set in.
"Whether or not we have any kind of neurological or movement disorder, posture is really important and it changes as we get older and it changes on what we might do in our lifestyle," she said.
Other effects of poor posture, Drew said, were strained eyesight and a quieter voice.
"If we're folded forward we don't project out," she said. "With that forward posture, our head drops. When we do that, our eye muscles have to turn upwards or turn our eyeballs upwards so our vision becomes affected. Often when we have eye strain we are at risk for headaches."
Drew handed out large elastic bands and balloons to the members of NPSG to demonstrate exercises PD patients could perform at home to work on their postures.
The group members were instructed to blow the balloons up with their breath – a simple exercise to help increase lung strength. 
Drew had the participants focus on sitting up straight during the second attempt of blowing up the balloons. With their postures adjusted, the Parkinson's patients filled the balloons faster.
"I would do this at least once a day," she said.
For a second exercise, Drew had the group members put the elastic bands around the back of their heads and stretch the bands out so they were holding the two tails of the band out in front of them.
The NPSG members then pressed their heads backwards into the bands causing their backs to straighten. They relaxed and then repeated the exercise a few times.
Drew said it's important to keep moving as exercise and movement will help keep the body strong.
"Your body is like a sponge. If you have a wet sponge it's really mobile—you can twist it, you can bend it and you can move it all around. But when your sponge starts to dry, it gets brittle," she said. "We can think about bodies like sponges—the more we move the more we're going to have the ability to move. If we sit and are sedentary, we're going to dry and shrivel and it's going to be harder to move."
The Newnan Parkinson's Support Group meets the second Tuesday of each month at First United Methodist Church of Newnan. Their next meeting will feature Kelly Papesh, who will speak about being on medication to combat PD, on Oct. 8.