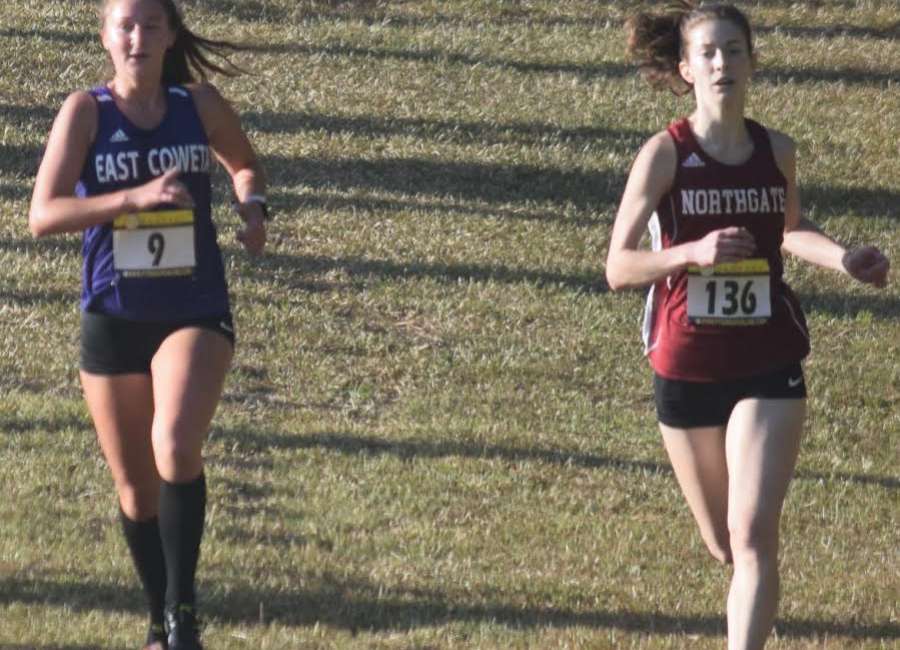 Northgate cross country runner Mia Griswold admitted Saturday after the girls Coweta Cup Country meet at Newnan Utilities she thrives on competition and being pushed.

She certainly got her wish Saturday morning as the girls race came down to a sprint to the finish.
In the end, Griswold (20:21) finished just in front of second-place East Coweta's Shannon Ferry (20:22).
Northgate won the girls title with 37 points. 
East Coweta finished second with 42 points. Coupled with the East Coweta boys 24 points (separate story), East Coweta brought the Coweta Cup back home after Newnan won it last year.
Newnan finished third in the girls even with 45 points.
Scoring points en route to the team title for Northgate were  Miller Pickett (20:59), who was third, Claire Wathen (22:29) was sixth, Abby Collins (23:05) was 10th, Isabella Little (25:10) was 17th, Madison Duke (25:22) was 19th and Elizabeth Spradlin (25:42) was 2st.
Joining Ferry to score points for East Coweta were Leah Pfaff (21:30) was fourth, Mary Ellen Goltermann (22:32) was seventh, Melissa Antrim (23:46) was 13th, Marshawn Belton (25:10) was 16th, Dilllen Bertelsen (25:20) was 18th and Joran Darrow (25:25) was 20th. 
Leading the way for Newnan were the following seven runners:
Grace Smith (22:18) was fifth, IlaClaire Whitlock (22:34) was eighth, Reese Lay (22:44) was ninth, Annie Johnston (23:34) was 11th, Sara James (23:44) was 12th, Maelynn (24:04) was 14th and Megan Jackson (24:13) was 15th.
The top five finishers received medals.