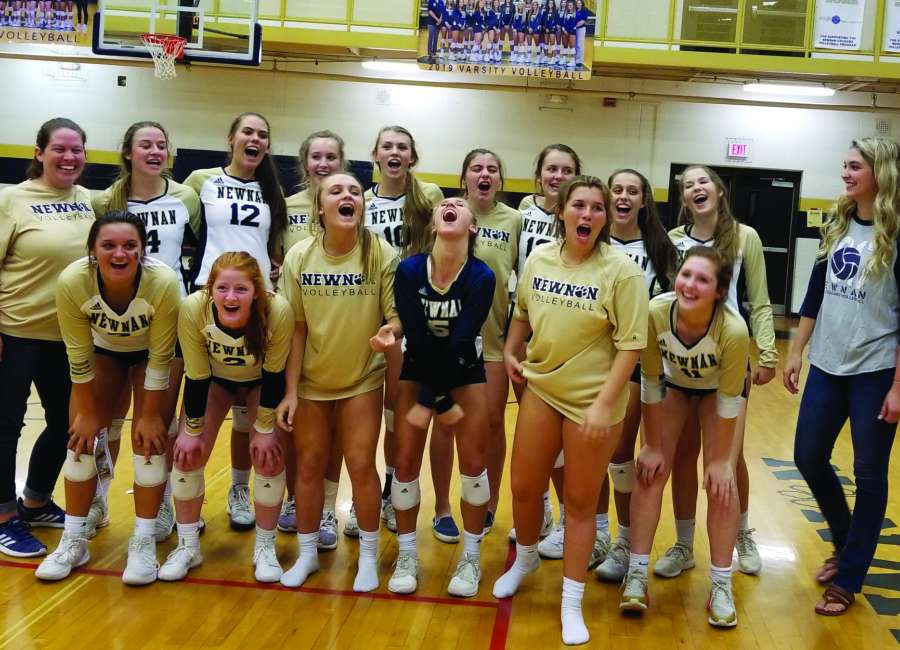 The Newnan volleyball team had one goal Thursday and that was to win back the Amber McClure-Fayerweather Coweta Cup Trophy and claim county bragging rights.
After winning the event three years in a row,  Newnan relinquished the title to East Coweta a year ago, but with revenge on its mind, the Lady Cougars made sure the trophy returned to a spot in their trophy case with a sweep of both Northgate and East Coweta.
The East Coweta match also counted in the Region 2-7A standings.
Newnan started the tri-match against Northgate winning 25-13 and 25-9. 
East Coweta set up its showdown with its country and region rivals with a 25-15 and 25-21 victory over Northgate.
Newnan ended the sweep with a 25-15, 25-14 victory over East Coweta.
Newnan senior Mary Beth Headley, who is headed to Central Florida to play Division I volleyball, was one of the catalysts throughout the night for the Lady Cougars.
Headley put away several points to help the Lady Cougars sweep both matches.
Bella Boston, Hailey Holder and Caroline Darracott keyed several points. 
"This was really big to come in here and win tonight," she said. "We know we are going to see them again."
With the sweep Newnan improved to 14-10 overall. The victory against East Coweta gave the Lady Cougars a 4-0 record in the region standings.
With the split of its matches, East Coweta goes to 15-10 and 3-1.
The region victory for Newnan gives them control of the region standings.
Head Coach Janet Brown said winning back the country trophy has been one of the goals since giving it up last year.
"They beat us three times last year, so we have waited for this day. It was good for us to all come together and click at the same time." Brown said.
Newnan  assistant coach Megan Chevalier said one of the team's goals in winning was to play hard on every point.
"We were just trying to do our jobs and stay focused," she said.
Newnan expects to see East Coweta at least one more time and there will be no secrets.
"We have to win our serves,"  Chevalier. We just can't give them points.
In Thursday tournament, all three teams were guilty of serves errors that cost their teams points.
Brown said sometimes it just nerves, especially when they played East Coweta.
"It is such a big rivalry it gets intense sometimes," she said.
The tournament is now named for former East Coweta and Newnan volleyball coach Amber McClure Fayerweather who passed away at the age of 38 on July 17, 2018.
The coach put volleyball on the map in Coweta County turning East Coweta into a regular state tournament contender. She briefly left the county and led Harrison to back-to-back state titles.
The championship coach had accepted the job at Newnan but passed away from cancer before she could coach a game.
"Her legacy is still felt in this county," Brown said.