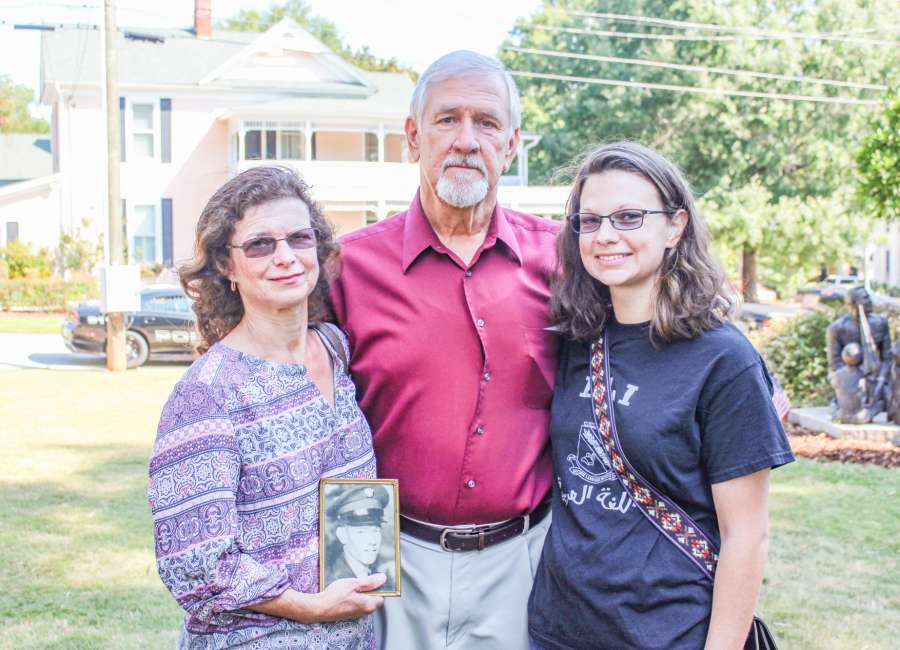 Coweta residents and veterans gathered at Veterans Memorial Park on Friday morning for a ceremony to honor American soldiers who are prisoners of war or missing in action.

POW/MIA Recognition Day is observed annually on the third Friday of September. The ceremony in Newnan has been organized by John Lager, a local veteran, for the last 20 years. The day was established by Congress in 1998.
"You can only imagine the unthinkable pain of the loved ones who are in the armed forces and did not make it home," said Bob Blackburn, a Coweta County commissioner, while reading a proclamation for the day.
A staple of the ceremony is a decorated table with six seats. One of the seats represents civilians while the other five represent the different branches of the military—Army, Navy, Marine Corps, Air Force and Coast Guard.
The table is decorated with elements that represent the lives lost by military servicemembers – a white table cloth, the empty chairs, the table's shape, a Bible, black napkins, a single red rose, a yellow candle and ribbon, slices of lemon, salt and an upside-down wine glass.
Combined, the objects symbolize the purity of response to the country's call of arms, the emptiness and bitterness of the soldiers' absence and the hope for their return.
Missing soldiers are regularly remembered at American Legion meetings, said Dennis Angel, Commander of the Sons of the American Legion
"A POW/MIA empty chair is placed at all official meetings of the American Legion, Ladies Auxiliary and Sons of the Legion worldwide as a symbol of the thousands of American POW/MIAs still unaccounted for," Angel said. "This is a reminder for all of us to spare no effort to secure the release of any American prisoners from captivity."
Jim Maxwell attended the event in honor of his uncle, Billy Joe Maxwell, who went missing in action during the Korean War on November 30, 1950, at the Chosin Reservoir.
According to the Defense POW/MIA Accounting Agency, Sergeant Maxwell was attacked by Chinese Communist Forces. He was not seen fallen or reported as a prisoner of war.
The army sergeant's remains were among the 55 returned to the U.S. from North Korea in August 2018. He was identified in August this year, said Jim Maxwell.
"They identified him through DNA testing," he said. "He will be coming home Nov. 7 for burial on Nov. 9."
In 1990, Congress recognized the POW/MIA flag. The flag is required to be flown on Armed Forces Day, Memorial Day, Flag Day, Independence Day, National POW/MIA Recognition Day and Veterans Day. It must be flown below the national flag and above any state flag.
The ceremony closed with a prayer and the playing of Taps.