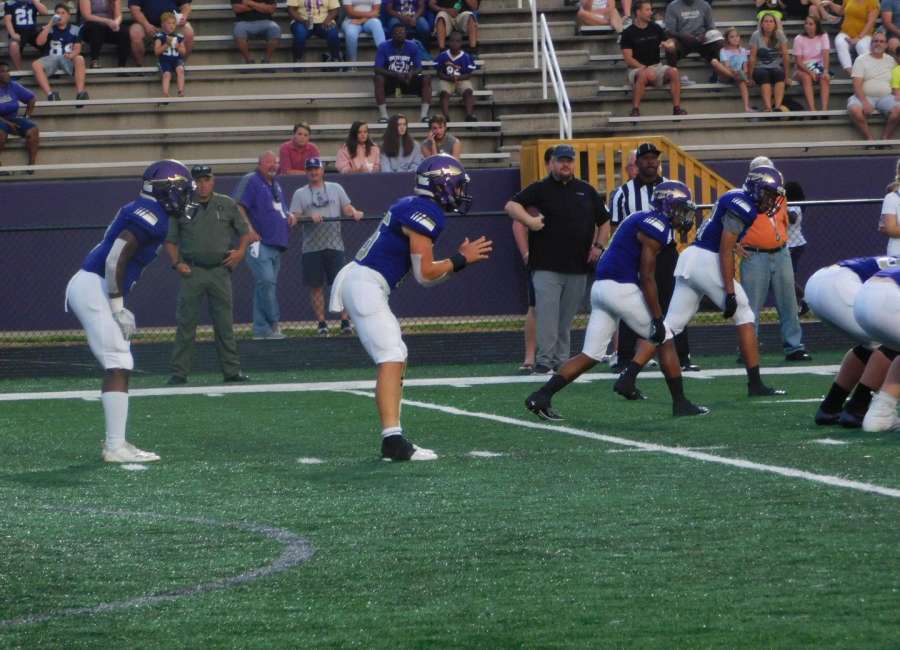 BY Justin Hodges

Special to the Newnan Times-Herald
Despite dropping to 0-3, the East Coweta Indians are preparing for their Region 2-7A schedule by playing the best of the best. 
After tough losses against Mill Creek and Carrollton, their opening home game of the season was against the Lowndes High School Vikings of Valdosta, GA, a top-30 football team in the nation and top-3 in the state of Georgia according to Max Preps rankings. 
Two late fourth quarter touchdowns by Lowndes opened the final tally up to 27-3, however the fight and tenacity of East Coweta was honorable. Lowndes' Jacurri Brown had a 55 yard touchdown on their second possession of the game, otherwise a Vikings offense that was averaging 50 points a game could only put seven on the board in the first half. 
"The only way to get better is to play really tough competition," said John Small, East Coweta's head football coach. "We're gonna keep battling, that's all we can do."
East Coweta forced Lowndes' offense to punt six times in the game, with a missed field goal in there as well. Unfortunately, the Indians offense responded with seven punts. Once again, East Coweta could not build any connection with the passing game, allowing Lowndes' defense to stack up against the run. They were beginning to look a little bit better on the offensive end.
"You got four new receivers and some new running backs and three new offensive linemen on that side of the ball," said Small. "There's some new guys there but they ain't new no more, they've played three ball games. We just gotta execute better."
East Coweta opened the second half with a more spread out offensive formation with four or five receivers lined up wide each play. The Indians put an emphasis on getting Amariyon Moss and Rakiyan Moss quick passes on the sidelines and create more room for guys like Gabe Gray and Jordan Rivers to run on the outside. The ball began moving downfield better than it had been. 
Unfortunately, that came with a heavy dosage of short screen passes. That part became predictable enough for Lowndes' defensive edge rusher Jalon Baker to read and grab an interception early in the third quarter. Set up with goal to go at the 10-yard line, the Vikings would punch in a touchdown to make it 13-0. 
East Coweta put together a decent drive in the fourth quarter that included multiple fourth down conversions and some hard-nosed football from quarterback Gabe Gray. The Indians had a third down and one inside the red zone with a chance to turn the tides with about 8:30 left in the fourth quarter. 
In perhaps the biggest play of the game for East Coweta, the snap was botched for a loss of four yards. Beau Beldon would convert a 33-yard field goal to make it 13-3 and Lowndes would inevitably pull away.
"Gabe Gray's a tough kid," said Small. "He's physical, tough, doesn't say much and he's just a leader. He does a good job and his teammates know he's gonna run the ball hard. We have to make decisions on offense, but these kids aren't satisfied. We've got a lot of faith in them."
East Coweta's journey gets no easier as they go on the road back-to-back weeks at North Cobb and McEachern. This team is purposefully putting themselves up against the most prolific competition that they can find. Even as they struggle now, this hardship will benefit them greatly as the season carries on.