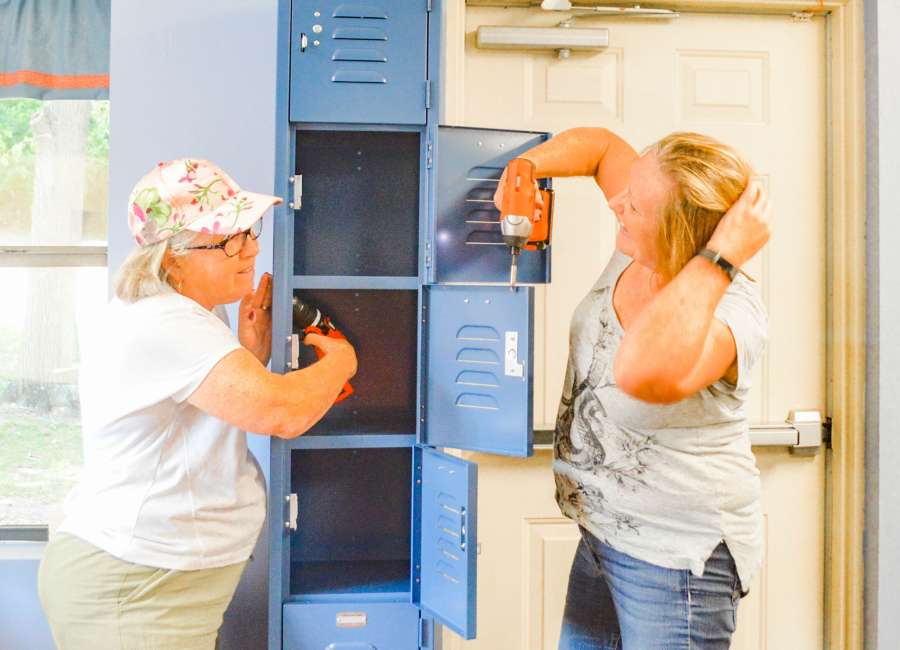 The beds are made, the table's set and the shower and washer/dryer are ready to go.
The Lodge, Coweta's first shelter for homeless women and children, is (almost) ready to open.  
A grand opening and house blessing ceremony will be held Sunday at 3 p.m. at The Lodge, 108 West Washington Street, Newnan. 
The shelter is a project of One Roof Outreach and has eight beds and two cribs. Children must be 14 or under, according to the parameters set by the city of Newnan when the permit for the shelter was approved. 
There will be a resident "house mother" at the shelter, as well as case managers. Stays will be limited to a month, at least to start.
"We're hoping to help people make some life changes instead of just sticking a Band-aid on their problem and sending them on their way," said Ann Kerlin, president of the One Roof board. 
"We're going to work very hard to try to improve situations," said Frankie Hardin, One Roof executive director. "It would be very sad if at the end of the month a mother and her kids went right back to where they were." 
"I'm excited to see it come to fruition," said Board Member Jane Duenckel. "I feel like this is going to make the community feel like we're making some progress – maybe they'll jump on board," she said.
There are "many, many ministry opportunities," said Kerlin. 
If there are churches that aren't already supporting One Roof, Duenckel would like to see them come out to The Lodge to see if supporting it will fit with their mission. 
They're looking for a church that can pick up residents to take them to church on Sundays, and churches or other volunteers can come over for a game night, bring a meal, or do storytime or other activities. 
There could also be a gardening or landscaping project in front of the building. 
If mothers have jobs, several local churches have daycare centers, Kerlin said, and if the churches would provide a subsidized slot for the children of residents, that could be an awesome way to help mothers get on their feet. 
"Direct support for the ladies would be great," Hardin said. 
Applications for prospective residents will be taken at One Roof, 255 Temple Ave., during regular client hours, which are 1-4 p.m. Monday, Wednesday and Friday. No applications are taken at The Lodge. 
The community donated some $40,000 in money and items, Hardin said. They've gotten everything they've asked for, but Hardin thinks they will need more blankets by the time cold weather arrives. She also hopes to keep the kitchen stocked with shelf-stable staples.
There will be also needed for ongoing financial support to keep the doors open. 
There are still a few last-minute things that have to be taken care of. Project Manager Brian Shelton said Friday that two new smoke detectors were installed Friday and on Monday he will call for a final inspection for the shelter's certificate of occupancy. 
On Thursday, One Roof staff and board members and volunteers were busy setting up mattresses and furniture and putting together lockers where residents can keep their valuables. Elizabeth Beers was putting up curtain valances she made for the shelter. 
For more information about The Lodge, visit www.onerootoutreach.org or call 770-683-7705.