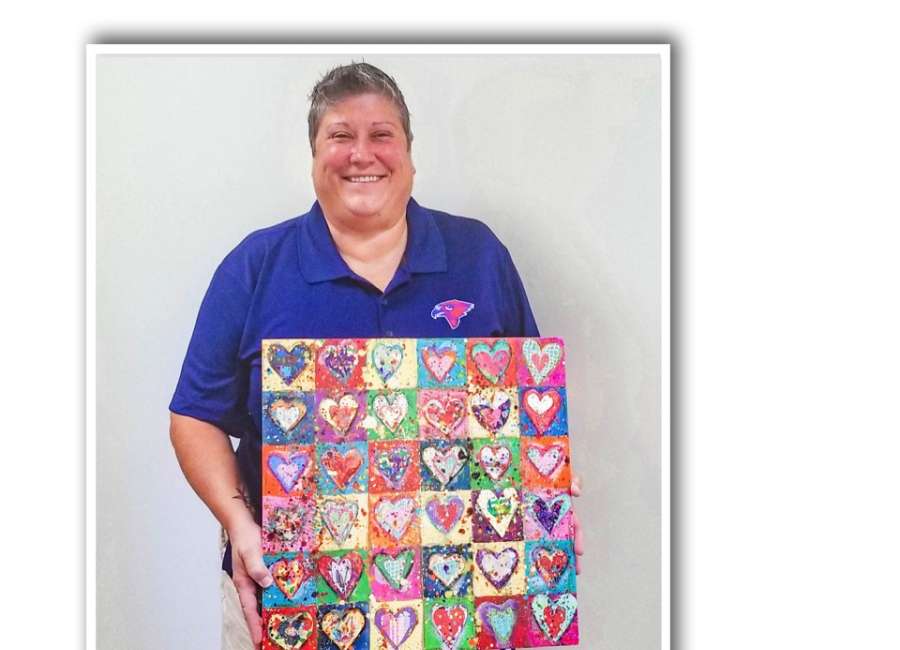 Heritage School Coach Simone DuPree shares her endometrial cancer journey

September is National Gynecologic Cancer Awareness Month and Newnan resident and Coach Simone DuPree reflected on being in remission from endometrial cancer for three years.

Gynecologic cancers include all cancers of the female reproductive system, such as cancers of the cervix, ovaries, fallopian tubes, uterus, vulva and vagina, according to the National Foundation for Cancer Research.
Diagnosis
DuPree has been a coach and teacher at The Heritage School in Newnan for over 30 years and was diagnosed with endometrial cancer in November 2015. Endometrial cancer is a type of cancer that begins in the uterus, according to www.mayoclinic.org.
DuPree said she went to her ob/gyn a couple of times before receiving her diagnosis. She said she was told she had fibroids and they would shrink. DuPree said she waited for an additional six months before she went back to the doctor and would experience more complications.
DuPree said she advocated for herself and knew something was wrong. On her last visit before her diagnosis, doctors did a uterine biopsy and then DuPree had to wait one week before finding out she had Stage I endometrial cancer.
"It was horrible. I was on pins and needles," DuPree said. "I knew there was something wrong with me, but it's kind of like a shocking thing at first, because no one wants to hear the 'cancer' word."
She said she did some research on her own and knew the cancer would grow slowly.
"I thought I'd have a hysterectomy and be done," DuPree said.
Well, she was right – partly. DuPree had a hysterectomy in late December 2015, but in January 2016, she found out the cancer had spread to her lymph nodes and had Stage III cancer.
"I asked the doctor, 'What are my odds?' she said. " I was still thinking this was doable."
DuPree said the doctor told her she had a 50/50 chance of surviving.
"I was like, are you kidding me?" she said.
DuPree said she immediately began to think like a coach.
"I was thinking that whenever there's a coin toss, I never win… you're gonna die," DuPree said.
She said had planned a party with friends to celebrate being cancer-free, but instead had to face them and tell them the bad news.
DuPree gets treatment at CTCA
DuPree went to school the next day and told her boss, Heritage Headmaster Kristin Skelly, the news.
Skelly, being very concerned, recommended the coach go to Cancer Treatment Centers of America for treatment.
At that time, Certificate of Need laws made it more difficult for CTCA to see Georgia patients.
This year, CTCA in Newnan will be able to expand its bed capacity and accept more Georgia patients because of recent changes in the state's Certificate of Need program.
DuPree said she applied and within 24 hours, she was accepted and admitted into the hospital. She said she met with her team of caregivers.
#KickitCoach
The coach said going through the process of treatment made her want to encourage others and she wanted to be transparent.
"Once I started my journey, it was really overwhelming," DuPree said. "I know a lot of people and decided to start a Facebook page, 'Kick it with Coach' to share her journey. She said a friend of hers coined the name of the page.
"It just exploded," DuPree said. "I was getting messages from students I taught in the 1980s and encouragement from people I didn't know."
The school held a prep rally and hosted a fundraiser to raise money for cancer research. Students donated money in a jar, voting on which hairstyle DuPree would get, which she said was convenient since she was losing her hair because of treatment.
"My personal hairdresser gave me a rainbow mohawk," DuPree said.
DuPree said the #kickitcoach really took off and students and the community came up with creative ways to display the hashtag on social media.
She said sharing on Facebook helped her through her journey and the support from her school and community was overwhelming.
"I wanted to help people that were going through the same process," she said. "Sharing was therapy for me."
DuPree said she had a total of six chemotherapy treatments, but continued to teach as much as she could until she took some months off to recover.
Hope for the future
DuPree has been in remission for two years. She said she is staying positive and looking forward to continuing to be cancer-free.
She credits CTCA staff, her family and friends and a positive attitude for her perseverance. She goes for a check-up every six months.
"The school supported me 100 percent," she said. "If I hadn't had my family or my school, I don't know how I could've made it."
DuPree said she doesn't know if she would still be alive if she had not listened to her body.
"Make sure you're in tune with your body," she said. "Fight for yourself."
DuPree said she continues to plan to teach as long as she's able. She has changed her Facebook name to 'I kicked it,' and she will remain positive.
"Try not to sweat the small stuff," DuPree said. "Life is short. Enjoy it as much as you can. Take advantage of life. That is what this experience has taught me."
Skelly said she was inspired by the coach's openness about her journey.
"Showing the youth the strength she had was amazing," Skelly said. "She is important to our school and always helps us foster our community."