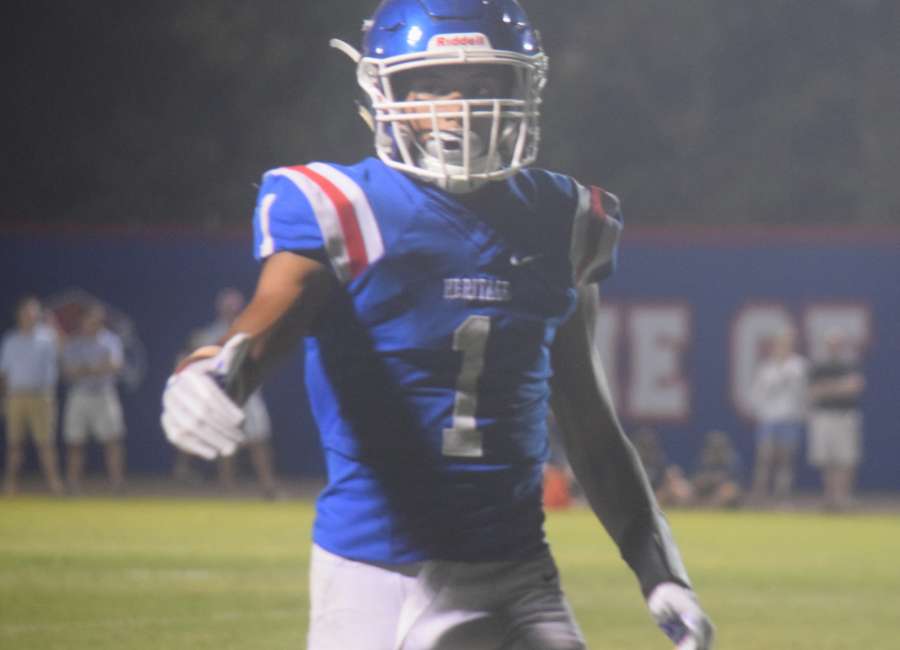 The Heritage Hawks' message to opponents has become pretty clear—stay out of their end zone.
After dropping the first game of the season, the Hawks (3-1) have bounced back in a big way, shutting out their last three opponents and dominating every aspect of the game.
Friday night as the school honored veterans, current service men and women and first responders with an uplifting pre-game Heros' Night  ceremony, the Hawks rolled past Deerfield-Windsor 35-0.
The Hawks  flexed their muscles on offense, defense and special teams en route to the victory.
Heritage has outscored its last three opponents 126-0 also getting a 48-0 victory against Flint River and a 43-0 win against Creekside Christian.
The Hawks welcomed back wide receiver and defensive back Brandon Scruggs from an injury. Scruggs made good on his return.
Quarterback Branch Burns threw four touchdown passes, connecting twice to Scruggs and twice to Jon Jon Williams.
Andrew Rich also had a rushing touchdown.
Mack Mikko was perfect on all five extra points.
Scruggs also punted the ball for  53 yards down to the one-yard line as part of his return to action.
"He is such a difference maker," Heritage head coach Micah Alba said. "It is really great when you have a difference maker like that. He softens up the defense and opens things up.   Branch threw some really good balls to him."
The Hawks wasted little time putting points on the brand new scoreboard, scoring on the first series of the game.
Heritage had to overcome a series of holding calls and other penalties throughout the game, including on the first drive, but facing a third-down and 19, Burns hooked up with Scruggs on for a 55-yard TD.
Heritage increased the lead to 14-0 when Burns hooked up with Scruggs again on a 31-yard pass.
After the Hawks' defense stopped the Knights on three plays to open the third quarter, Heritage went right back to work, scoring a touchdown on their first drive of the second half.
Williams caught a 19-yard pass to begin the series and Rich capped the drive on a 1-yard plunge with 8:24 left in the game a few minutes later.
Williams put an exclamation point on the victory catching the final two touchdown passes from Burns.
The Hawks will  put their three-game shutout streak on the line next Friday night when they travel to Valdosta for a game against Valwood.
"Defense is all about people doing their job, so the whole team wins, and we are doing a really good job of that," Alba said.
Valwood enters next week's game with a 1-2 record. It is coming off a loss to North Florida.