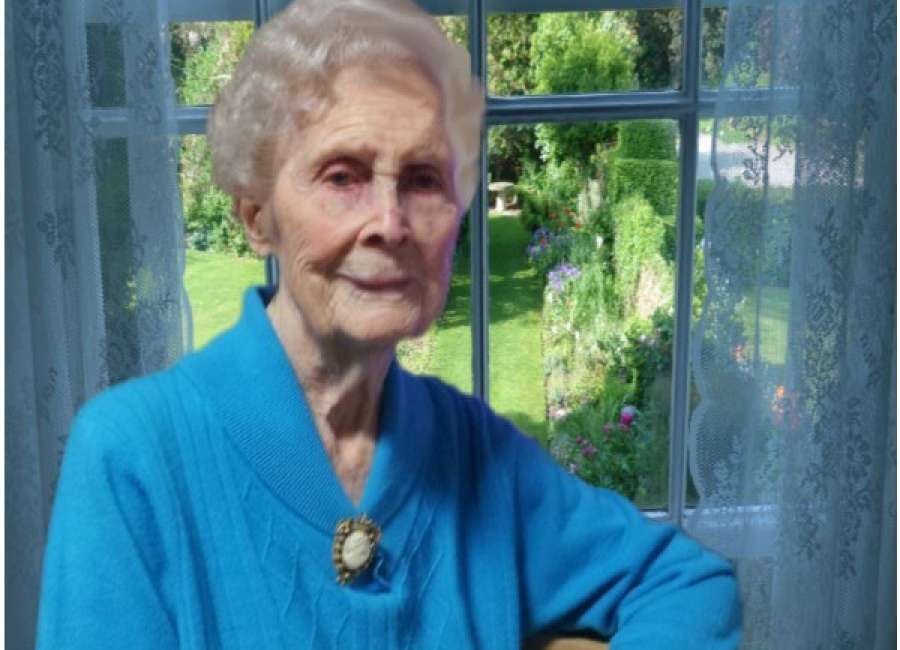 Esther Christine Freeman was born in Sycamore, Georgia on April 19, 1916, and was the oldest of three daughters born to the late Alvin Burdette and Annie Mabel Royal Freeman. 
It is difficult to comprehend all the changes that have been witnessed by someone who reached the age of 103 years. 
There would have been the good times of a young person born to a family of successful businessmen, the difficult times presented by the agony of the depression and a family who lost all their worldly goods. 
People who have seen these good and bad times and lived through a world war as well, are referred to as "The Greatest Generation". They are more like the generation of miracles. 
They knew the good times of their youth, the horrors of depression and the aching uncertainty and loneliness of a war when the country offered its best men and women on the altar of freedom. 
It created a generation that learned how to pick up the shambles of life and keep going, in the hopes for a better tomorrow. 
It was quite a journey for Esther to leave life in Sycamore and Tifton and come to Newnan with her parents for a better life after the depression left them penniless. 
Esther, being the oldest of the sisters, was accustomed to looking after her younger sisters, Dorris and Aldine. Along that same line, she was also the ringleader for some high jinx and adventures. 
Esther met a young man in Newnan named Lamar Smith who announced on their second date that he was going to marry her! 
Theirs was a rollicking courtship as they fed off each other's good nature and loved music and dancing. They were married on January 10, 1937. Their marriage was interrupted by the war after he enlisted in 1942. 
During his three years in the service, she remained in Newnan and worked at First National Bank. Life became more settled after Lamar returned home and he worked for The City of Newnan. 
Esther desperately wanted a family but was told that would not happen for medical reasons. 
The greatest joy of Esther's life was learning that she was carrying a child and always called Christy her miracle baby. 
Esther's life of 103 years was dominated by her care for her family, but her spare time would find her indulging her hobbies of music, painting, sewing, gardening, golf, bridge, needlework and in her later years, computers! 
Her career accomplishments were highlighted by her being the first woman to be promoted to officer status at C&S Bank. 
Her desk sat right outside the door of the president himself. She was the consummate volunteer of any organization lucky enough to have her as a member from Pilot Club to hospital volunteer, The Red Cross and Girl Scouts. 
Her faith was the bedrock of her life journey and she claimed Newnan First United Methodist as her home church. 
Esther never forgot what a blessed life she had. She will always be remembered for her jovial nature, her undying loyalty to her friends, her compassion for anyone with a need, her staunch care and unceasing concern for all her family. 
The last words she uttered as she was drifting into that journey to eternity was a credo taught her by her mother and served her well for all her 103 years, "Do unto others as you would have them do unto you". 
In addition to her parents, she was preceded in death by her husband Basil Lamar Smith and her sister, Dorris Freeman Gilbert. She is survived by her daughter Christy Smith Kline and her husband Bill. 
She was a doting grandmother to Brie (and Bryan) Wright, Courtney and Scot Humphreys. Her great grandchildren are Madeline and Marin Wright, Cole and Evie Humphreys. 
Also surviving is her beloved sister, Aldine Askew. Her nieces are Lee Clarke and her daughters, Michelle, Carole Ann and her husband Chuck Fields, Ann Headstream and her children Rob, Britt and his wife Jessica. 
Her nephews are Al Gilbert (and Susan) and their children Melissa, Justin and Andrew; Sonny Gilbert (Joan) and his daughter Laurie and his son Lon; a nephew Joe Smith and his daughters Gina and Julianne. 
The life of this good and noble woman will be fondly recalled and celebrated in a service of worship and reflection to be held on Saturday, September 21, 2019 at 2 p.m. in The Chapel at McKoon 38 Jackson Street in Newnan. 
The service will be led by Reverend Joan Kinrade. The family will receive friends at the funeral home beginning at 12:30 p.m. 
Interment will be beside her beloved Lamar in Historic Oak Hill Cemetery. For those who may wish to honor her life it is suggested that a memorial gift may be made to her beloved Newnan First United Methodist Church 33 Greenville Church Newnan GA 30263 or to a favorite charity. 
Esther might also say that if you do not have money for a gift, just find someone that needs a good deed or cheering up and let them know that they are loved. 
Online condolences may be expressed at www.mckoon.com.