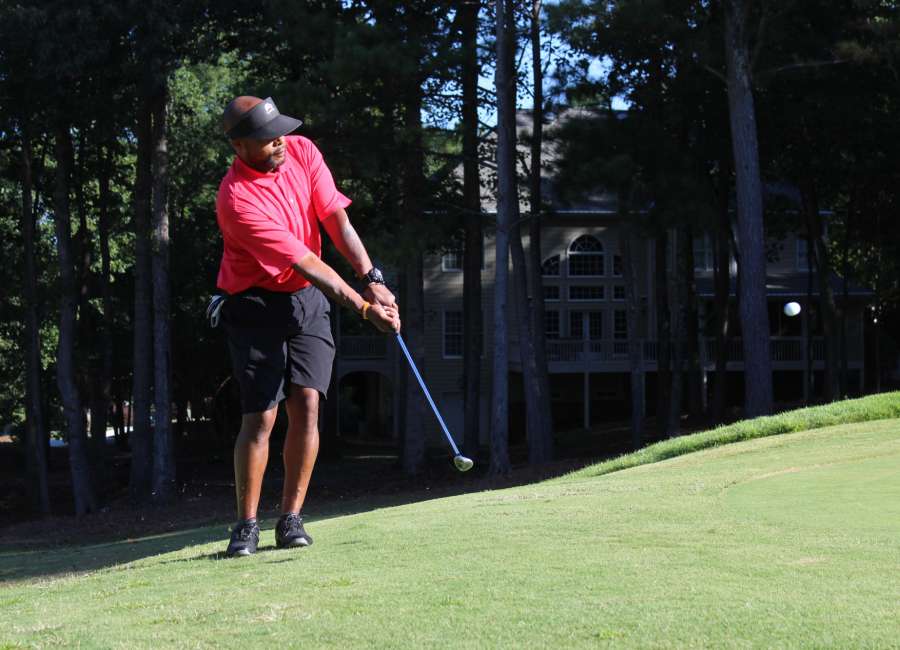 On a cool Friday morning, golfers came out to raise money for Children's Healthcare of Atlanta at a tournament held at the Coweta Club golf course.
The tournament was organized by Empowered 4 Life, a group that supplies mentorship and athletic training to students. This is the second year E4L has organized the golf tournament.
Derrick Teagle, E4L's director, said the tournament raised approximately $10,000.
Teagle's son, Cameron, was diagnosed with Lymphoma in 2012. After nine months of treatment at CHOA, Cameron was declared cancer-free in 2013. Teagle said he started the golf tournament as a way to give back to CHOA.
"We just wanted to find a way to donate more money to CHOA," Teagle said.
Half of the proceeds will benefit Children's Healthcare of Atlanta, and half will fund E4L, according to Teagle.
Several of the golfers in the tournament participated specifically to support the Teagle family and their cause.
Rashun Chaney, one of the golfers, met Teagle while his daughter was going through treatment for Leukemia at CHOA.
Chaney said he felt the tournament was a good way to raise money and support CHOA.
"It's a great cause, and I love everything Derrick stands for and represents," said Deangelo Sanchez, another golfer in the tournament.
Teagle started E4L in 2007. He said he initially planned to mentor three students, but within a year, large interest in the group saw 17 kids join. In the last 12 years, E4L has provided mentorship to more than 500 students and helped more than 250 students receive athletic scholarships from colleges and universities.
"Whatever your gift is, our goal is to maximize your gift," Teagle said. "If a student cuts grass, we want to surround them with successful grass cutters."
Kim Hollis, a volunteer at the tournament, said both of her sons were a part of E4L.
Through E4L, she said her sons have been able to visit and get into colleges. One of her sons has received seven athletic scholarship offers in the last year, she said.
"It's been a great experience for them," Hollis said. "He hasn't committed to a team yet, but he has had several offers."
Teagle's focus is on not just athletics but aiding students mentally and spiritually. That helps them become more productive in the community, said Ronda Johnson, a volunteer.
"It's a blessing – that not only him, but his wife and sons – they just care about being a blessing and helping," she said.