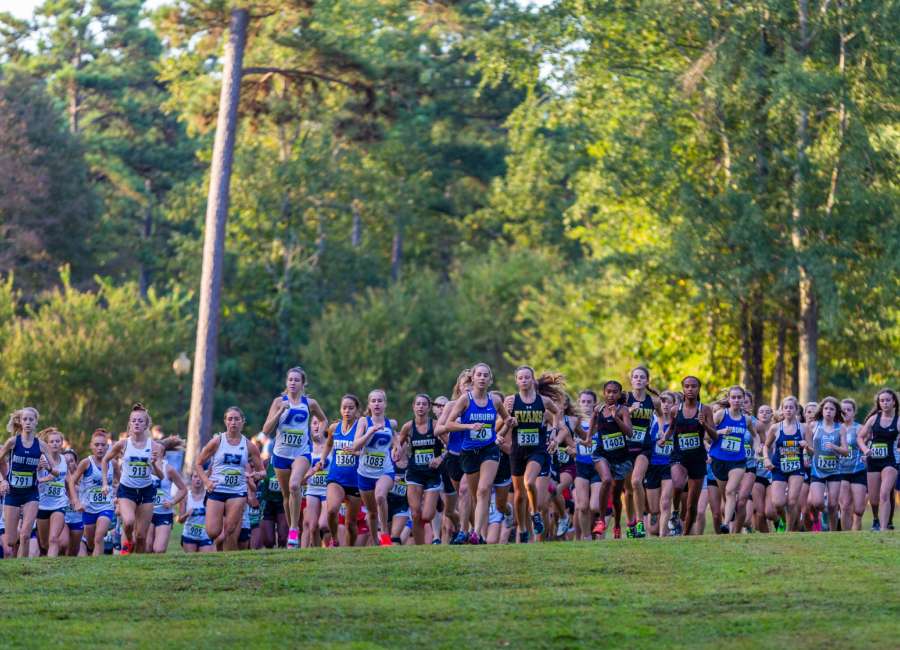 East Coweta's Kyle Harkabus finished second at Saturday's Starr's Mill Panther Cross Country Meet, running the course in 15:46 to lead all local Coweta County runners across the finish line.

Newnan finished fourth overall with 217 points, Northgate was 14th with 374 points, and the Heritage School was 28th with 861 points.
The Heritage School's Sovi Wellons was the first runner from Coweta County Schools across the finish line. Wellons ended the day in 11th place and in a time of 19:43.
In the girls team standings, East Coweta was 14th with 355 points, Northgate was 15th with 369 and Newnan 18th with 445.
In the boys race, Beck James (17:05) was the first runner across for Newnan, finishing the race in 21st place. 
Also for Newnan, Caeden Greer (17:23) was 35th for the Cougars, Bo Palmer (17:41) was 48th, Bryson Houston (17:48) was 54th, Jack Palmer (17:52.13) was 57th, Russell Smith (17:52.98) was 58th and Gray Frederick (17:59) was 61st.
Joining Harkabus across the finish line for East Coweta were  Houston Hamby (17:44), who finished 54th.
Also for East Coweta, Alex Taylor (18:22) was 82nd, Nick Enright (18:59) was 126th, Jaden Wilbor (19:06) was 135th and Graham Peruski (19:09) was 138th.
Also for Northgate, William Stephens (16:58)  was the first runner across for Northgate, finsining 15th. Bryson Swartz (18:04) was 65th, Luke Hanks (18:21) was 80th,  Nate , Troemel (18:48) was 109th, Garrett Madden (19:13) was 143rd, Warren Robison (19:49) was 176th and Jay Magrath (19:52) was 180th.
For Heritage, Koby Lord (18:08) was the first runner across the finish line, finishing 70th. Jalen Cunanan (21:17) was 221st, Andrew Tvrdik (23:55) was 246th,  Charles Mitchell (28:02) was 252nd and Worth Burkhart (29:57) was 256th.
For the Lady Indians, Shannon Ferry (20:46) was 27th, Leah Pfaff (21:44) was 46th, Mary Ellen Goltermann (24:17) was 108th,  Melissa Antrim (24:53) was 119th, Jordan Darrow (25:41) was 132nd andDillen Bertelsen (25:49) was 136th.
For Northgate, Mia Griswold (22:18) was 59th, Miller  Pickett (22:33) was 62nd, Abby Collins (23:37) was 91st, 
Claire Wathen (23:44) was 94th,  Isabella Little (25:50) was 137th, Elizabeth Spradlin (25:53) was 138th and  Madison Duke (26:28) was 146th.
For Newnan, Reese Lay (23:10) was 78th, IlaClare 
 Whitlock (23:49) was 96th, Maelynn Strickland (24:51) was 117th,  Megan Jackson (25:40) was 130th,Jewel Casey (25:48) was 135th, Annie Johnston (26:44) was 147th and Drew McLendon (26:44) was 148th.