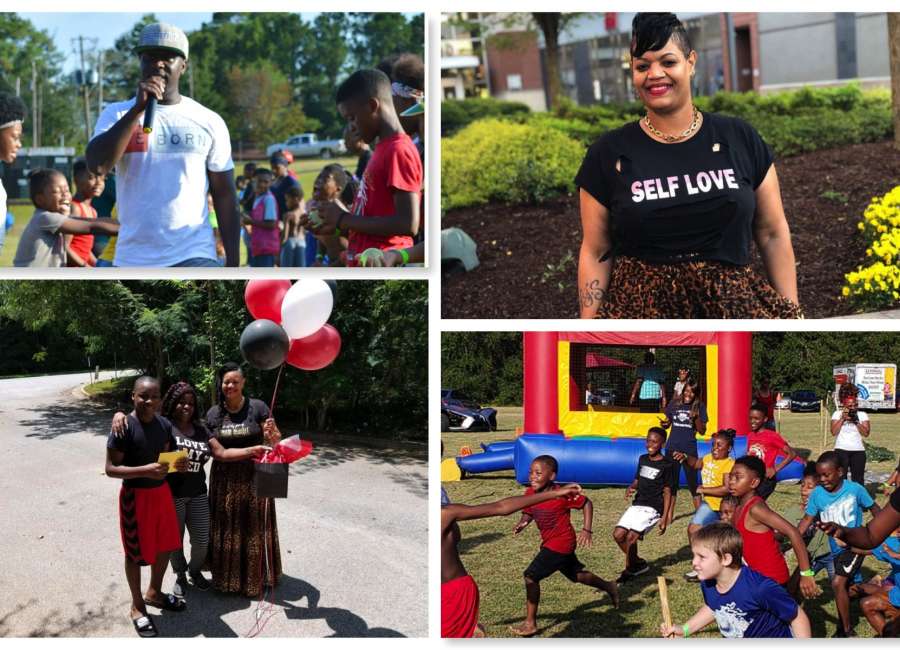 Two local Christian-based organizations are spreading positivity and paying it forward by buying lunch for their followers on social media.

LaToya Parks, founder of Toya's Couch, started the pay it forward lunch initiative in March of this year.
Parks started Toya's Couch to encourage others. On its Facebook page, Toya's Couch frequently posts inspirational quotes. Parks said the encouragement is also the driving force behind her pay it forward initiative,
Each week, Parks asks her Facebook followers to comment their Cash App names. Winners are randomly picked to receive a Cash App payment from Parks for lunch.
Cash App is a mobile payment service.
"I've always loved to give," Parks said. "I'm always looking for some type of way to give back. One day I was sitting at work and the Holy Spirit told me to bless one person with lunch. I did it and it went so well. I've been doing it back to back every week since then."
Parks said she also bases the idea off of Bible verse Luke 6:38, which reads, "give, and it will be given to you. A good measure, pressed down, shaken together and running over, will be poured into your lap. For with the measure you use, it will be measured to you."
"It's not about me getting back anything, it's about being obedient," she said. "God gives seed to the sower. I've learned that vision isn't taught, it's caught. Even more people have even started blessing others by doing this."
In fact, Parks said her three children kept the initiative going when she was out of town, without her asking.
"I was on a cruise, so I wasn't going to do it that week," she said. "It really made me happy to see my children carrying on my work without me even having to ask."
Others begin to support the cause
She said she has invested over $5,000 in the project with her own money and donations from others.
"In the beginning, most of the money was coming out of my pocket. Sometimes my kids and my husband will also pitch in. The more I do it, random people will send money for me to bless someone. One week, someone sent $100 for me to give away. Whatever God lays on their heart, they send it."
Parks said the amount that is given away typically varies each week. Normally, no less than three people are chosen.
"I've done three and I've done 12," she said. "It depends on what God tells me."
Parks said the positive response is always an indicator that she is on the right path.
"People will inbox me all the time," she said. "I've had people say, 'I felt like God had forgotten about me. Thank you for allowing God to use you.' I've had people tell me they didn't necessarily need lunch, but needed gas, so that's what they used it for."
Parks said sometimes she will randomly choose people to send money to as well, even though she is not accepting submissions.
"I had one gentlemen told me, 'I'm sitting here at this funeral and I receive a Cash App from you. I'm going through this and through that, feeling like nobody is there for me.'"
Recipients show gratitude
Parks said people are always grateful and filled with gratitude.
As far as paying it forward or doing something for someone, Parks said, "Do it because God tells you.
"Don't do it to compete," she continued. "It's all about being obedient, showing love and inspiring someone else to give. Stop looking for an opportunity to take, but instead an opportunity to give."
Parks said giving doesn't always have to be money.
"It can be time, giving a compliment, giving a kind word, sharing your talent or anything positive," Parks said.
She said she will continue to pay it forward as long as God tells her to do so.
"I'll move when God tells me to move," she said. "This is bigger than me. People need hope. God is looking for somebody who is willing to do what he tells them to do without worrying about what people say. I know God will provide. People will either buy a T-shirt or sow a seed."
Parks encourages others to use social media positively. She said because of social media, she has been able to help people all over the country.
Her organization also started sponsoring back to school supplies for families this year.
ReBorn pays it forward
Since 2013, local nonprofit ReBorn has fostered its love initiative, but founders Carlos Cannon and Darryl Ogletree were inspired by Toya's Couch to pay it forward as well.
ReBorn is a non-profit Christian organization whose mission is to build leaders in communities.
The organization started paying it forward over a month ago. The process works very similar to Toya Couch's method. Each week, followers are asked to comment their Cash App names for money for a free meal.
Ogletree said more people have been joining in with the organization to help fund the initiative.
"Random people want to help, but ReBorn sponsors most of it," Ogletree said.
Ogletree said the foundation of the nonprofit and the pay it forward movement is love.
"The world needs more love; that's what it boils down to," Ogletree said. "It's something special about feeling noticed and feeling like God has forgotten about you, and knowing that someone else notices you. We're simply saying, hey you are important."
Ogletree said the organization was started because of an increase in crime in Coweta and surrounding areas.
"The organization was started to change lives and make the world better," he said.
Ogletree said the nonprofit uses grassroots methods to meet the needs of the community through back to school events and other community events in neighborhoods throughout Newnan.
"We have a 'butts out of the seats and feet in the street' mentality," he said.
Ogletree said social media has been helpful to pay it forward.
"We're meeting people where they are, and many are on social media," he said. "There's a whole world of people hurting and we know they're on Facebook or Instagram."
Ogletree said the initiative has helped the organization give back more to the community.
"We're not a huge organization, but we take the resources God gives us and use them wisely," he said.