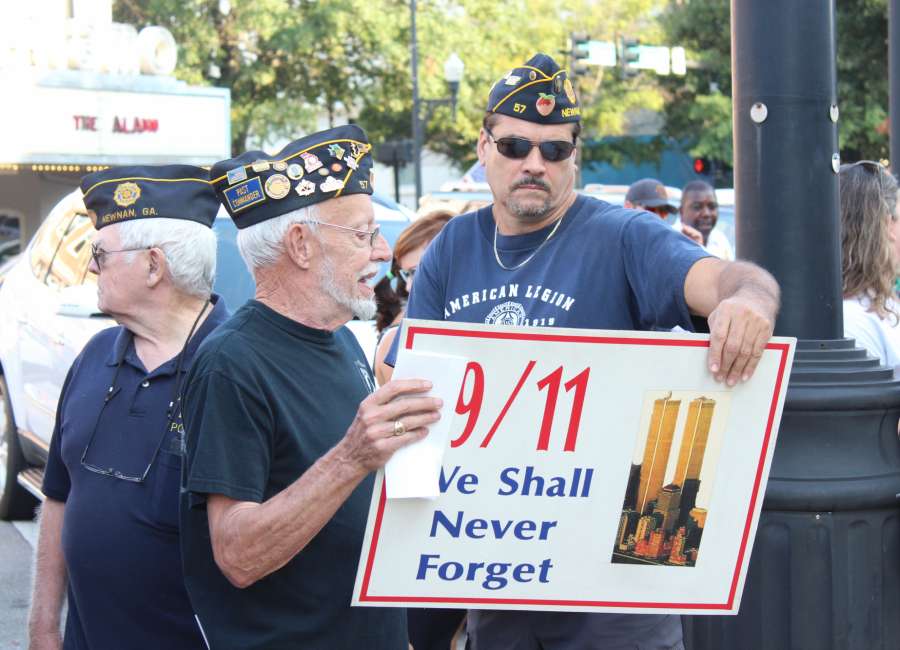 Cowetans gathered outside the Coweta County Historic Courthouse on Wednesday morning to remember the victims of the Sept. 11 terrorist attacks and the lives lost in the wars that followed.
This year marked the 18th anniversary of the 2001 attacks.
In front of a crowd of first responders, veterans and civilians, students from Elm Street Elementary led the audience in the pledge of allegiance before Sheriff Lenn Wood spoke about the country coming together in the wake of the attacks.
Almost 3,000 lives were lost in the attacks, and first responders and cleanup workers are facing long-term health effects from toxins released during debris removal.
"There are still others losing their lives for what they did on that day," Wood said. "This is what we're here today for."
During the ceremony, public safety officials formed three color guards and lowered the flags outside of the courthouse to half-mast to respect the memory of those who died in the attacks.
Six wreaths were presented during the ceremony. Each wreath represented a public safety branch or organization – Military, Fire Department, Law Enforcement, EMA-EMS, EMA/911 and Red Cross Civilians.
The ceremony closed with a prayer.
After the ceremony, a free breakfast by VFW Auxiliary 2667 was available for first responders and veterans.
According to Verna Funk, a patriotic instructor for the VFW Auxiliary, the coffee and donuts at the breakfast were fully donated by Starbucks and Dunkin' Donuts.
Funk said the breakfast was held to honor the work of local public safety officials as many of them have also served in the military.
"There are all sorts of ranks here," she said. "A lot of them have served our nation as well as our community."