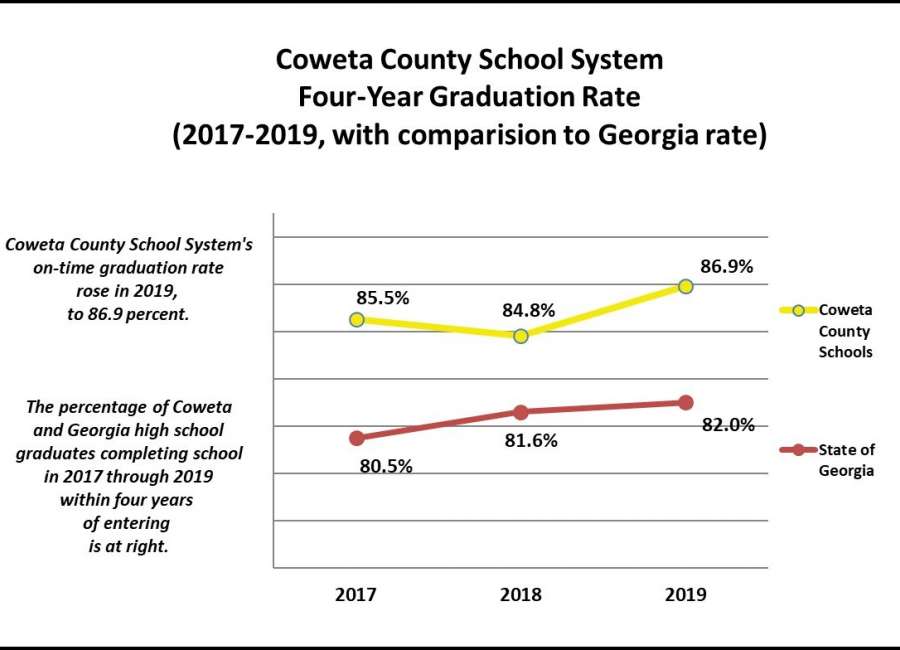 The four-year graduation rate for Coweta County School System high school increased to 86.9 percent for 2019.
That reflects a more than 2 percent leap from Coweta County's 2018 on-time graduation rate of 84.8 percent. It is also approximately 5 percent higher than the state of Georgia's average, which rose to an all-time high of 82.0 percent in 2019, according to a gradation report released by the Georgia Department of Education on Wednesday. 
Coweta County's overall rate has remained higher than the state average despite the school system's having higher graduation standards than many other school systems in the state. Because of block scheduling, Coweta high school students must earn a total of 28 credits over four years to graduate high school, compared to 23 credits for many school systems.
"Graduation rates reflect the entire pre-K through 12th grade experience for students," said Coweta Superintendent Steve Barker. "In our school system, we require a higher level of mastery than the rest of the state. Our staff and students continue to excel and outperform their peers even with this higher standard."
"This improvement reflects the hard work of our students, staff, parents and community partners," he added.
The Adjusted Cohort Graduation Rate – also called the on-time graduation rate – measures the percentage of seniors who graduate four years after entering the ninth grade. Coweta County's 2019 rate was the highest for the county ever, rising above the previous high of 85.5 percent,  recorded in 2017.
Georgia's graduation rate has increased by 12 percentage points since the state began using the four-year rate adjusted rate in 2012, with steady increases each year. The state average was 69.7 percent in 2012. Coweta's rate was 79.7 percent in 2012, rose to 82 percent in 2014, and remained between 84 percent and 86 percent until this year.
The overall increase in graduation rates is largely attributable to East Coweta High School, which saw a 5.5 percent jump – to 86 percent – from 2017. Northgate and Newnan High Schools' rates remained largely the same from 2018 to 2019, with Northgate seniors graduating on time at a rate of 88.8 percent in 2019, and Newnan High students graduating on time at a rate of 86.6 percent in 2019.
"We've made a very intentional effort in recent years to monitor student performance and graduation rate at East Coweta," said ECHS Principal Steve Allen. "We have made gains this year because we have a great group of teachers and student support personnel at East Coweta, but we also have a phenomenal data team who have remained focused on student achievement across all four cohort years, starting at the ninth grade year, tracking student performance and making sure we have the right procedures and resources in place to support them."
That data team is comprised of teachers drawn from across East Coweta's core academic classes, who work in conjunction with school counselors to track individual students throughout their time at East Coweta.
School officials say the high school has used a number of strategies and supports to increase graduation rates throughout that time, including:
• Relevant and challenging instruction by high-quality teachers.
• Individual graduation plans for each student that are closely monitored by faculty.
• Online credit recovery opportunities for students who encounter difficulty in classes, and content-based support and Saturday school opportunities.
• Tutoring available during the day as well as before and after school.
• Student support services outside of the classroom, including counseling and staff advisors, online facilitator, Communities in Schools and community mentors.
• Communities in Schools partnerships with the most at-risk students.
• Screening for students in math and ELA starting as they transition from eighth to ninth grade and continuing each grading period throughout a student's time in high school.
• Emphasis on ninth grade readiness and careful scheduling of students
• Innovative scheduling opportunities, including literacy and math focus as well as accelerated and advanced learning opportunities through the Central Educational Center, dual-enrollment opportunities and work-based learning.
• Organizing professional learning communities for teachers and monitoring the impact of those opportunities by department and content area.
• Content nights for parents to encourage family awareness and support for student's graduation requirements, high school scheduling and academic content.
Georgia calculates high school graduation rates through the four-year adjusted cohort rate formula as required by the U.S. Department of Education. The rate follows the students who enter high school together as freshmen (the cohort) who then go on to earn a diploma within four years. The calculation of the rate adjusts for student transfers.
Students who don't graduate in that cohort may still go on to meet graduation requirements with additional semesters of coursework.