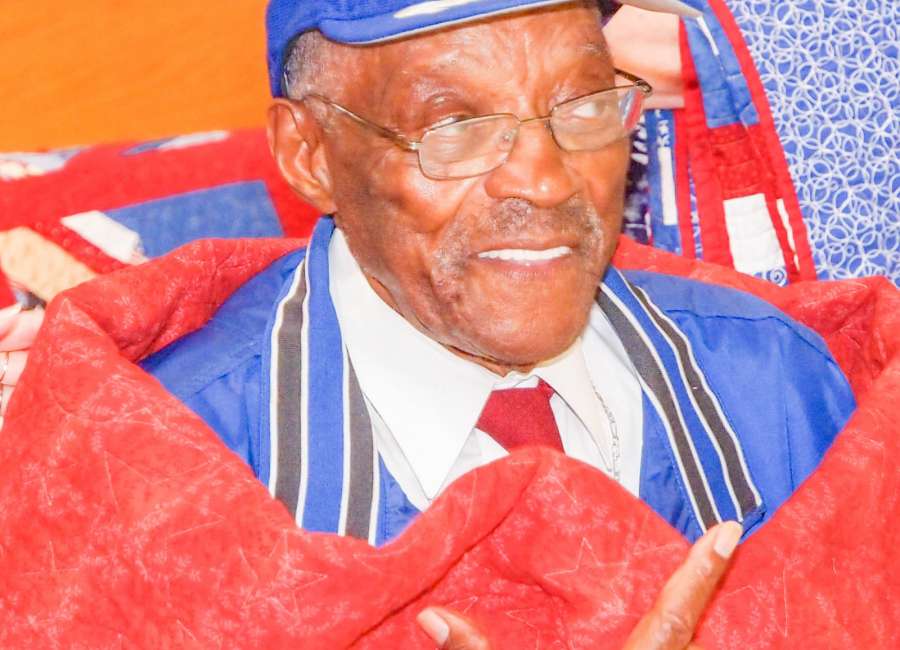 Coweta veterans and three Tuskegee Airman recently received quilts from the Coweta County Quilts of Valor.

The recipients – Dr.  Hillard W. Pouncy Jr., Rev. Thomas W. Bristow Sr. and R. Val Archer – were in their 90s with the oldest being 97 years old, according to Kathy Wilson, with the organization.
Tuskegee Airmen refers to the men and women, African-Americans and Caucasians, who were involved in the "Tuskegee Experience," the Army Air Corps program to train African-Americans to fly and maintain combat aircraft, according to www.tuskegeeairmen.org .
The Tuskegee Airmen included pilots, navigators, bombardiers, maintenance and support staff, instructors and all the personnel who kept the planes in the air, according to the Tuskegee Airmen website.
Pouncy
Pouncy of Austell began his military training during WWII as an Aviation Cadet at Moton Field in Tuskegee, Ala. He was later assigned to the first all-black, 477th
Bombardment Group, as a bombardier-navigator on the B-25 Mitchell (medium)
Bomber aircraft.
His subsequent military service includes three years with the New York
Air National Guard. 
In 1958, he earned his Ph.D. in organic chemistry from Syracuse University in New York.
Pouncy's Quilt of valor was pieced by Pam Duncan and quilted by Debbie Fowler.
Bristow
Bristow was a member of the 332nd Fighter Group, 100th Fighter Squadron. While
stationed at Lockbourne Army Air Base in Columbus, Ohio, his duties comprised of aircraft sheet metal training, and he was a fuel cell specialist assigned to the 477th Bombardment Group's anti-aircraft division. His military career spans three wars: WWII, Korean and Vietnam. Bristow's Quilt of Valor was pieced by Carol Kelly and quilted by Jean Raines.
Archer 
Archer, of Atlanta, was a member of the 332nd Fighter Group, 100th Fighter Squadron. While stationed at Lockbourne Army Air Base in Columbus, Ohio he was an instrument specialist on the P-47 and C-47 type aircraft, and later a crew chief. His military career spans three wars: WWII, Korean and Vietnam. His subsequent duties included instructor
TITAN I, ICBM Squadron. Archer's Quilt of Valor was pieced by Marina Lewis and quilted by Debbie Fowler. 
"Not that these gentlemen are any more important than all the others who received the quilts that day, but the Tuskegee Airman are one of those groups of veterans who were not always honored for their part in WWII events," Wilson said. "I say the same about many of our Vietnam veterans."
Coweta County Quilts of Valor is an organization made up of volunteers who honor veterans in Coweta and surrounding areas. The Coweta guild is a part of the national foundation of Quilts of Valor. The guild started in August of 2014.
The organization was founded in 2003 by Catherine Roberts in Delaware. Roberts' son was deployed in Iraq at the time. She had a dream about a soldier that sat and looked worried and concerned. The soldier also looked down and out and depressed. 
Roberts had another dream about a soldier who had a quilt wrapped around him. The soldier then had a look of hope. The next day, Roberts went to Walter Reed Hospital in Delaware and presented a quilt to the chaplain for a veteran. Since this time, the organization has grown to many guilds or chapters in the United States.
Wilson has been with the Coweta guild since it began. She serves as the coordinator for the guild. She is responsible for getting the quilt presentations set up and fundraising.
In addition to the quilt presentations, there were some activities for families with children. Children of all ages made cards that will be given to future QOV recipients when they receive their quilts, Wilson said. 
The children were also able to make quilt blocks with their handprints to look like flags that will be sewn into future quilts of valor.
"We want our youth to know what a difference our veterans have made and do make in keeping our country and others safe and free," Wilson said.
As of Friday, Aug. 30, the Coweta guild will have awarded 528 quilts, according to Wilson.
"The Quilts of Valor Foundation, which includes our local chapter and groups like ours across the country, has awarded 227,002 Quilts of Valor across our nation since 2003," Wilson said.
Wilson said over 100 volunteers helped in various ways in preparing for, sewing, ironing, setting up, serving, cooking and cleaning from before the event until we closed the doors the night the quilts were awarded.
"Twenty-eight members of Newnan Ambassadors from Newnan High School helped to make the evening run smoothly by directing traffic, seating and serving our guests, visiting with them, clearing tables, cooking and never sitting still," Wilson said. "They were an amazing group of very caring, conscientious young adults."
Fish plates were also sold to benefit the Coweta County Quilts of Valor.